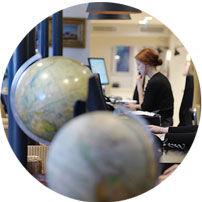 The idyllic Indonesian island of Sumatra, known for its dramatic tropical terrain and smouldering volcanoes, is the place to go to lose yourself in nature. Few isles have the allure and ability to captivate like Sumatra holidays do. You can relax on deserted beaches, trek into lush jungles and see plenty of wonderfully wacky wildlife, including sun bears (the smallest bear in the world) and flying foxes (the largest bats in the world). It's a haven that's rife for exploring and its enigmatic beauty seeps into every corner, with plenty of adventures to be had throughout the island. Explore the beautiful
mountainous area of Bukittinggi and meet the Minangkabau people who live there. Experience first-hand the matriarchal society they live in (the largest in the world) and learn about how property, family name and land passes from mothers to daughters instead of from fathers to sons. Tailor-made Sumatra holidays offer a tour with a difference, one that's sure to leave everyone from adventure lovers and beach lounging enthusiasts to culture fiends and first time Sumatra holiday goers longing for another night's stay...
Indonesia Regions
Discover more 100% tailor-made holiday ideas
A few of the benefits of travelling with us
What our clients say about us
Indonesia customer reviews (7 reviews)
4.7/5
Holly made excellent suggestions and creates the perfectly balanced trip that ticked all our boxes. The Concierge was very helpful throughout and the absolutel highlights were seeing monkeys and deer on Manjangan Island, and watching the sunset from the magnificent tower.
Indonesia Guide
Practical advice, client testimonials and inspiration to help you prepare for your holiday
Contact one of our Indonesia specialists