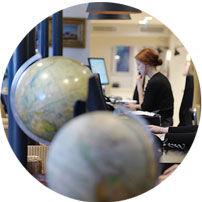 Indonesia - an archipelago consisting of over 17,000 islands - lends itself perfectly to a luxury holiday. On land, laze on sugary white sand beaches, trek through lush tropical jungles and delve into bustling towns packed full of cultural gems. On the water, enjoy sensational sailing trips aboard a luxurious yacht. Cruise past idyllic islands, indulge in afternoon siestas in the sun and cool off with refreshing ocean dips. Given the vast collection of islands sprawled across the archipelago, you'll want to visit more than one of them during luxury holidays to Indonesia and our experts can design a tailor-made itinerary that encompasses Bali,
Java, Lombok and Komodo (or wherever else takes your fancy). Underwater, Indonesia boasts some of the world's best diving spots in terms of both variety and quality, so it's no wonder that divers tend to return here multiple times. See colourful corals and more fish species than you could possibly count around Raja Ampat, Wakatobi and Sulawesi, or opt to stay on a luxury liveaboard. Indonesia's accommodation options are the cherry on top of the luxury holiday cake; stay in stylish beachside resorts and immaculate eco lodges, complete with serene spa facilities. End your Indonesia luxury holidays feeling relaxed, rejuvenated and well and truly pampered.
Indonesia Luxury Holiday Ideas
A few suggestions to get the holiday planning process started
Luxury Holidays by country
Other Indonesia collections
A few of the benefits of travelling with us
What our clients say about us
Indonesia customer reviews (7 reviews)
4.7/5
Holly made excellent suggestions and creates the perfectly balanced trip that ticked all our boxes. The Concierge was very helpful throughout and the absolutel highlights were seeing monkeys and deer on Manjangan Island, and watching the sunset from the magnificent tower.
Indonesia Guide
Practical advice, client testimonials and inspiration to help you prepare for your holiday
Contact one of our Indonesia specialists