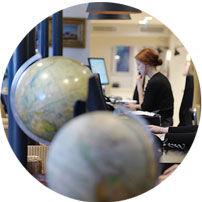 If just one of China's provinces, special administrative and autonomous regions could be said to best represent the country as a whole, it would probably be Yunnan. Granted, Yunnan is not part of the traditionally delineated Han ethnic Chinese heartland, named after the golden age Han Dynasty dating from 200 BC to 200 AD, but for diversity of landscapes and ethnicities, Yunnan is the perfect symbol of China today. We'll start with the landscapes, because Yunnan stretches from one extreme to the other, namely the high-altitude edge of the greater Tibetan plateau to the steamy jungles where the mighty Mekong River forms the border with Myanmar.
In between is a landscape punctuated by places of astonishing beauty, such as the lake at Dali, karst limestone pinnacles, soaring pagodas, verdant green rice paddy terraces and secretive towns surrounded by mountain valleys that spawned the legend of Shangri-La. As mentioned earlier, these diverse landscapes are also home to a wide range of China's minority ethnic peoples (25 of the country's recognised 56 ethnic groups, to be precise), from the Achangs to the Zhuangs. This ethnic and cultural cocktail certainly adds to the spice of life on Yunnan holidays, and on the subject of spice, the cuisine in Yunnan also packs a delicious punch, albeit not hitting the chilli-ed heights of neighbouring Sichuan province.
Yunnan Holiday Ideas
A few suggestions to get the holiday planning process started
A few of the benefits of travelling with us
What our clients say about us
China customer reviews (1 reviews)
4.5/5
Original Travel organised our trip to China, from Beijing to Shanghai via Sichuan and Yunnan. It was an exceptional experience in a fascinating country. The quality of the advice, personalisation and experiences were second to none. The organisation, punctuality and friendliness of all our guides in China were excellent.

Seamless professionalism. I 100% recommend Original Travel for anyone's trip to China.
China Guide
Practical advice, client testimonials and inspiration to help you prepare for your holiday
Contact one of our China specialists