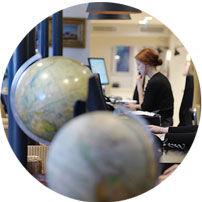 The Maldives are an iconic destination for those who love the ocean, but they are especially iconic for divers. Despite El Nino devastating the coral reefs in the late 1990s, the underwater world here is still a treasure trove of diverse marine life and corals that thrive in the nutrient-rich waters. With some of the world's best luxury hotels spread across the numerous islands in this archilegao, and some seriously paradisiacal beaches, you'll be able to totally relax and unwind when you return to the surface Maldives diving holidays.
Diving Holidays by country
Other Maldives collections
A few of the benefits of travelling with us
What our clients say about us
Maldives customer reviews (4 reviews)
4.5/5
We were lucky enough to meet Amy whilst in Belize and so were able to describe what we were looking for in a Maldives holiday. She matched it perfectly. Every aspect of the resort was exactly what we were looking for.
Maldives Guide
Practical advice, client testimonials and inspiration to help you prepare for your holiday
Contact one of our Maldives specialists