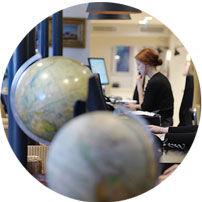 There's much more to Greece than the islands of the Ionian and Aegean. From the illydic Prespa Lakes in the north to the rugged Mani Peninsula in the south, mainland Greece is a treasure trove of geographical and cultural diversity. On a mainland Greece holiday you'll discover that this is a country where past meets present everywhere you look. Buzzing cosmopolitan cities (think Athens) collide with memories of by-gone civilisations while the country's natural beauty endures throughout. The Peloponnesian peninsula is the beating heart of ancient Greece. Celestial and mythological charms abound in this birthplace of legends,
characterised by tangible traces of bygone civilisations and a natural elegance. Head inland for more delights, from Meteora's massive pinnacles topped by monasteries to the delights of Delphi and the lesser known mountains of Pelion and the deep gorges and waterfalls of Epirus. On a mainland Greece holiday, prepare to fall in love with a Greece you never knew existed.
Mainland Greece Holiday Ideas
A few suggestions to get the holiday planning process started
Greece Regions
Discover more 100% tailor-made holiday ideas
A few of the benefits of travelling with us
What our clients say about us
Greece customer reviews (3 reviews)
4.7/5
We had a great time. We loved both hotels you suggested in Greece. Your team were fantastic and I would definitely use your services again – it was really well organised and made it much easier and less stressful.
Greece Guide
Practical advice, client testimonials and inspiration to help you prepare for your holiday
Contact one of our Greece specialists