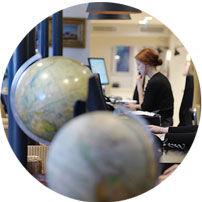 Greece is a place where the pleasures come simple; all but guaranteed blue skies, uncomplicated fresh food and friendly people make this one of the most rewarding destinations on Earth on any budget, but that's not to say luxury Greece holidays aren't a nice idea too! The beautiful Peloponnese peninsula and the islands like Corfu are home to some of Europe's most luxurious hotels and villa complexes, but the luxury of Greece is also often about the luxury of access. Access to the finest guides to unlock the mysteries of ancient Greece as you explore the Parthenon; access to the finest yacht charters
to make sure that sunset cruise around the caldera of Santorini is the most romantic moment imaginable; or back on the subject of simple pleasures, access to those secret Greek islands that don't necessarily hog the headlines and where the living is easy, and blissful.
Greece Luxury Holiday Ideas
A few suggestions to get the holiday planning process started
Luxury Holidays by country
A few of the benefits of travelling with us
What our clients say about us
Greece customer reviews (3 reviews)
4.7/5
We had a great time. We loved both hotels you suggested in Greece. Your team were fantastic and I would definitely use your services again – it was really well organised and made it much easier and less stressful.
Greece Guide
Practical advice, client testimonials and inspiration to help you prepare for your holiday
Contact one of our Greece specialists