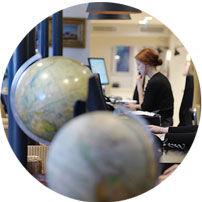 When you think of a Romania family holiday, you're more likely to conjure up ideas of tracking down Dracula in Transylvania than rolling green hills, ancient castles and medieval towns. But that's exactly what you'll find in one of Europe's hidden gems, home to some of the most breath-taking scenery and fascinating history that dates back thousands of years, all the way to the Roman Empire. The capital city, Bucharest, is a vibrant metropolis that has been shaped by its colourful past, with palaces, churches and monasteries dotted around the city centre. In the western part of Romania, you'll find Transylvania,
which has an almost fairy-tale landscape of rolling hills and deep forests that are bordered by towering mountains and deep valleys in the north. Keep your eyes peeled as you hike through the magical forests, and you might just come across a wild bear or two.
Family Holidays by country
Other Romania collections
A few of the benefits of travelling with us
What our clients say about us
Romania customer reviews (1 reviews)
4/5
The holiday was great. The Inn on Balaban was a wonderful start to the break, with lovely rooms and views to die for. Excellent guided tour of Bran Castle. Sighisoara citadel was beautiful as was Miklosvar - very relaxing and our Szeckler guide was very eager to show us his part of Transylvania. Our room in the annex there was wonderful.

Dinner in the cellar after the cows were seen home was very pleasant too. Zalanpatak has the most spectacular setting. Our last day was spent on a horse and cart trip up into the hills and a delicious BBQ lunch in a spectacular flower meadow. All in all, amazing forests, views, vistas and flower meadows; very relaxing environment and slow pace. Thank you!
Romania Guide
Practical advice, client testimonials and inspiration to help you prepare for your holiday
Contact one of our Romania specialists