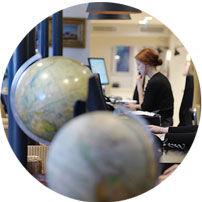 Covering more than 2,000 square miles in eastern Romania, the Danube delta, where Europe's longest river meets the Black Sea, is one of the continent's last great wildernesses. Its vast expanses of waterways, lakes, reed-beds, marshes and islands constitute some of the most important wetlands in the world and are home to a huge concentration of wildlife, particularly birdlife, and you'd be forgiven for thinking that you'd been transported to the depths of Africa. A key migration hub between cooler norther and warmer equatorial climes, it shelters over 300 bird species (including Europe's largest
colony of pelicans) many of which also breed here. This makes the delta the finest short-haul destination from the UK - to find something compatible you would have to travel to Africa or South America, and it would not be an exaggeration to say there are a lot of similarities with Botswana's extraordinary Okavango Delta. Having survived various barmy communist purposes, the delta now enjoys protected status as a UNESCO World Heritage Site, and is a paradise for nature lovers. You needn't be a mad keen ornithologist to appreciate the delta - simply enjoy being surrounded by natural beauty and big, open country where you can really spread your winds - which is presumably why the birds like it so much. All in all, the Danube Delta is a great place to migrate to for a few days (breeding optional).
Danube Delta Holiday Ideas
A few suggestions to get the holiday planning process started
Romania Regions
Discover more 100% tailor-made holiday ideas
A few of the benefits of travelling with us
What our clients say about us
Romania customer reviews (1 reviews)
4/5
The holiday was great. The Inn on Balaban was a wonderful start to the break, with lovely rooms and views to die for. Excellent guided tour of Bran Castle. Sighisoara citadel was beautiful as was Miklosvar - very relaxing and our Szeckler guide was very eager to show us his part of Transylvania. Our room in the annex there was wonderful.

Dinner in the cellar after the cows were seen home was very pleasant too. Zalanpatak has the most spectacular setting. Our last day was spent on a horse and cart trip up into the hills and a delicious BBQ lunch in a spectacular flower meadow. All in all, amazing forests, views, vistas and flower meadows; very relaxing environment and slow pace. Thank you!
Romania Guide
Practical advice, client testimonials and inspiration to help you prepare for your holiday
Contact one of our Romania specialists