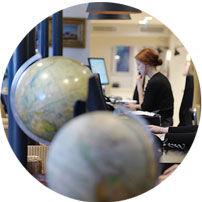 Tanzania honeymoons offer up some of the world's top safari experiences and incredible natural beauty to boot. Visit the Ngorongoro Crater where you'll see a seriously sensational array of animals, from nimble zebras, gazelles and giraffes, to lumbering wildebeests and hippos, and, of course, the Big Five - lions, leopards, rhinos, buffaloes and elephants. Enjoy reconnecting with nature (while connecting with each other), whether it's out on a bush walk with an expert guide who can teach you how to distinguish animal tracks and photograph animals in their natural habitat, or from you luxury tented camp under the stars.
As well as amazing wildlife spotting opportunities on your honeymoon to Tanzania, you'll also be able to enjoy plenty of relaxing beach time with a stop in Zanzibar. This idyllic little island has beautiful beaches galore - pristine stretches of silvery-white sand stroked by the warm, blue waters of the Indian Ocean - as well as the intriguing Stone Town city, for you and your love to enjoy at the end of your safari adventure.
Tanzania Honeymoons Ideas
A few suggestions to get the holiday planning process started
Other Tanzania collections
A few of the benefits of travelling with us
What our clients say about us
Tanzania customer reviews (9 reviews)
4.6/5
I wanted to take the time to say a HUGE thank you for organising our dream honeymoon right down to the smallest details. We had an amazing time across all three locations and loved the letters you had handwritten and sent to our accommodations to welcome us in each of them, we also received a welcome home card which was a lovely touch.

Our holiday was amazing and the Rayavadee was a particular highlight on the trip. We've never been anywhere quite as brilliant. We filled our days on the beach, by the pool, drinking cocktails, eating amazing food and visiting the beauties of Pang Nam Bay and the Phi Phi Islands. We also had a cooking class which was amazing as well, we're going to attempt a new Thai recipe every week. Once again, thank you so much for everything, we'll be sure to recommend you to anyone planning a holiday in the future. Fantastic service and job well done.
Tanzania Guide
Practical advice, client testimonials and inspiration to help you prepare for your holiday
Contact one of our Tanzania specialists