Itinerary Highlights
View the best of Tanzania's wildlife in four distinct areas
See the pink flamingos on Lake Manyara in season
Get to know the Masai people and their fascinating culture
Observe the animals from the rim of the Ngorongoro Crater
Watch the great migration on the Serengeti in season
Contact one of our Tanzania specialists + 44 (0) 20 3958 6120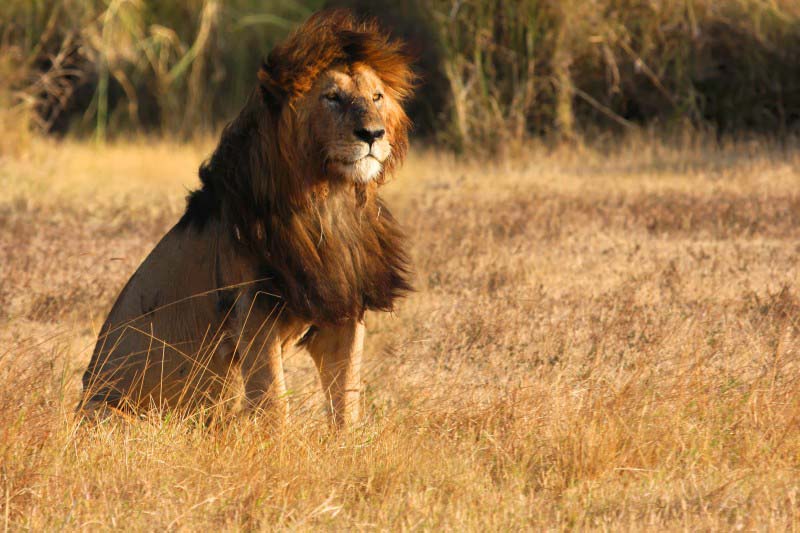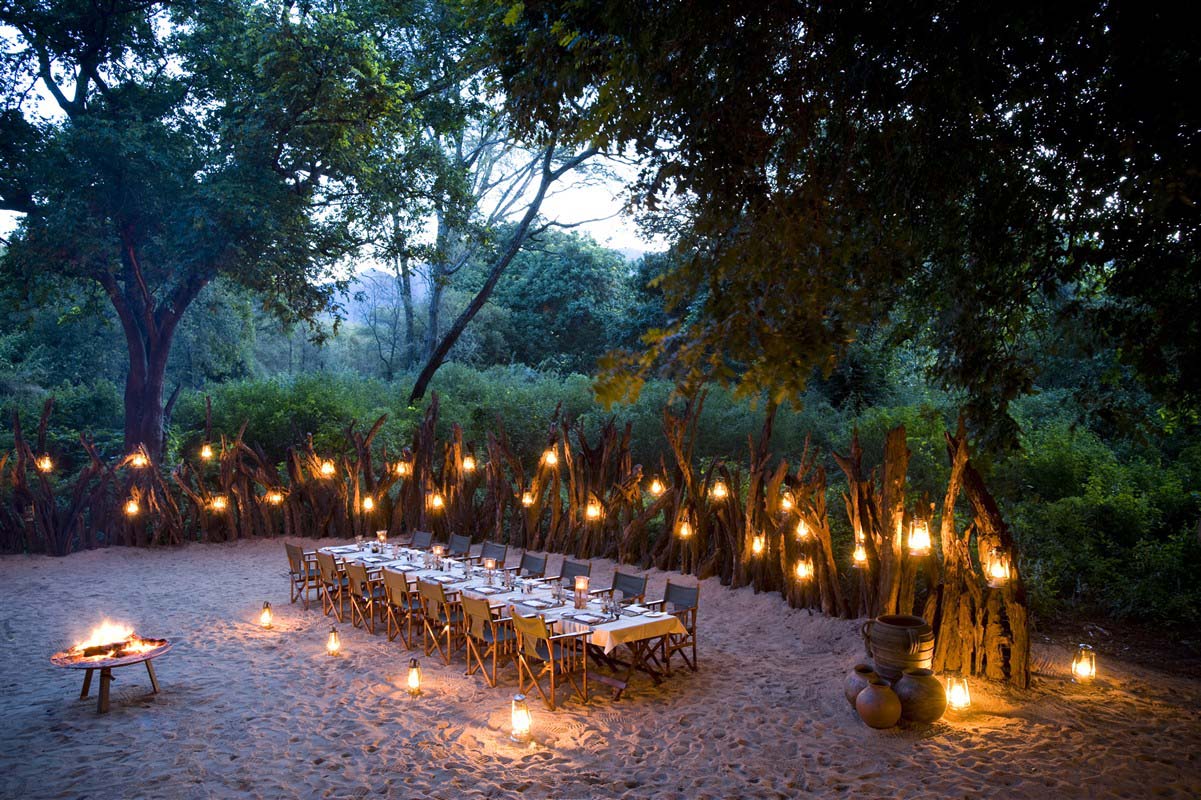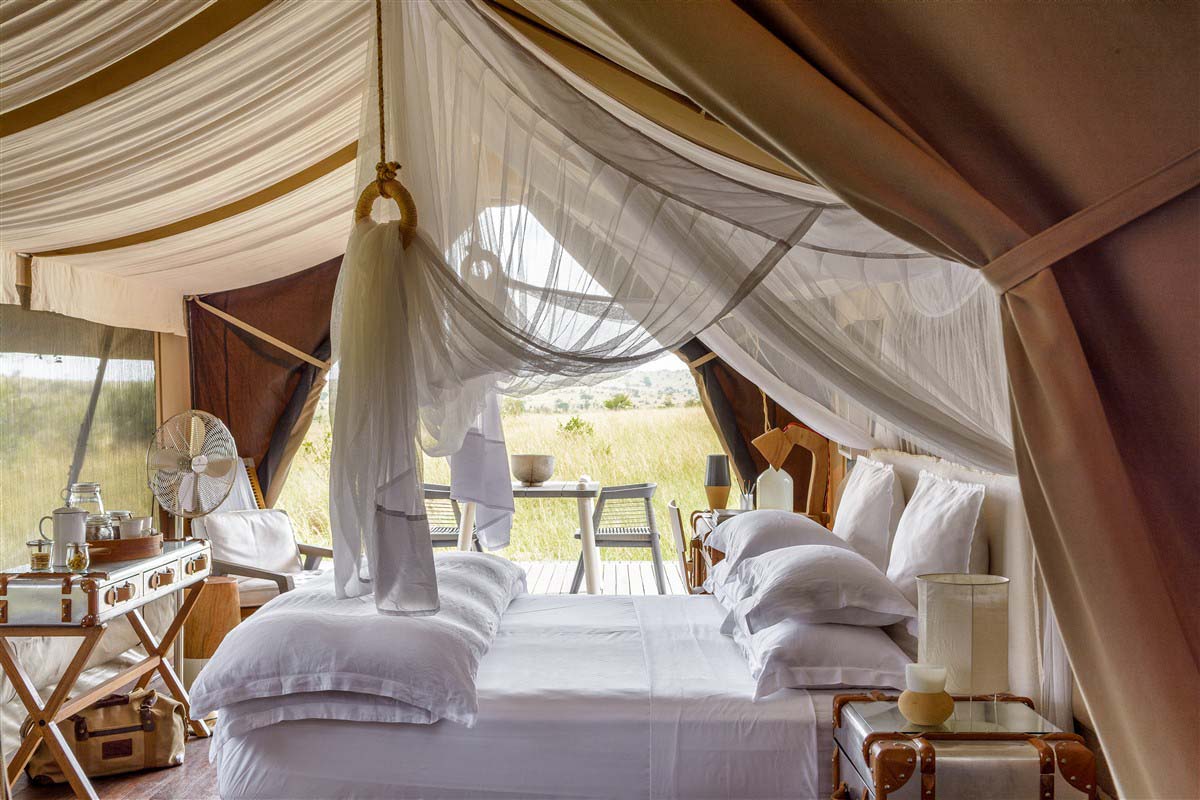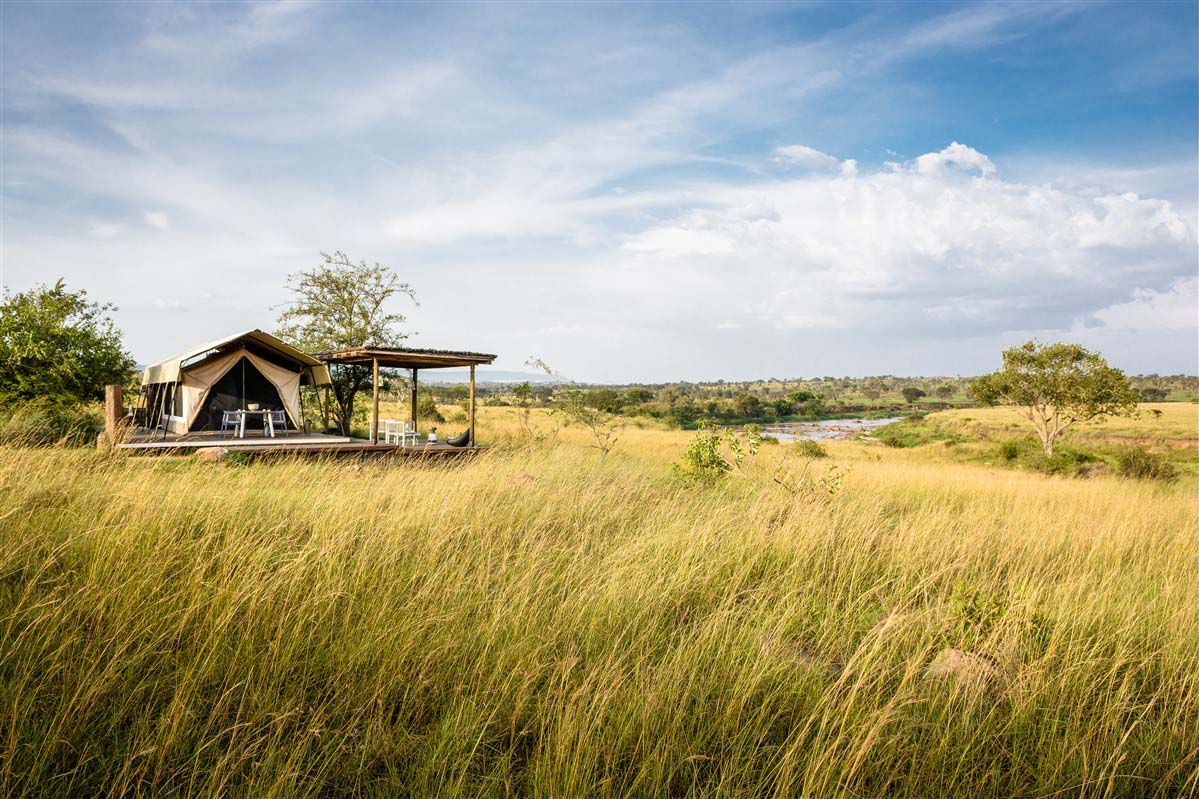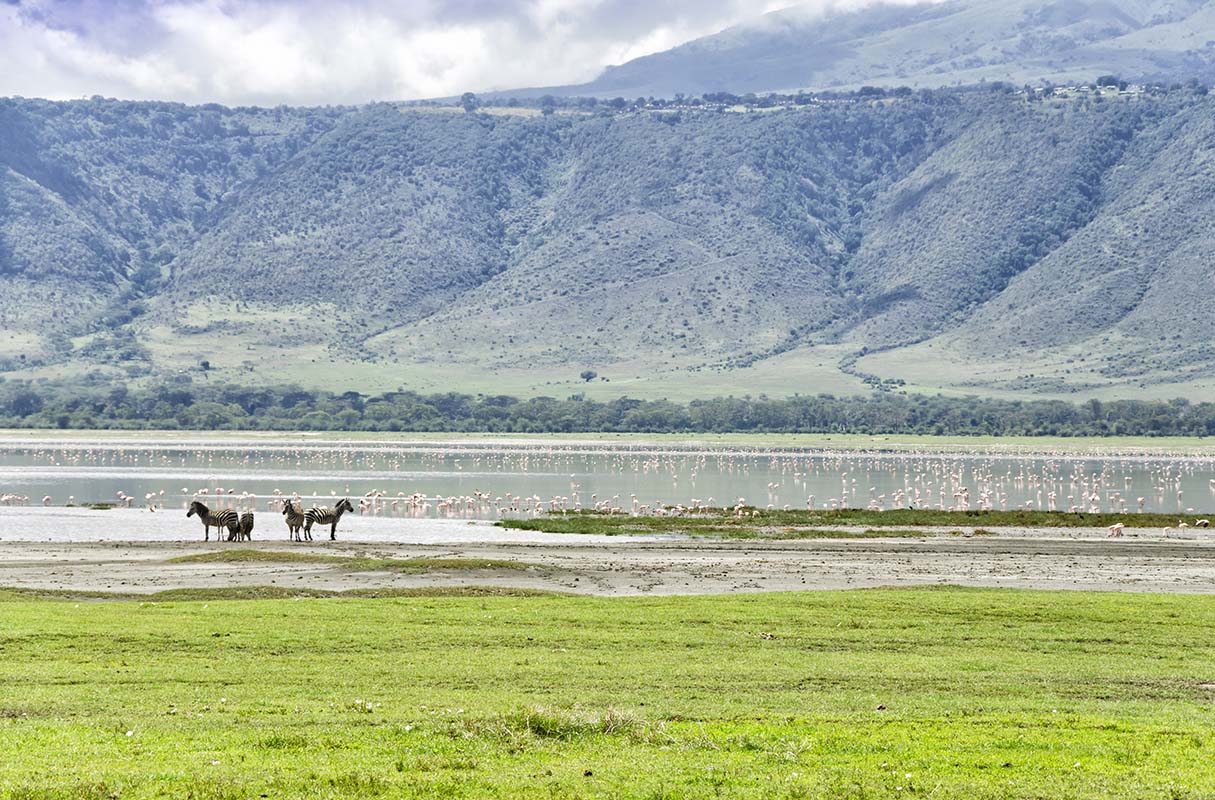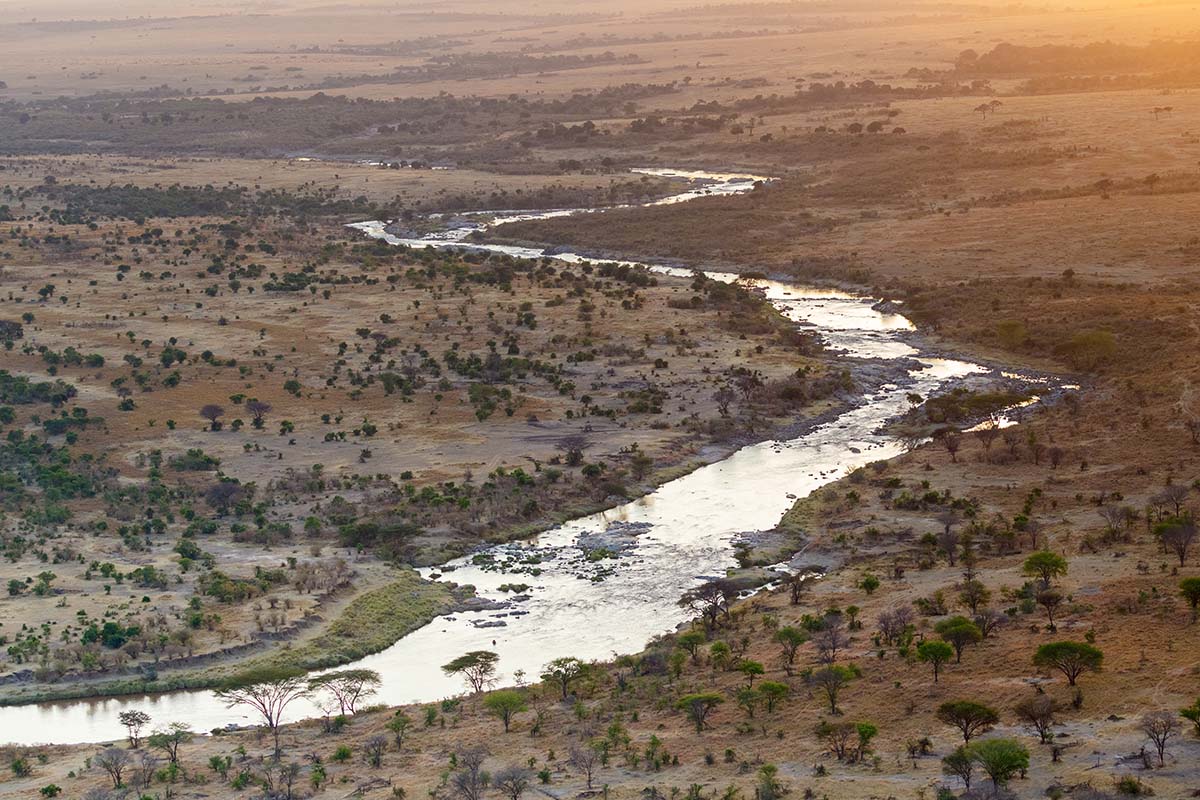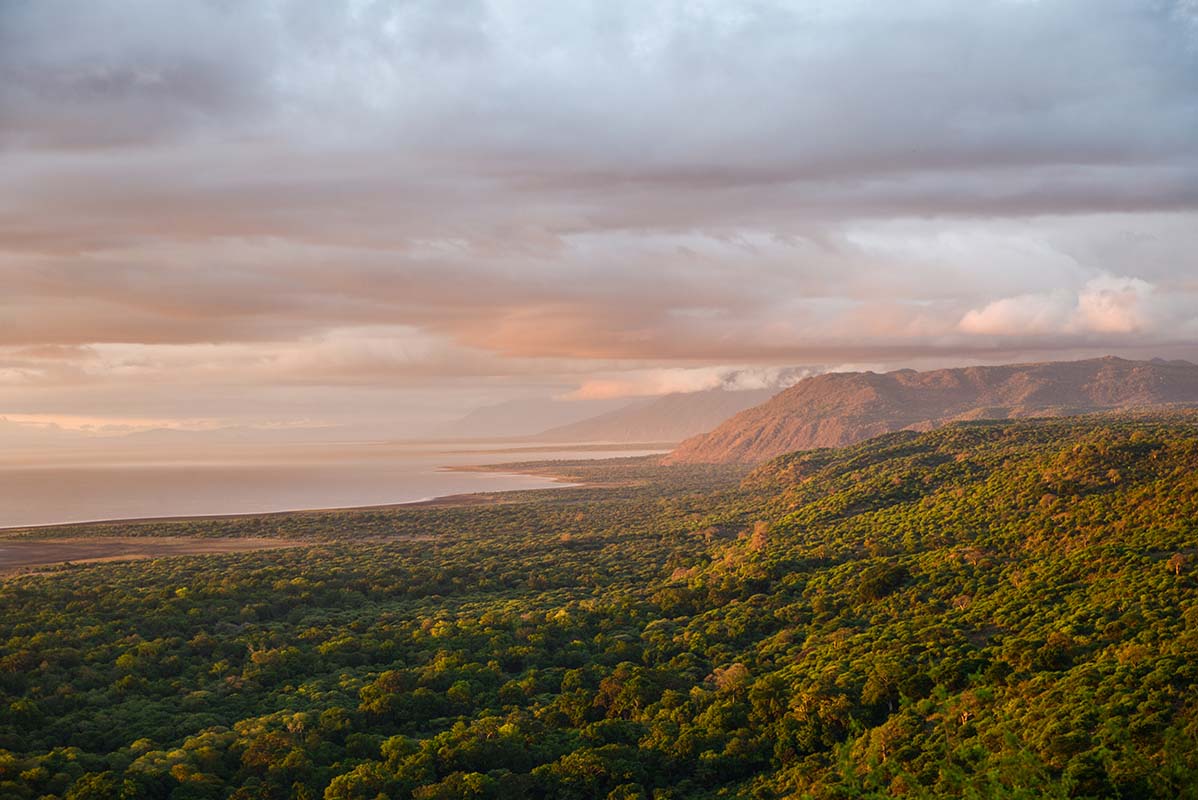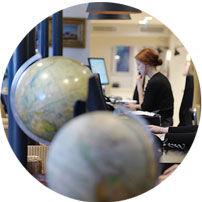 A 14-day multi-centre dream safari holiday encompassing the best of Tanzania's incredible wildlife-rich parks. Stay in intimate camps and luxury lodges on the edge of Tarangire, beside Lake Manyara, on the slopes of the Ngorongoro Crater and the northern Serengeti, a key site to watch the great wildebeest migration in season.
Route
Everything is 100% tailored to you
Time to set off on your superb African adventure, boarding your first flight and changing planes just once en route.
DAY 2
Arrival and Overnight Stay
You'll be greeted on arrival and driven by private car to your hotel in nearby Arusha, the gateway to many of Tanzania's incredible national parks. Enjoy a restful night's sleep after your journey, ready for tomorrow's onward journey to the bush.
DAY 3
On to Your First Safari Camp
After a good breakfast and perhaps a stroll around the hotel's lovely gardens, you'll be collected and driven to nearby Arusha Airport to catch your half hour flight into the heart of the Tarangire National Park. At the bush airstrip, you'll be welcomed by your driver/guide and driven by jeep across the open plains to your luxury safari camp, discreetly located in the heart of the Tanzanian bush. Remarkably chic and thoughtfully equipped with every comfort, your spacious private tent comes complete with en suite bathroom, classy vintage furnishings and a super-comfy bed.
Your animal neighbours are free to roam around the camp, bringing a surreal feel to everyday activities - it can come as quite a surprise the first time you watch a succession of elephants stroll by, just feet away, as you sip coffee on your veranda.
In the late afternoon, you'll be invited to hop into the safari vehicle for a thrilling game drive, your guide picking just the right route for the best chances of spotting your favourite animals. Home to prides of lions, leopards, cheetahs, buffalos and elephants as well as giraffes, zebras and wildebeests, it's a paradise for wildlife enthusiasts. With a stop en route for the compulsory (though rarely resisted) sundowner, you'll head back to camp for an immaculately presented candle-lit supper.
Early starts soon become routine in your quest for the best animal sightings, so grab your binoculars and join your guide out in the wilderness to watch the awakenings, perhaps today beside the lake. Sunrise here is simply magical, and you'll be amazed at the variety of wildlife coming and going. After a memorable morning's viewing, a hearty breakfast awaits you back at camp. This afternoon, enjoy spending time with a local Masai family, discovering a little of their culture and their traditional way of life. You may also have time to join your guide on the ever-popular walking safari, a chance to explore the territory without the noise of the vehicle and with a very different perspective on the land and its creatures. You'll learn how to track and recognise signs that certain species have passed through so your future game drives will have even greater interest.
In the evening, your guide may suggest a night drive, the special vehicle spotlights picking out animal activity you wouldn't usually be able to see, particularly good for those elusive big cats such as leopards and cheetahs.
DAY 5
Onwards to Lake Manyara
This morning you'll be driven to your next incredible safari camp, superbly located close to Lake Manyara with its beautifully crafted private tents nestling among acacia trees and palms. You could be forgiven for simply settling in and watching the fascinating animal world go by from the remarkable comfort of your home from home, but there's so much more to see and do here. Take a walk with a Masai warrior and guide for a different take on life alongside your animal neighbours; visit one of the local schools that is closely linked with the lodge and exchange ideas and experiences with the schoolchildren; learn bush skills from the camp's experts and meet local Masai families. You can even go out running with a Masai warrior then cool off with a dip in the pool. Better yet, enjoy a sunrise guided hill walk for stunning views over the plains. A 30-minute massage at the camp's small but sumptuous spa will soon have you feeling in tip top condition and ready for another wonderful game drive, complete with sunset drinks.
Supper under the stars serenaded by the sounds of the bush is an enchanting experience, a nightcap shared with fellow guests around the cosy firepit being the icing on the cake.
If you're here during flamingo season, this morning's dawn event is not to be missed. Drive across to the lake to watch as pastel pink clouds of these exquisite birds crowd the tranquil waters alongside huge white pelicans and some 350 other species of birds. Back at camp, enjoy a leisurely breakfast and perhaps head out for a half day trip into Tarangire National Park where herds of elephants roam among the iconic baobab trees alongside zebras and wildebeests, elands and gazelles. You can enjoy a delicious picnic lunch with a view before meandering slowly back to camp in time for an aperitif at sunset followed by a final delectable supper here.
DAY 7
Moving on to the Ngorongoro Highlands
This morning you'll leave the lakeside plains to journey up by safari jeep to the Ngorongoro Highlands, a picnic lunch provided on the way. As you gradually make your way up the hillside, the vast expanse of the famous Ngorongoro Crater comes into view - a stunning sight, and home to a magnificent array of wildlife.
Your next camp is located high up on the crater rim, providing you with the perfect vantage point to observe the ever-changing light and explore the animal-rich slopes during your stay.
Beautifully constructed to make the most of the panoramic views, the camp provides all your creature comforts and more, with superb cuisine freshly prepared each day.
After supper, make time for a little star gazing - from up here in the highlands, the sky appears infinitely larger and brighter, with the fascinating sounds of the animals carried up from the crater floor for a sound-and-light show with a difference.
A dawn game drive down onto the crater floor brings untold riches in terms of sightings. Highly endangered black rhinos are still seen here and you may be privileged enough to spot one on your travels. Other residents of this 115-square-mile caldera include thousands of wildebeests, zebras, elands and gazelles and a large population of lions. Climbing back up the slopes where the vegetation changes, look out for leopards and mountain reedbucks, spotted hyenas, wild dogs and cheetahs all going about their business.
A guided walk here is a particular treat, accompanied by a Masai as your guide to explore the terrain. Pausing to take in the spectacular panorama over a cooling drink is a another highlight of this very personal safari.
Another fabulous morning game drive today to the lush plateau below the crater. Keep an eye out for the hundreds of bird species as well as the Big Five. In the afternoon, pay a neighbourly visit to the Masai who live in the next valley along from camp. You'll be warmly welcomed and escorted around their simple village, learning about their construction techniques, their cattle and their culture. You might even pick up some tips on high jumping, a skill these impressive natural athletes have turned into an art form.
One last guided walk at sunset will cement your love of this special place, followed by a perfect supper.
DAY 10
Kogakuria Kopje: The Migration Zone
After breakfast you'll be driven to the Manyara airstrip to board your onward flight to Kogatende, a flying time of just over an hour. From here, you'll be collected by your driver/guide and driven to your extraordinary lodge for the next three nights, magnificently located on a rocky escarpment overlooking the Kogakuria Kopje plains in the northern Serengeti. Here, the wildebeests pass through on their way to the nearby hazardous Mara River crossing in the annual migration, and it's certainly a sight to behold. Stylish, extremely comfortable and crafted with great attention to detail, the lodge is a perfect retreat, complete with an outdoor swimming pool and sun deck for those relaxing moments in between your safari activities. Rooms are designed to enjoy the fabulous cinematic views at all times of the day without conceding privacy.
If you're here during the migration months of July to October, there's no question you'll want to be out there to witness the drama, excitement and sheer scale of the animal crossings from close to the river itself. Your guide will take you to the perfect vantage point where you could literally spend hours in silent awe.
Even outside the migration season, the game viewing here is excellent, with high concentrations of lions, leopards and buffalos providing superb photo opportunities. This area is green and fertile for most of the year, offering gorgeous landscapes as a backdrop for your photos.
Under the watchful supervision of your expert guide, enjoy a bush walk through the rugged landscape, interspersed with rivers, streams and lines of trees and shrubs, providing excellent camouflage to allow you to approach animals for a closer look. Back at the lodge, chill out by the pool in the afternoon sunshine before setting off in the safari vehicle to check out the evening's animal action. Hyenas, ostriches and giraffes are just some of the locals you might catch a glimpse of on your sunset outing.
A last full day to take in every element of this wonderful place, from each delicious morsel of food to the mind-blowing sight of animals on the move. Head back down to the riverside for another chance to observe the crossing or along the lush plains to pick out the big cats in search of a meal. If you've found any particular species to be a little elusive, perhaps today they'll succumb to your silent entreaties and reveal themselves after all.
Back at the lodge, the chef will do you proud with a mouth-watering supper out on the deck under the star-filled sky. Enjoy a celebratory toast with new-found friends before turning in for the night.
Rising early, bid farewell to your hosts and be driven (picnic breakfast in tow) to the airstrip at Kogatende. Here, you'll board a morning flight to Kilimanjaro Airport, arriving in good time for your international overnight flight.
Arrive back into the UK early this morning.
A Rough Idea of Price
Dependent on season, accommodation and activities
The estimated cost for this trip is £10,260 to £12,310 per person. The final cost of the trip depends on the way we tailor it especially for you. The final cost varies according to several factors, which include the level of service, length of trip and advance booking time. The exact price will be provided on your personalised quote. The average price for this trip is £10,260 per person.
A few of the benefits of travelling with us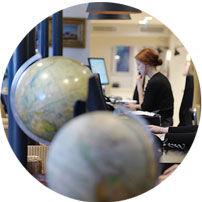 Get in touch
Our experts have the inside track on the destinations they sell and will tailor-make a holiday to your unique requirements.
Contact one of our Tanzania specialists