Itinerary Highlights
Visit a community-run project in Arusha which employs people with disabilities to create unique handmade crafts
Enjoy wonderful wildlife sightings on a safari in the UNESCO-protected Ngorongoro Crater
Discover 'elephant caves' and learn about medicinal plants on walking safaris through Ngorongoro's forested slopes
Learn about Iraqw culture and try your hand at pounding grain on a guided village visit
Stay in a remote tented safari camp in Serengeti National Park
Enjoy an afternoon game drive in the Serengeti to spot a wealth of animal species
Meet the Hadzabe tribe and see their unique way of collecting honey with the help of a honeyguide bird
See the flourishing of new life during the Serengeti's calving season
Visit the village of the Datoga tribe and see the cattle herdsmen celebrate the safe return of their herd
Contact one of our Tanzania specialists + 44 (0) 20 3958 6120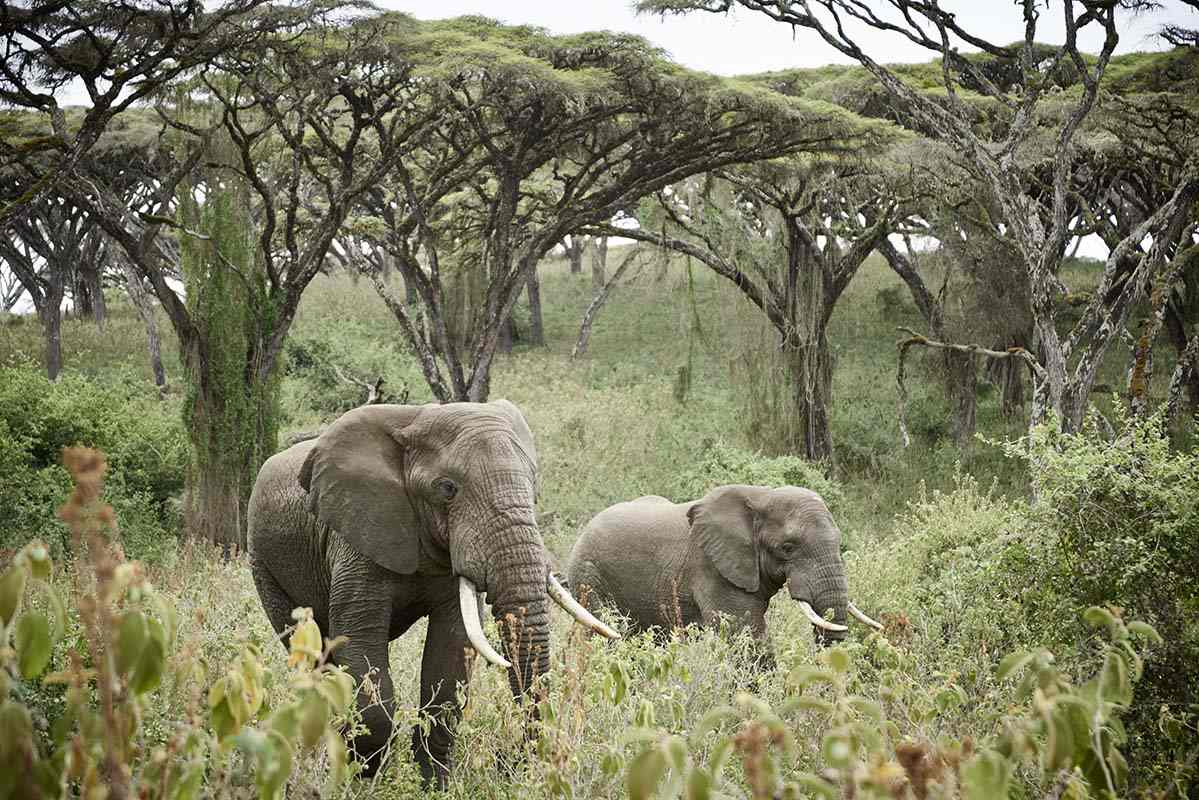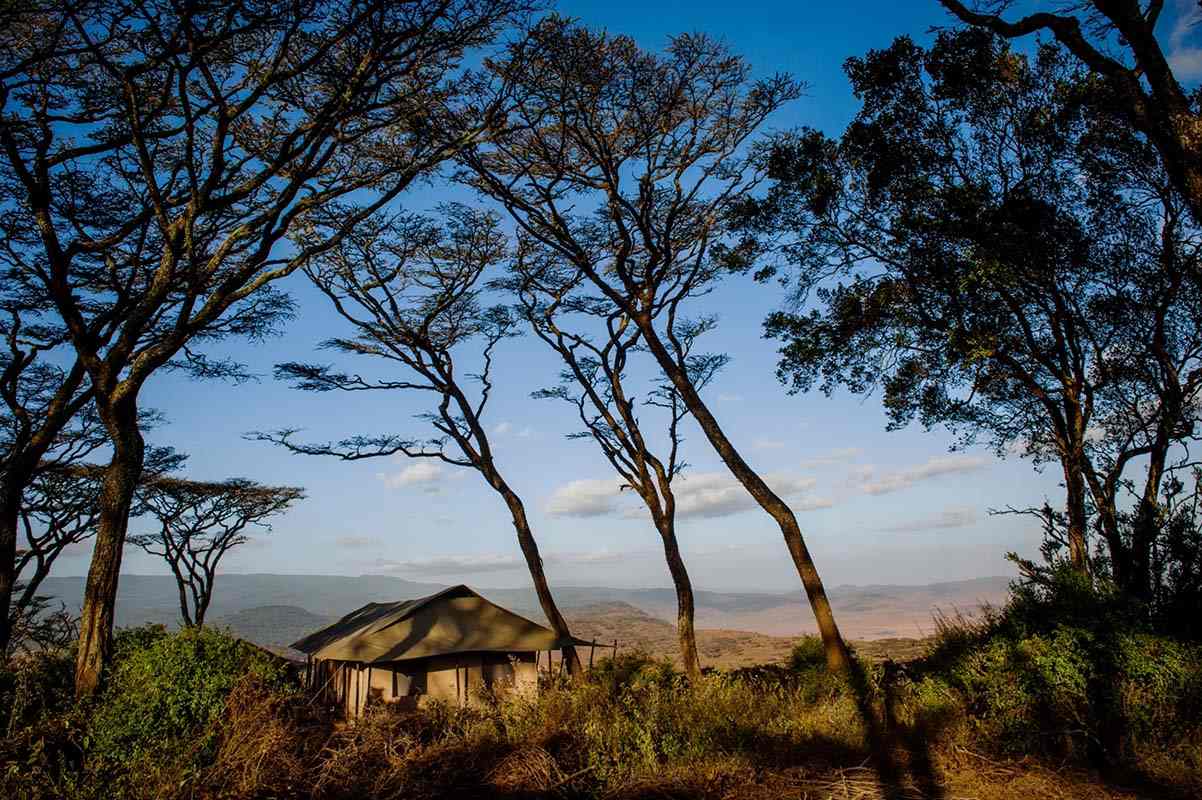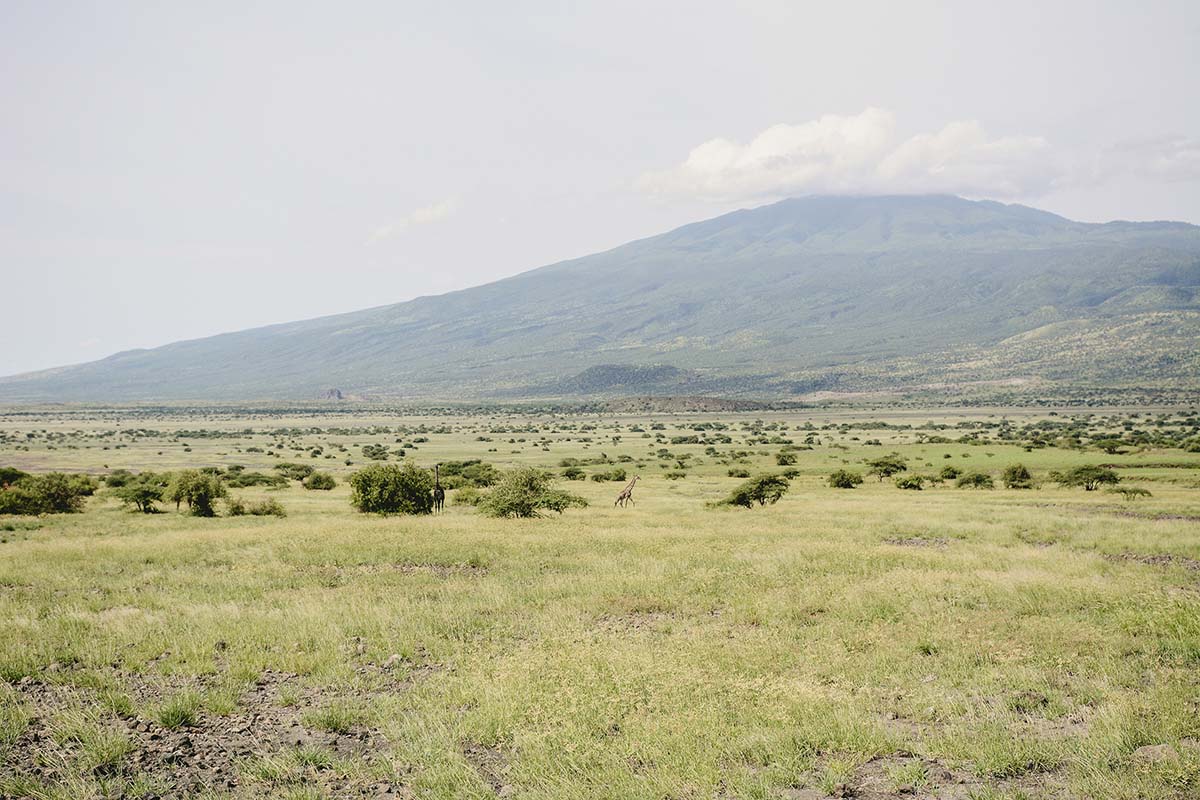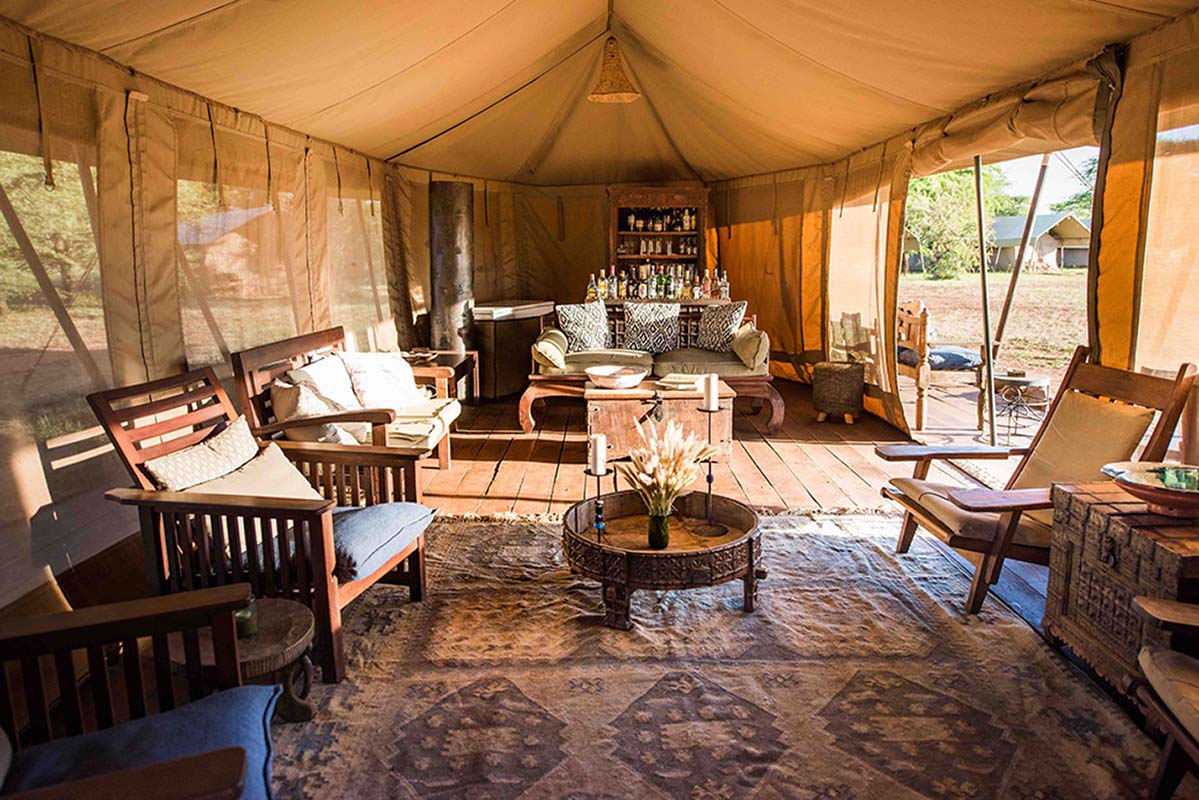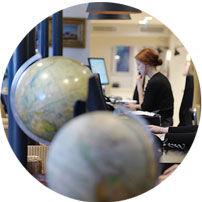 This nine-day Reconnect in Tanzania itinerary takes you from the vast plains of Ngorongoro Conservation Area to the wildlife-filled grasslands of the Serengeti. Along the way you'll stay in remote safari camps, meet local tribes and learn about their culture and way of life and experience wonderful wildlife encounters.
Route
Everything is 100% tailored to you
DAY 1
International Flight
Pack your bags because your Reconnect in Tanzania itinerary begins today. After being fast-tracked through security, relax in the airport lounge before catching your 13-and-a-half-hour overnight flight to Kilimanjaro in Tanzania via Nairobi. On arrival in the Kilimanjaro region, you'll be collected from the airport and transferred approximately 40 minutes to your hotel - a charming country inn with stunning views of Mount Kilimanjaro. After your long flight, settle in and enjoy a delicious dinner and a good night's sleep before a busy day exploring tomorrow.
For the first full day of your Reconnect in Tanzania itinerary, enjoy a leisurely morning with a delicious breakfast in the hotel's lovely gardens. You will then be met at your hotel and driven to the nearby city of Arusha, a popular base for climbers preparing to climb Mount Kilimanjaro. Here, you will be taken to see the work of a community-run project which employs people with disabilities to create lovely handmade jewellery, glassware and homewares incorporating recycled materials. This is a wonderful opportunity to gain an insight into Tanzanian crafts and learn about attitudes to recycling in the country.
On a tour of the workshop you will get the chance to see the activities that take place - including glass blowing and jewellery design - and have a go yourself. After the tour, tuck into a delicious Swahili buffet for a taste of the region's cuisine before being transferred back to your hotel for an afternoon at leisure.
Pack your bags this morning as you are collected from your hotel and driven approximately three hours to the UNESCO-protected Ngorongoro Crater, a three-million-year-old, 12-mile-wide volcanic caldera which is teeming with wildlife and steeped in ancient history. Your base for the next few nights of your Reconnect in Tanzania itinerary is a wonderful working farm where you can reconnect with the land as you savour fresh fruit and vegetables from the ten acre organic garden and sip organic coffee which is grown, processed and roasted on site. After a late lunch on the sunny terrace, you will be taken on a full-day 4x4 game drive with a knowledgeable local guide.
As you cross the crater's vast highland plains and sun-baked savannahs, your guide will point out the area's wonderful wildlife- including elephants, buffaloes, giraffes, black-maned lions and endangered black rhinos - and share stories about the Maasai people who live on the land, coexisting with the animals and practicing traditional livestock grazing. This ancient area - widely regarded as the cradle of mankind - is fascinating, and home to hominids who are thought to have lived in the crater some three million years ago.
DAY 4
Farm Food, Elephant Caves and Village Tour
Today you'll really be getting under the skin of the Ngorongoro area as you meet local families and learn about their traditional ways of life. First though, you'll begin your day by helping your hosts roast the coffee followed by a sumptuous breakfast spread with fresh milk, cream and jams and still-warm sweet treats straight out of the oven. Next, walk off your breakfast with an immersive guided walking safari through the forested slopes of the Ngorongoro Conservation Area. Along the way, discover crashing waterfalls and incredible 'elephant caves', created when these gentle giants dig through dense rock with their tusks to ingest the vitamin-rich soil. Another option for anyone with an interest in plant life, is to join a local healer in the Ngorongoro forest to learn about the medicinal properties of over 20 plants that grow in the area, including olemoran, olaiyapiyap and osinoni. Whichever activity you end up doing, you're guaranteed the opportunity to reconnect with mother nature and uncover her secrets with the help of your guide.
Once you've worked up an appetite, return to your lodge for more delicious farm-to-fork food before swapping hiking for biking as you cycle to a nearby village for a guided tour. You'll have the chance to immerse yourself in Iraqw culture as you meander through the market and meet a local family to experience traditional ways of life including the age-old process of making pots and the chance to try your hand at pounding grain and taste the local brew.
Wave goodbye to Ngorongoro today as you are driven two-and-a-half-hours to Kilimanjaro Airport to board a short one-and-a-half-hour flight to Serengeti National Park - one of the world's top wildlife-watching destinations. The journey is part of the experience so enjoy the views as you pass over Tanzania's vast wildlife-filled wildernesses. Your accommodation for the next few nights is a stylish tented safari camp in the Mwiba Wildlife Reserve where you can enjoy a little slice of luxury while being immersed in the wild. Arrive in time for a tasty traditional lunch and then set off on a private 4x4 safari with one of the camp's knowledgeable guides. This is a wonderful chance to get to know the area and meet some of its wildlife inhabitants including wildebeests, leopards, lions, elephants and hippos.
As evening rolls in, return to camp for a delicious dinner at the communal dining table where you can share stories from the day's adventures and sundowners beside a crackling fire. Then it's off to bed for a good night's sleep ready for a busy day exploring tomorrow.
DAY 6
Learn Ancient Skills
Today is likely to be a real highlight of your Reconnect in Tanzania itinerary as you set off to meet the Hadzabe - one of the last true hunter-gatherer tribes. You'll be leaving the camp bright and early as you are taken by your translator on a strictly controlled visit to meet the Hadzabe people and learn about their way of life - from the roots they use to dye clothes to how the men hunt with bow and arrow - and how it is, inevitably, changing. The highlight is following a honeyguide bird who leads you through the bush to a beehive in a tree. Watch as the Hadzabe hunters pacify the swarm with smoke and scoop out the honey while the bird eats the bees and wax in a wondrous mutually beneficial relationship.
This is a wonderful opportunity to plug into the natural world and reconnect with ancient skills and practices, all the while gaining fascinating insights into the Hadzabe people's way of life as they share stories of their ancestors and teach you how to forage for food, shoot an arrow and light a fire.
This morning, on the penultimate day of your Reconnect in Tanzania itinerary, it's another early start as you set off on a game drive or walking safari to explore the Ndutu area. With its nutrient-rich grassy plains, the area flourishes with new life during the calving season (December to March) which sees wildebeest and zebra migrate to the area to give birth to their young. This is a truly magical experience that will leave you feeling at one with mother nature and in awe of all her creations. Return to the camp for a leisurely lunch and then set off again, this time to visit the village of the Datoga tribe. You'll arrive in time to see the cattle herdsmen return their herd to their kraals (circular acacia stockades used to protect the wildlife and village) and celebrate not losing any of their beasts by jumping and singing, a regular occurrence that is wonderfully uplifting to witness. With the help of your translator, you'll then get the chance to meet the women of the village who manage the houses and encounter their children as they go to the local market to sell their homemade jewellery and spears.
Come evening, return to camp for a delicious dinner under the stars and the chance to reflect on the day as you sip sundowners beside the fire.
Sadly, today is the final day of your Reconnect in Tanzania itinerary. Soak up your serene surroundings this morning with a final breakfast in the bush before catching a flight back to Kilimanjaro with a picnic lunch to tuck into en route. Arrive to the airport in good time to catch your 12-hour-and-40-minute evening flight back home.
Your flight arrives into London in the mid-afternoon.
A Rough Idea of Price
Dependent on season, accommodation and activities
The estimated cost for this trip is £8,440 to £12,190 per person. The final cost of the trip depends on the way we tailor it especially for you. The final cost varies according to several factors, which include the level of service, length of trip and advance booking time. The exact price will be provided on your personalised quote. The average price for this trip is £9,375 per person.
A few of the benefits of travelling with us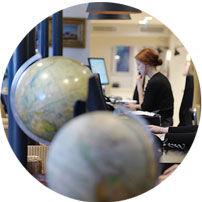 Get in touch
Our experts have the inside track on the destinations they sell and will tailor-make a holiday to your unique requirements.
Contact one of our Tanzania specialists