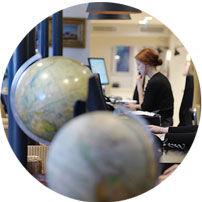 If you're looking to captivate your youngsters with fascinating culture, exciting nature and some seriously sweet treats, Turkey family holidays are just the thing. Acting as a bridge between two continents, Turkey offers a fascinating blend of western and eastern cultures and this fantastic fusion is reflected in the country's diverse landscapes, rich history and tasty cuisine which has evolved over centuries. Kick off your trip in the vibrant city of Istanbul – one of only five transcontinental cities in the world – where you can try your hand at haggling in one of the many bazaars and soak up
the atmosphere of locals gathering to purchase their wares and share daily gossip. You might even be offered tea as part of the process. There's so much more beyond Istanbul, too. With four seas on three sides, there's a plethora of water activities to enjoy during your Turkey family holidays, from windsurfing and kayaking to diving and snorkelling. And the nature is fabulous as well. Visit Cappadocia, a UNESCO World Heritage site and a natural playground with its towering fairy chimneys, underground cities complete with twisting corridors and secret passageways, and cave hotels with all the comforts.
Turkey Family Holiday Ideas
A few suggestions to get the holiday planning process started
Family Holidays by country
A few of the benefits of travelling with us
What our clients say about us
Turkey customer reviews (1 reviews)
5/5
All in all we had a great time and it was pitched well, so thanks for all your hard work. All the contact with London and the fixer in Istanbul were positive and helpful, we were met and guided and driven everywhere and felt safe and looked after the whole time, so thanks again, it was really appreciated.

The food was good everywhere and service was mostly excellent.
Turkey Guide
Practical advice, client testimonials and inspiration to help you prepare for your holiday
Contact one of our Turkey specialists