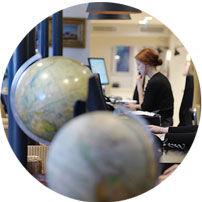 A funny phenomenon is afoot. With so many of the greatest sites in antiquity - in Syria, Libya and Iran particularly - off limits at present, people's craving for cultural experiences means other destinations are now grabbing the limelight they arguably should have had years ago. Exhibit A? Eastern Turkey, a region that borders Georgia, Armenia, Iraq and Syria and in so doing sits at the very heart of where Western civilisation first emerged. Despite latter-day Turkey's Muslim status, the region is also full of fascinating Christian history. As you can probably tell from the number of neighbours,
this is a big area, but we arrange Eastern Turkey holidays to this special region, taking in the many and varied highlights. And on the subject of highlights, what are they, exactly? Well, some - such as Mount Ararat, the final resting place of Noah's Ark - have deep-seated biblical resonance, while others such as Nemrut might not illicit a flicker of recognition until you realise this is the site of the extraordinary two thousand year old stone heads that often grace Turkey Tourist Board advertising. Throw in Gobleki Tepi, the world's oldest known temple (predating Stonehenge by a cool 5,000 years), stunning Roman mosaics, cliff-clinging monasteries and enormous amounts of Armenian culture, and you have a destination for the ages.
Eastern Turkey Holiday Ideas
A few suggestions to get the holiday planning process started
Turkey Regions
Discover more 100% tailor-made holiday ideas
A few of the benefits of travelling with us
What our clients say about us
Turkey customer reviews (1 reviews)
5/5
All in all we had a great time and it was pitched well, so thanks for all your hard work. All the contact with London and the fixer in Istanbul were positive and helpful, we were met and guided and driven everywhere and felt safe and looked after the whole time, so thanks again, it was really appreciated.

The food was good everywhere and service was mostly excellent.
Turkey Guide
Practical advice, client testimonials and inspiration to help you prepare for your holiday
Contact one of our Turkey specialists