From fragrant spices and traditional babouches (slippers) to handcrafted leather and hand-woven rugs, Morocco's souks are a treasure trove of trinkets and traditional goods. Whether you are souvenir seeking, bargain hunting or simply browsing, wandering the crowded and colourful alleyways of these historic markets is a must. To help you plan an extra-special shopping trip, we've rounded up some of the best souks in Morocco, including some of the most popular in Marrakech.
Souk Semmarine
Marrakech
In the heart of Marrakech, next to the city's main square, Souk Semmarine is the largest market in Morocco. Along this broad and bustling alley, you can buy everything from pastries and pottery to textiles and jewellery, or simply soak in the atmosphere. If this is your first experience of a souk, remember the first rule is to barter. Learning a few words of Arabic (or visiting the souk with a local guide) can help you haggle with the traders; while the concept might seem strange to the uninitiated, bartering goes hand-in-hand with shopping in Morocco, so don't be afraid to bargain for a better price. Halfway through Souk Semmarine, the passage forks; take a right and follow the rich aroma to Rahba Kedima souk, also known as Spice Square. This is the place to stock up on seasonings so you can recreate your favourite holiday flavours at home. Or for a break from bartering, stop for a drink at one of the cafes overlooking the spice market. If visiting Souk Semmarine in the evening, don't miss the stalls of intricate Moroccan lamps which are illuminated after dark, casting a magical glow around the market.
Souk el Henna
Fez
Souks in Morocco are found in the medinas; the ancient walled sections of a city. Starting out as small markets where merchants would sell their wares, many of Morocco's souks are centuries old; like Souk el Henna, which the oldest in Fez. The speciality here is cosmetics and natural remedies, including henna and kohl products, but it's also a great place to pick up the typical blue and white pottery that the city is known for, as well as souk staples like leather goods, spices and jewellery. The medina of Fez is also a UNESCO World Heritage Site, and when it was designated in 1981, UNESCO described it as 'one of the most extensive and best conserved historic towns of the Arab-Muslim world'. All the more reason to add it to your itinerary.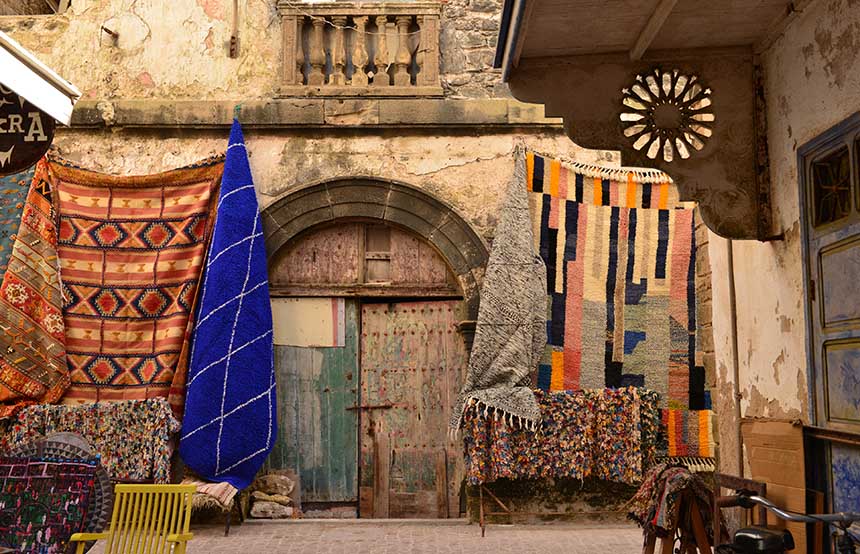 Souk Jdid
Essaouira
The Atlantic breeze that blows through the coastal city of Essaouira has earned it the nickname of the 'Wind City of Africa'. Those powerful ocean winds are popular with windsurfers, but less popular with tourists looking for a peaceful beach break (being blasted with sand isn't that relaxing). This has prevented Essaouira becoming a bustling beach resort and helped the city retain its traditional character and charm. You're also less likely to get lost when exploring Essaouira, as the medina has a French-inspired grid layout which makes Souk Jdid (the main market) less maze-like than other souks in Morocco. The vibe is a little more laid-back too, so it's a good place to practice your bargaining skills if you're a souk-shopping novice. On Sundays, visit the flea market at Souk Joutiya to rummage for second-hand treasures, including bargain vintage furniture (good luck fitting that in your hand luggage). Between the souk and the port is the Place Moulay Hassan; a sea-view square where you can recharge at one of the cafes before you get back to browsing.
Souk Zrabia
Marrakech
The Berber tribes of Morocco have been weaving rugs for centuries, with this ancient art passed down through the generations. If a colourful handmade rug is on your souvenir shopping list, head to Souk Zrabia in Marrakech. Here you can peruse rugs, carpets and kilims (a thinner style of rug) in patterns and colours that reflect the region where they were made; like the black and white crisscross-patterned Beni Ourain rugs crafted by the tribe of the same name. As with most souk purchases, it's a good idea to shop around (quality can vary and cheap knock-offs are plentiful) and don't forget to barter. And while smaller rugs can be rolled up to take home, if you're buying a larger design or worried about weight limits, most sellers offer shipping at surprisingly reasonable rates.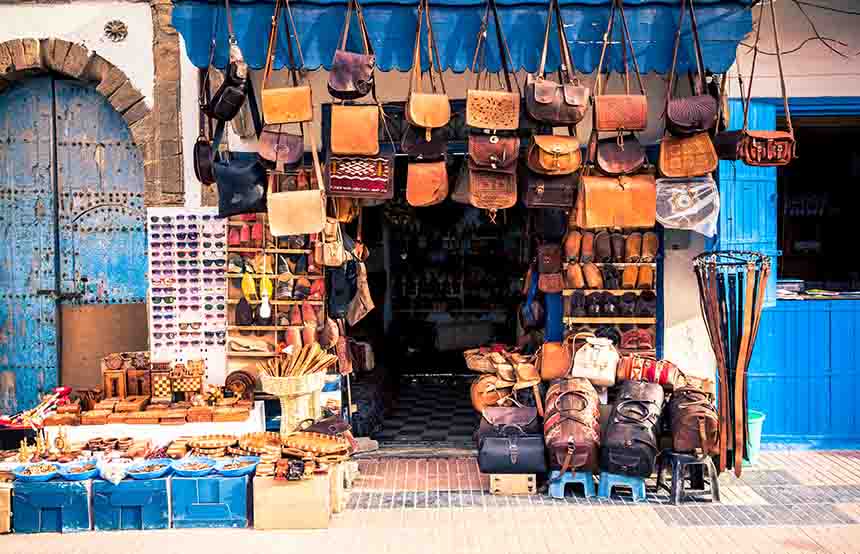 Souk Nejjarine
Fez
Nejjarine means 'carpenter', so Souk Nejjarine in Fez is one of the best souks in Morocco for picking up ornately-carved woodwork, including wooden jewellery boxes and furniture. Nearby, the cobbled Nejjarine Square is known for its 18th-century mosaic fountain and the Nejjarine Museum of Wooden Arts and Crafts. The museum is a highlight of the square; set in a handsomely restored funduq (an inn for travelling merchants), it has exhibits exploring the woodworking heritage of Fez, as well as a rooftop cafe that overlooks the medina.
Souk Dhabia
Marrakech
For a souvenir that slips more easily into a suitcase than a rug or handcrafted furniture, visit the Souk Dhabia in Marrakech. This is the jewellers' souk, where you can shop for bracelets, necklaces, earrings and other decorative delights. There are stalls selling jewellery for every budget, so whether you want to treat yourself or someone special, you're sure to find a trinket to take home. And what are you going to do when you pick out that perfect piece? You're going to barter of course, because by now you're a seasoned, souk-shopping pro.