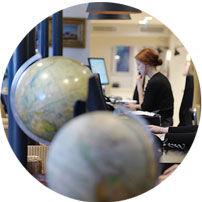 Four to five hours south-east of Marrakech by road, the town of Ouarzazate is known as the gateway to the south of the country. The scenery around Ouarzazate and the Great Moroccan South is filled with valleys and gorges, with the Draa Valley extending southwards and providing plenty of greenery. Think date palm oases that line the road to Zagora and beyond, where the Sahara begins, and the roads and towns run out. Red brick
ksars
are draped in sunlight, surrounded by arid mountains and rolling dunes, ready for you to head out to explore on foot or by 4x4. Film buffs can indulge in a few
guilty pleasures between the camel treks and Bedouin cultural experiences as Ouarzazate is also home to the Atlas Film Studios, where a host of A-list movies have been made, from Lawrence of Arabia to Gladiator. The region's dramatic scenery and traditional Kasbah buildings do indeed lend themselves wonderfully well to film sets, as anyone who plans an Ouarzazate and the Southern Desert holiday will appreciate.
Morocco Regions
Discover more 100% tailor-made holiday ideas
A few of the benefits of travelling with us
What our clients say about us
Morocco customer reviews (3 reviews)
4.7/5
Overall, I'd give the trip a 5+ out of 5. Very well planned and executed, even with last minute changes to my husband's travel. Thanks so much for one of our favorite trips thus far! We look forward to working with you again.
Morocco Guide
Practical advice, client testimonials and inspiration to help you prepare for your holiday
Contact one of our Morocco specialists