Itinerary Highlights
Ride camels through the palm groves in north east Marrakech
Stay at a desert camp in the vastness of the Sahara Desert
Trek through the Atlas Mountains before a well-earned rest for weary limbs in a traditional hammam steam room
Contact one of our Morocco specialists + 44 (0) 20 3958 6120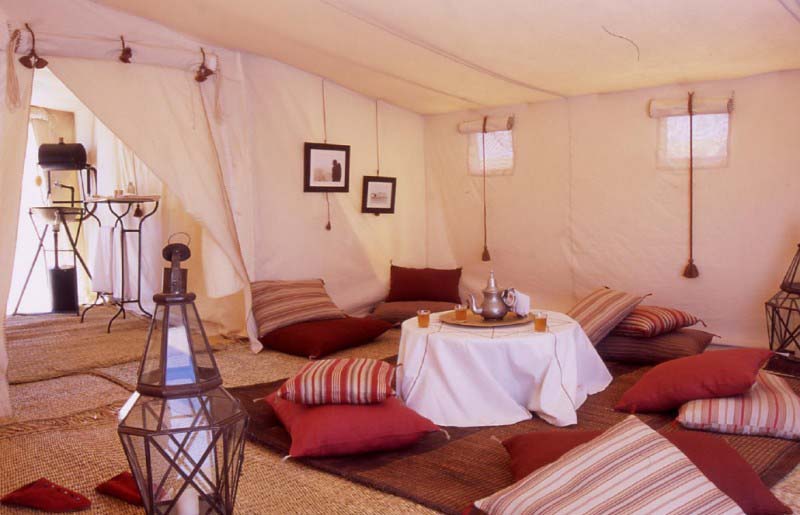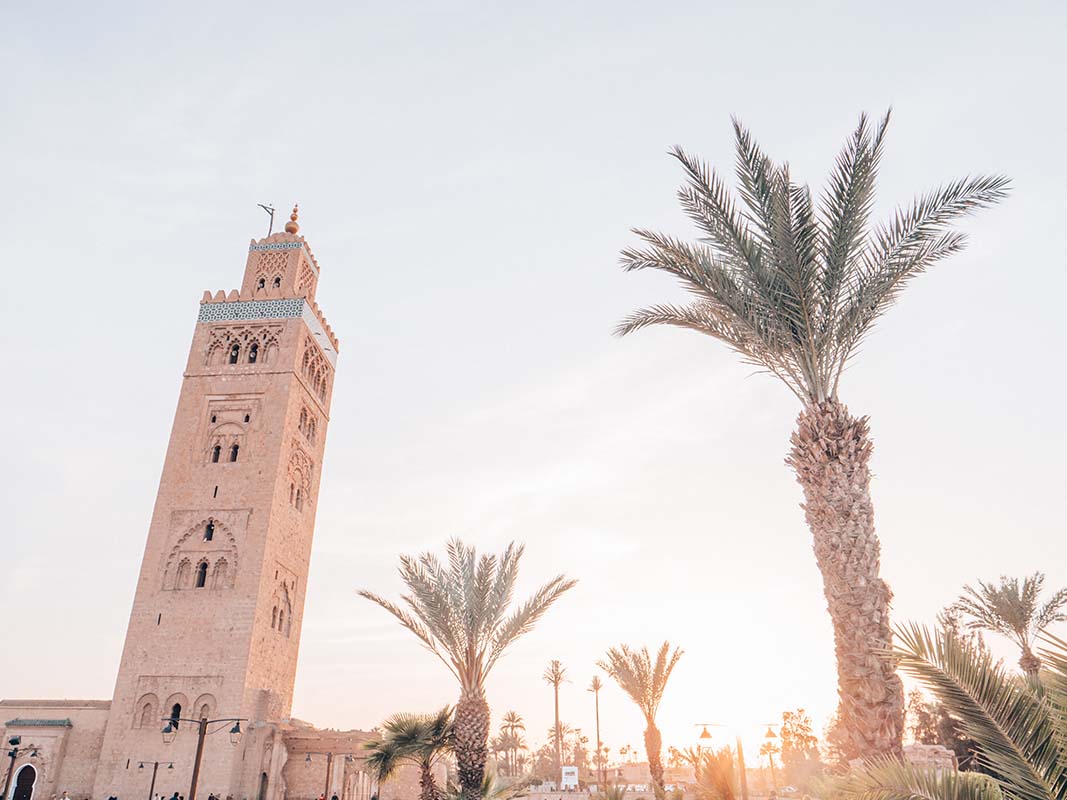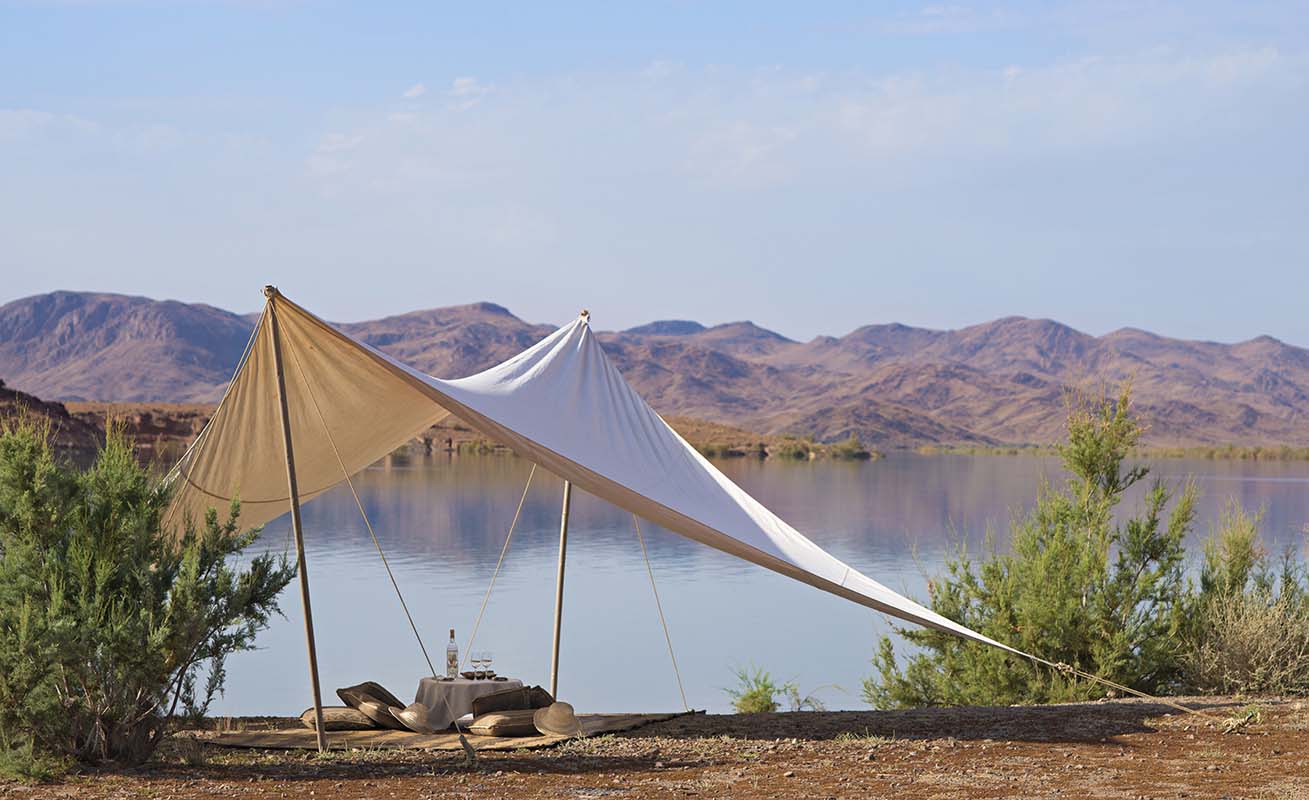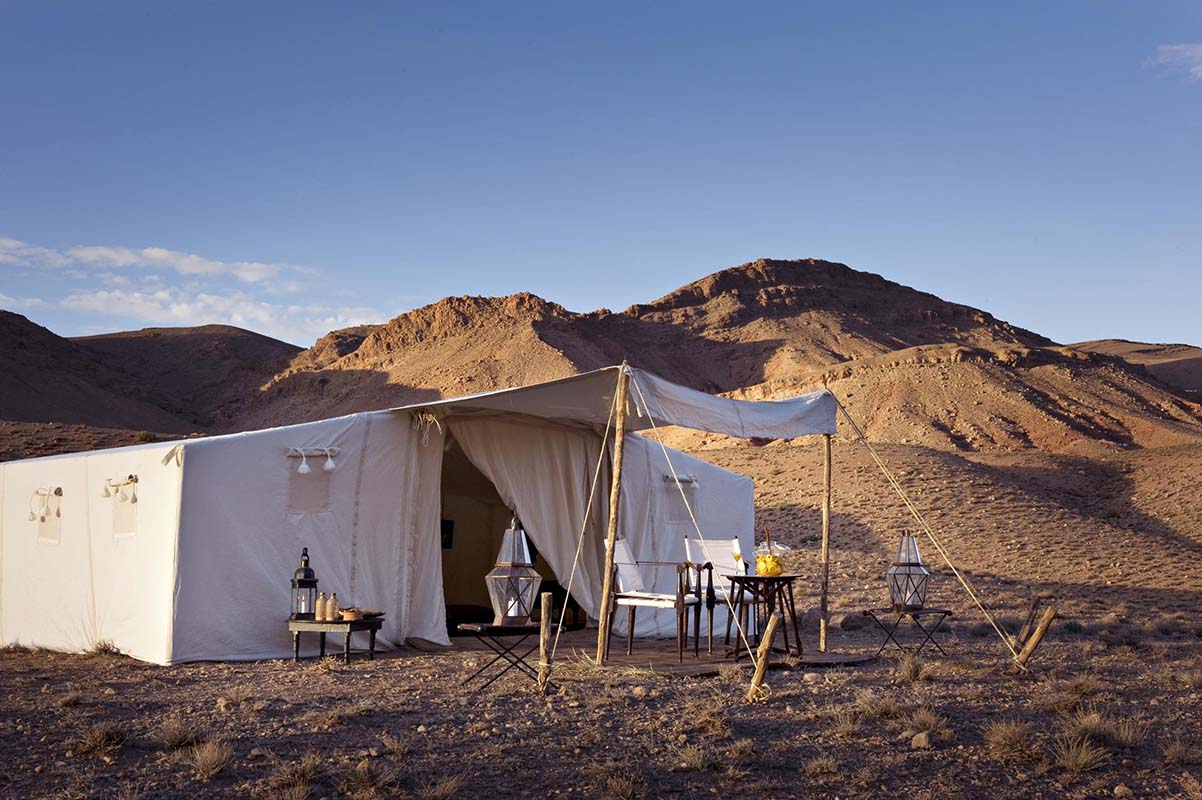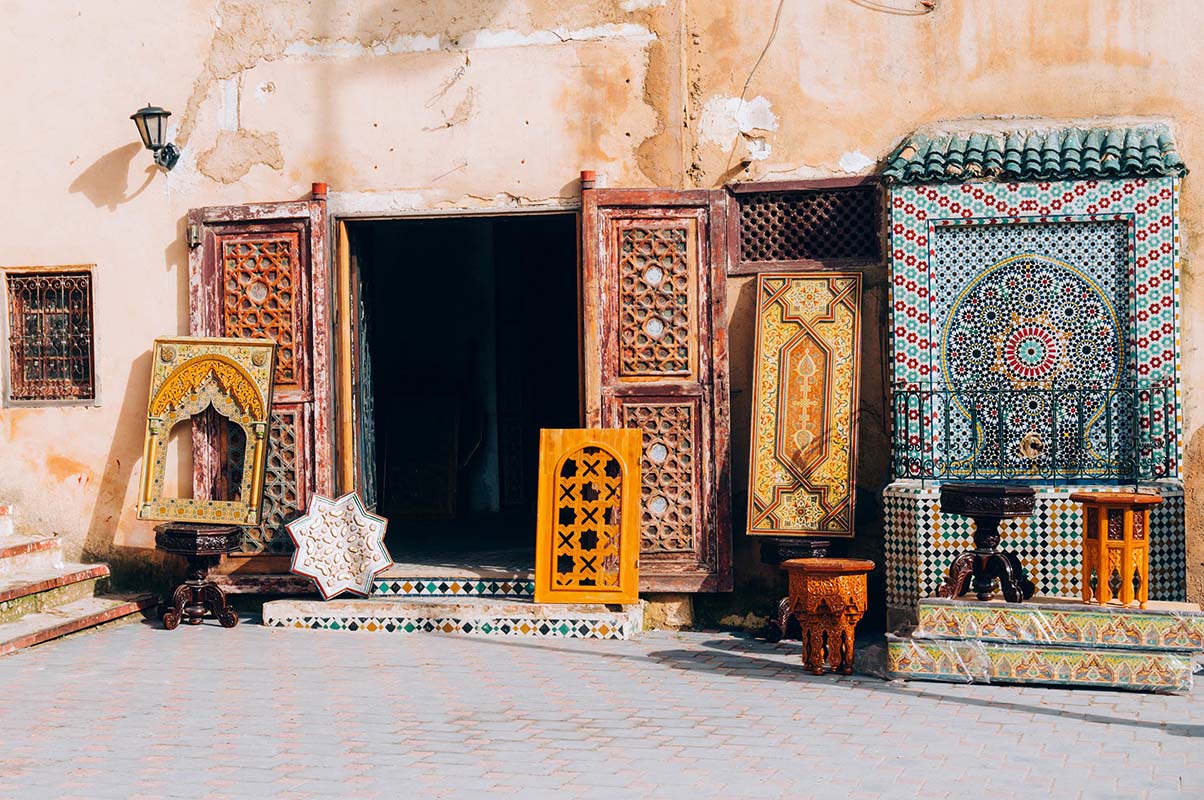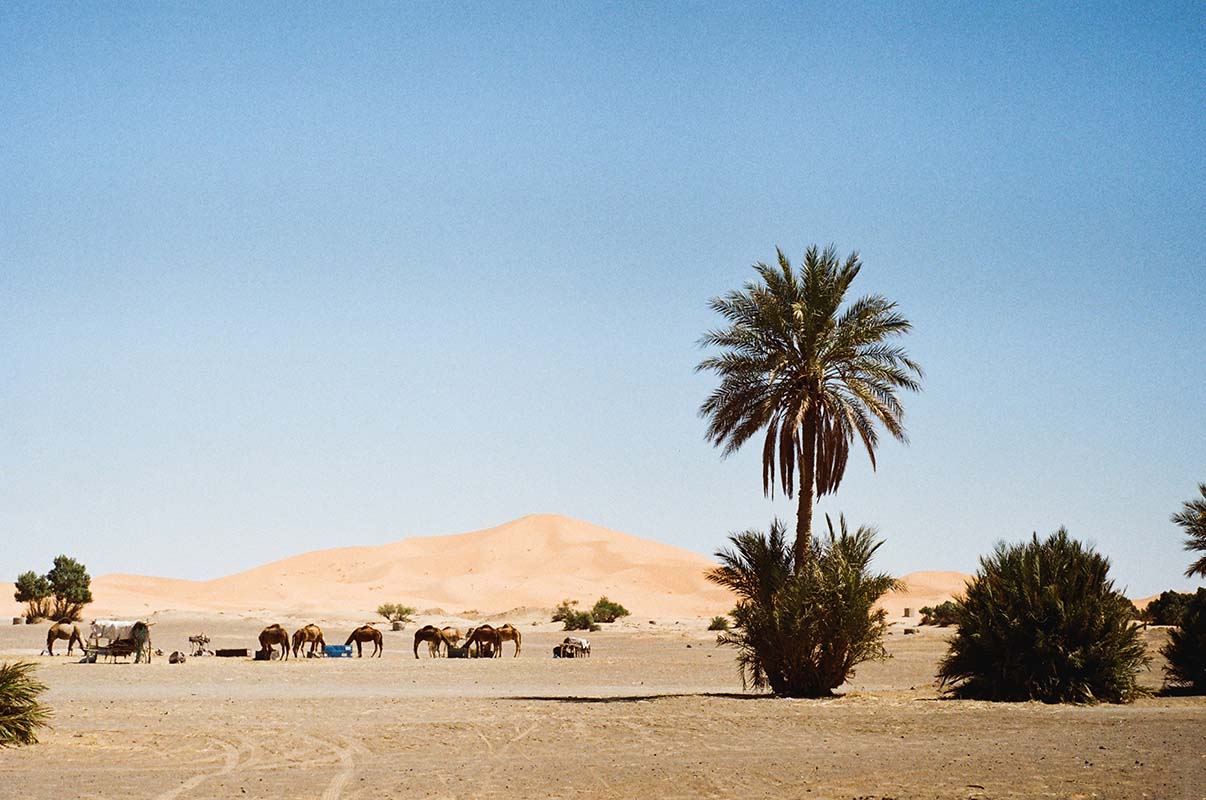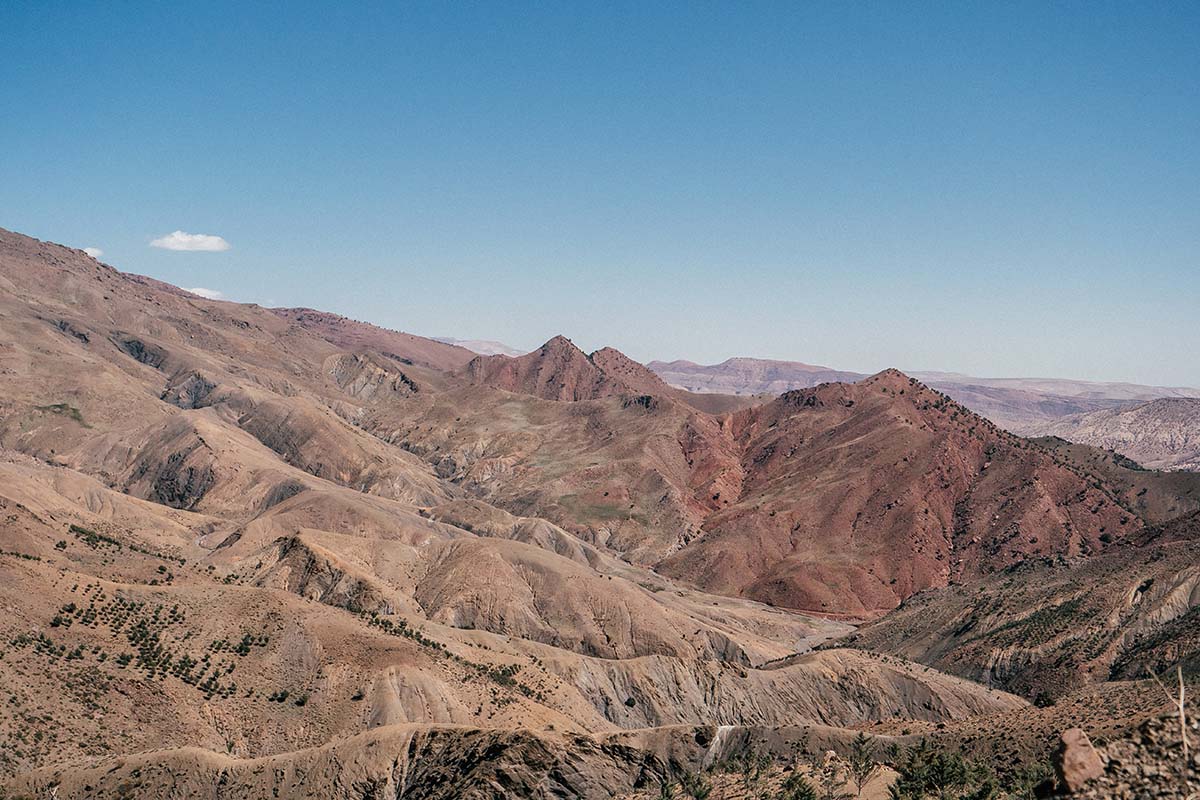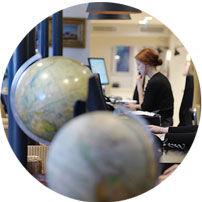 This 11-day Morocco itinerary combines some of the fascinating extremes that make Morocco such an alluring destination. Journey from the hustle and bustle of Marrakech city to the soul soothing silence of the Sahara and finally to the soaring majesty of the Atlas Mountains.
Route
Everything is 100% tailored to you
Land on Moroccan soil in Marrakech (a direct flight from London takes about three and a half hours), the country's most iconic city. Your driver will be waiting at the airport to meet you and take you to your riad (converted Moroccan townhouse built around a courtyard) or hotel in the heart of the medina (old town). Once settled in and freshened up we have arranged for a guide to meet you and take you on a private guided tour of the souqs and medina. At the heart of the city's charm these colourful alleyways are full of smells, flavours and sounds, and as wonderful as they are, we understand that they can be a little daunting for first time visitors. However, in the capable hands of your guide you'll get under the skin of what makes the souqs thrive, sampling produce, meeting stallholders and learning about the history of city.
The tour ends in the famous Djeema el-Fna square, where you'll see snake charmers, contortionists and fortune tellers all entertaining their customers - locals as much as tourists - with fascinating displays. As dusk falls and you say goodbye to your guide we suggest you hang around the square and enjoy an authentic street food dinner from one of the market stalls which pop up come evening. We can recommend our favourite.
This morning, head out of the city centre as your guide picks you up from your hotel and takes you to the palm groves in the north east of the city where we've arranged a proper Moroccan experience for you. When you arrive you'll be greeted by a herd of camels and given instructions on how to approach and ride them, then, it's time to hop on board and hit the road - well, sandy track. Led by your guide you'll spend the morning exploring the palm groves and the date plantations and along the way pass various local settlements. At a local kasbah (fortified house) you'll stop for mint tea and crepes with honey before making your way back to the car and then the city.
We can recommend one of our favourite rooftop restaurants tonight and pre book in advance, or if you feel like being spontaneous, head out armed with our Marrakech Dossier and you'll be sure to find a nice spot.
For your last morning in Marrakech we have organised for you to take part in a cooking workshop. In a small group and under the expert guidance of the head dada (traditional Moroccan cook) you'll be taught and guided through preparing your own two course Moroccan feast. Using only every day equipment the dada will give you detailed instructions so that you can go home and impress friends with your skills at the next dinner party.
After devouring your lunch we suggest taking the afternoon relatively easy, maybe popping back to the souqs to haggle after that scarf you've been thinking about, or simply relaxing in the hammam steam room at your hotel.
Pack your bags this morning as you are heading way from the capital and towards the desert. Your next stop is in the Ouarzazate area, the gateway to the Sahara Desert and about four hour's drive from Marrakech. You'll be staying at Dar Ahlam, a restored traditional kasbah which now offers luxurious and grand accommodation in expansive grounds. The first afternoon here is yours to enjoy the surroundings; wander through the gardens and get stuck into a good book on the terrace, or dip in the pool for a gentle swim.
This morning you are off on a desert adventure. You'll be met at Dar Ahlam and make the drive across the sand dunes to your luxury tented camp in the heart of the desert. The journey is part of the fun today so enjoy bumping over the dunes in your 4x4 and stop along the way to channel your inner child as you run up and down the rippling sand dunes.
When you arrive you'll find several tents scattered around a central area which is stylishly decorated with lanterns and comfortable Berber cushions. Inside the camel-skin tents are proper double beds complete with various pillows and throws, soft rug lined floors and en suite bathrooms. As darkness falls, watch the night sky light up over dinner and drinks and then lie back on the comfy cushions to stargaze in the total absence of light pollution..
After your night in the desert it's time to head back to Dar Ahlam, but not before a morning of desert adventure. You'll be picked up from camp and driven in a 4x4 to a spot just 15 minutes away, where you'll find your very own quad bikes. From there you have two hours to race around on your quads with your guide, getting the adrenaline pumping as you soar across the sand dunes.
Afterwards, dust off and then get on your way to Dar Ahlam, arriving in time for a quick pre-dinner hammam session.
DAY 7
Exploring Ouarzazate
Get up early this morning to enjoy a sunrise breakfast at the nearby Ksar Ali, a renowned viewpoint which overlooks the palm groves. With cushions and lanterns scattered around you and a warm mint tea to sip this is a really magical experience. Head back to Dar Ahlam after breakfast for a snooze in the sun. When you've caught up on some sleep how about a massage and a soak in the traditional hammam?
Today is a busy one as you leave Dar Ahlam behind and head towards the Atlas Mountains. On route you'll stop at the Ksar of Ait-Ben-Haddou, an earthy red settlement made of buildings tightly packed together on a hill and surrounded by high walls. This UNESCO protected site is a great and well preserved example of the traditional architecture of southern Morocco but nowadays it's far more famous for featuring in Gladiator, Lawrence of Arabia and Game of Thrones.
After exploring and channelling your inner Russel Crowe, it's back to the car for the remainder of the journey. It's about a four hour drive from here so you'll likely arrive with just enough time to freshen up before dinner.
What a view to wake up to! Put on your walking boots as you're heading out for a full day of exploring the beautiful terrain of the Atlas Mountains today. With a private guide and a donkey to carry water and a picnic (and you, if the going gets too tough!), you'll traverse red rocky paths, looking up on snow-capped peaks and down onto lush green walnut groves. Whatever your fitness levels and appetite for adventure, your guide can tailor the trek to suit. All treks will however include a stop for a picnic lunch, an n opportunity to sit and really take in your surroundings.
With your legs starting to tire by late afternoon, head back to the hotel for a well-deserved dinner on the terrace.
The last day of the holiday marks a chance to look back on all that you've seen and done. And what better place for reflection than the hammam? Soak and soothe your legs after yesterday's action, then indulge in a massage or treatment and finally curl up for a nap under the shade of a tree on the terrace.
More active types might want to play a game of tennis or go for a swim in the pool (depending on where you're staying), and there are also a number of short cultural excursions available if you want to explore the mountains a little more.
Hopefully feeling like you've had your fill of adventure, culture and relaxation, it's now time to head home. Your driver will be waiting to meet you for the hour or so long journey to Marrakech Airport and from there, catch your flight back to the UK.
A Rough Idea of Price
Dependent on season, accommodation and activities
The estimated cost for this trip is £7,910 to £10,105 per person. The final cost of the trip depends on the way we tailor it especially for you. The final cost varies according to several factors, which include the level of service, length of trip and advance booking time. The exact price will be provided on your personalised quote. The average price for this trip is £8,790 per person.
A few of the benefits of travelling with us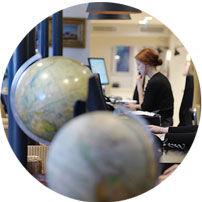 Get in touch
Our experts have the inside track on the destinations they sell and will tailor-make a holiday to your unique requirements.
Contact one of our Morocco specialists