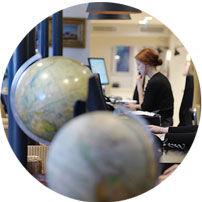 The USA struck gold - literally and metaphorically - when buying Alaska from Russia in the 19th century. The state was purchased for just $7.2 million back in 1867 and within 50 years the USA had made that back - and some. Latter-day Alaska holidays should be the dream for anyone wanting to heed the call of the wild. This is wilderness on an epic scale, but it's not just the landscapes that are big - this is also the land of brown bears that make Leonardo Di Caprio's 'Revenant' assailant look like a teddy bear. The bears get so big in part because they can call on 70lbs king salmon (that's about
the weight of an 11-year old child) as part of their diet, and offshore it's possible to take a boat trip to see enormous humpback and blue whales as well. On any Alaska holiday you'll want to check out the natural wonders of Denali National Park, including pristine glaciers on Denali (Mount McKinley) itself; admire the Wrangell St. Elias icefields and the clear waters of Prince William Sound. During the summer season spend days kayaking alongside majestic glaciers and colonies of puffins and seals, hiking almost virgin trails, fly-fishing for Alaska king salmon and observing a sloth of bears (possibly our favourite collective noun). And with 20 hours of daylight during the summer, there is plenty of time to pack in the adrenaline pumping activities. Come winter, the Tordrillo Mountains provide prime heli-skiing and boarding terrain. Throughout your trip, follow in the footsteps of the indigenous Inuit people and trace the same trails as prospectors and explorers.
A few of the benefits of travelling with us
What our clients say about us
USA customer reviews (3 reviews)
4.7/5
Yet again you guys delivered! We had a fantastic trip, wonderful accommodation. Well done to you and your team.
USA Guide
Practical advice, client testimonials and inspiration to help you prepare for your holiday
Contact one of our USA specialists