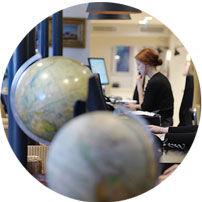 Aloha and welcome to Hawaii, the most isolated population centre on Earth, a mere 2,390 miles from the coast of California and some 3,850 miles from Japan. As you can imagine, this is a place that takes a while to reach, but boy is it worth the effort. Hawaii is the land of colourful coral reefs, sun bleached surfers, vibrant green forests and a volcano or two, and the perfect place to slow down and embrace the chilled-out island lifestyle. Comprised of eight major islands and a scattering of smaller islets, Hawaii holidays are guaranteed to have something for everyone. Be seduced by the tropical
paradise that is Maui with its thundering waterfalls, tropical forests and transparent waters. Discover Oahu, the most famous island, where surfing enthusiasts flock to Waikiki Beach in Honolulu before moving to Kailua Beach, one of the most beautiful spots in the world. See the imposing volcanoes on Big Island and don't miss Kauai, the most cinematic of all, with its majestic Waimea Canyon, crystalline sands and unbeatable diving spots. Whichever island combo you choose, there is plenty of indigenous culture to enjoy alongside the creature comforts that mainland Americans do so well, and speaking of the mainland, Hawaii holidays also dovetail beautifully with either California or the west coast of Canada to provide perfect combinations or an ideal multi-stop honeymoon.
Hawaii Holiday Ideas
A few suggestions to get the holiday planning process started
A few of the benefits of travelling with us
What our clients say about us
USA customer reviews (3 reviews)
4.7/5
Yet again you guys delivered! We had a fantastic trip, wonderful accommodation. Well done to you and your team.
USA Guide
Practical advice, client testimonials and inspiration to help you prepare for your holiday
Contact one of our USA specialists