Itinerary Highlights
Hawaii beyond the cliches. A journey of striking contrasts on the four islands which have the strongest personalities: Oahu, Kauai, Big Island & Maui
The ocean's magnetism, the majesty of its volcanoes and the cool spirit of 'The Aloha State'
Private helicopter and Volcano National Park flight are included
Local Concierge service, inter-island flights, cars and our usual additional services
Contact one of our USA specialists + 44 (0) 20 3958 6120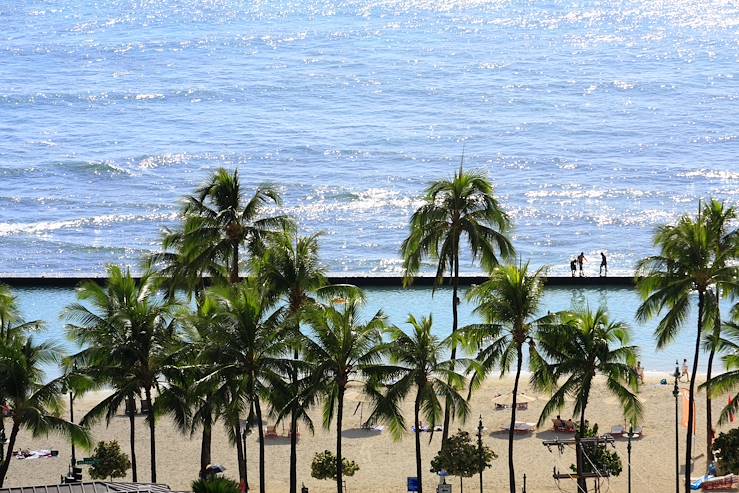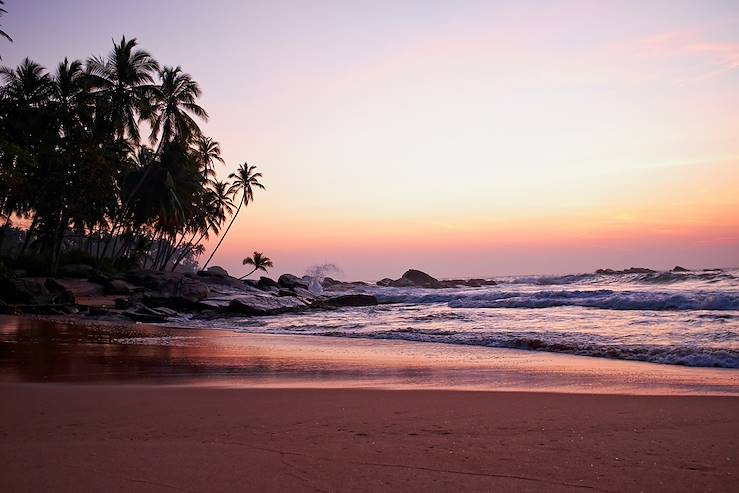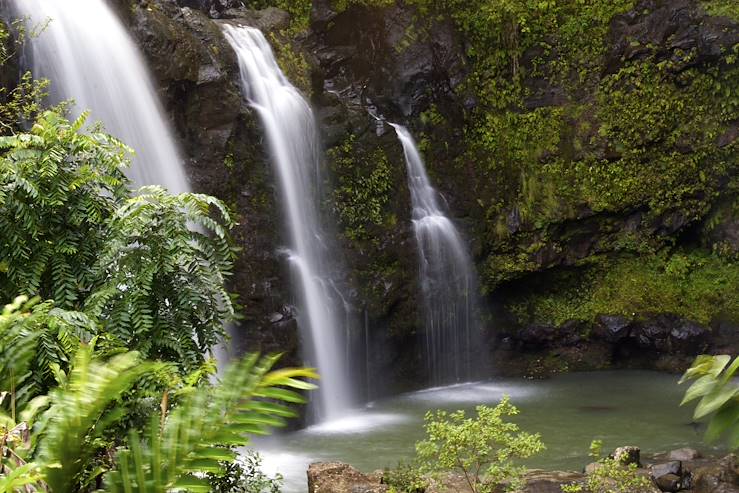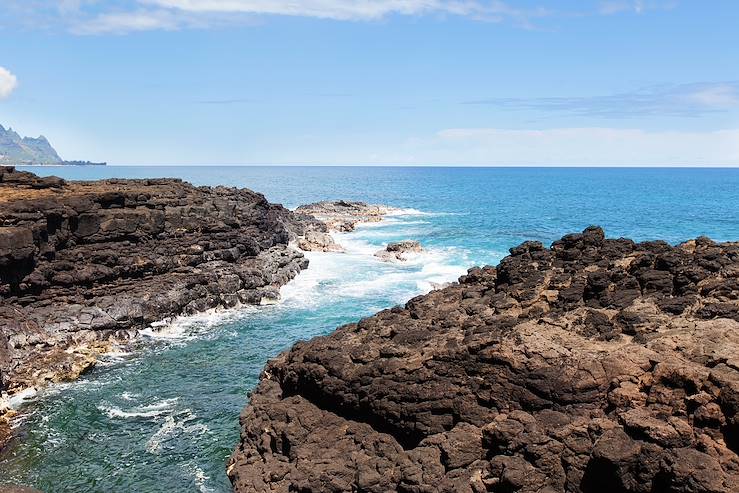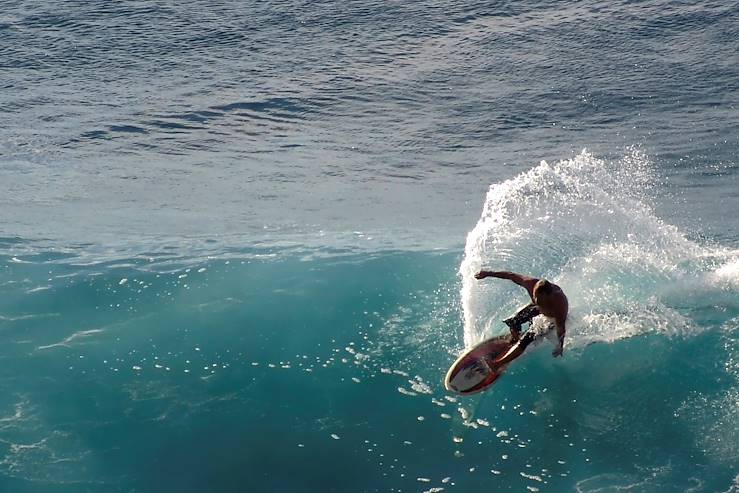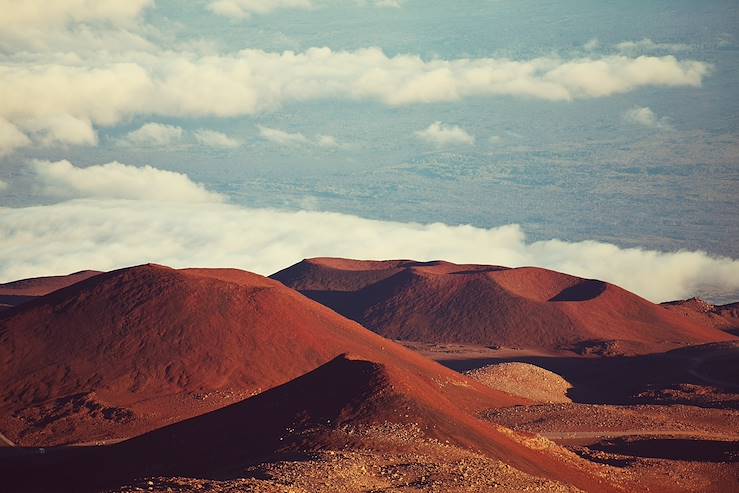 THE HAWAIIAN ARCHIPELAGO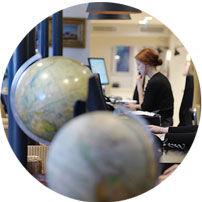 Symbols of the paradise island dream in the '60s thanks to the likes of Elvis and Liz Taylor. The one-time Sandwich Islands, as Captain Cook named them, burst with wild and wonderful nature. Everyone can find his or her own paradise on Earth in the archipelago, with it brutally rugged mountains and tropical valleys swathed in infinite green, lunar landscapes and long beaches, descendants of the hippie movement and tattooed Polynesians. The 50th state, and the last one added to the star spangled banner, has little in common with the American mainland. It's the only state located in the tropics and is the symbol of a pristine and pure planet. Hawaii feels like somewhere from the foundation of the world.
Hawaii is at once the meeting of volcanoes and oceans; dream beaches and fantastic dives; and each island has its own personality. Every shore is either a 'windward coast' or 'leeward coast', and home to that most Hawaiian of activities: surfing... The incomparable 'Aloha State'. 'Aloha' is more than a word used to greet one's neighbour; it's a philosophy, a friendly and sincere connection with other people.


YOUR TRAVEL
Honolulu, Koloa, Kohala Coast, Volcano, Wailea... And there are many stops on your trip through the archipelago, on its four most spectacular islands: Oahu, Kauai, Big Island and Maui. Relatively short inter-island flights from island to island are included; and on each island, you have a rental car so you can take off at your own pace. The road map is the driver's valuable co-pilot. Driving in Hawaii is easy, but the signs aren't always great. People here live to the rhythm of the sun, preferring to rise early to enjoy mild temperatures and a mist-free sky. Where possible we have selected your accommodation for its location and small number of guests; a fairly rare find in Hawaii. Sometimes, a room category and a view make all the difference. We have included highlights from the outset on your itinerary, starting with a helicopter flight over Kauai Island. This is a hugely memorable moment, offering unparalleled views of the island's scenery. And on Big Island, explore Hawaiian Volcano National Park with a local guide. There are endless experiences on each of the islands. Kayak on the protected waters of Kaneohe Bay, one of the most beautiful on the island of Oahu. Hike through the largest canyon in the Pacific, Waimea Canyon. Add in snorkelling outings and diving trips, looking for dolphins, turtles and whales. Coast in a catamaran off the coast of Kona from Big Island. Surf, paddle board and buggy... And, of course, everyone is free to extend their experience to the other islands in the archipelago. On top of this, in case of any unforeseen events, questions or last-minute changes of plan, you have the contact details of our Concierge at the destination.
Route
Everything is 100% tailored to you
DAY 1
Flight to Hawaii - Honolulu, Oahu
Flights to Hawaii and Oahu Island via San Francisco. Collect the hire car on arrival in Honolulu and spend two nights in the district of Waikiki, in accommodation loved for its vintage, trendy feel, on the outskirts of the standard Honolulu resorts. This contemporary hotel on Lewers Street offers comfortable rooms ideally situated near the heart of Honolulu and not far from the beach, and it's easy to reach on foot or by bike (10-15 minutes' walk). We love the friendly atmosphere and attentive service. The restaurant is pleasant and offers a healthy menu. The small swimming pool fits in well with the surroundings.
Oahu is the busiest island in the Hawaiian archipelago. Waikiki Beach is home to mainland American-style skyscrapers, bars, trendy restaurants and fashion boutiques... The rest of Oahu island, which is less populated, is well worth exploring.
Things to see and do - Admire the viewpoint at Diamond Head. Stroll through Haleiwa, the world's surf capital. Visit the Pearl Harbour Memorial. Watch a traditional show at the Polynesian Cultural Centre. Lounge on 656 miles of beaches. Venture out freely throughout Oahu Island behind the wheel of your car... What is our favourite site? Hanauma Bay, nicknamed 'the best beach in the world'. Get there at dawn to avoid crowds.
Optional - A boat or kayak trip on the protected waters of Kaneohe Bay, including paddle boarding and snorkelling breaks and lunch.
DAY 3
Honolulu, Oahu - Koloa, Kauai
Quick flight to Lihue, Kauai Island (45 minutes). Pick up a new hire car and spend three nights at the southern tip of the island. Your beachfront accommodation is a refreshingly small place right in the heart of the Poipu Beach Resort Area, home to a string of large resorts and villas. The motel spirit is clearly discernible from the discreet buildings. The rooms are simple, pleasant and comfortable. There's a small rocky beach in front and, further afield, a beautiful sandy beach. The added bonus: from November to May, this part of the Pacific is on the migration path of humpback whales, so always keep an eye on the horizon.
DAYS 4 & 5
Koloa, (Kauai)
Kaui, known as 'the Garden Island', is the most natural island and inhabited by the largest number of native Hawaiians. Peoplel never tire of wandering around the island, a true hikers' paradise, especially around the Waimea Canyon, the largest canyon in the Pacific; or along the wild coast of Na Pali, with its intermingled sea caves, waterfalls, white sandy beaches and cliffs...
Included in the itinerary - A helicopter flight over Kauai, 50 minutes spent over breathtaking scenery: the Na Pali Coast and its chiselled cliffs; the Waimea Canyon and its hidden waterfalls; the Bali Hai Cliffs and the turquoise waters of Hanalei Bay; and finally, Mount Waialeale, heart of the former volcano and one of the wettest sites on earth where no fewer than 14 waterfalls flow.
Optional - Easy hiking in the Waimea Canyon.

DAY 6
Koloa (Kauai) - Kohala Coast (Big Island)
Flight to Kona, Big Island (55 minutes). Collect your new hire car and spend two nights on the Kohala coast in the north of the island, in a large waterfront complex surrounded by an extensive lush garden with palm trees and a river. The hotel offers rooms, bungalows and villas, a wide range of water activities, two golf courses and a spa.
DAY 7
Kohala Coast (Big Island)
A day of relaxation on the ocean side of the Kohala coast to enjoy seaside Hawaii.
To see and do - Learn to surf or practise the basics you already have down. Lounge on the beautiful beaches of the coastline. Dive on the archipelago's most beautiful reefs. Discover Kailua-Kona, a small town that was for a long time the capital of Hawaii's kings and has retained several royal residences. Visit Kaloko-Honokohau National Park and its turtles. Hold a seahorse at the Ocean Rider Seahorse Farm. Trek in the surrounding coffee plantations...
Optional - A snorkelling outing with manta rays. A catamaran cruise along the Kona coast.
DAY 8
Kohala Coast - Volcano Village (Big Island)
Road to Volcano Village, in the southern part of the island. This small community is entirely dedicated to tourism. It's located at the edge of Volcano National Park and sits at an altitude of 3,280ft on the side of Kilauea volcano in the middle of a dense rainforest. Spend two nights there in an out-of-the-ordinary bed & breakfast that has four small circular chalets with Japanese decor, spread out in a lush garden. Glazed windows and skylights reflect the owners' desire for perfect symbiosis with nature. We love the location's warm welcome and the philosophy, for visitors who are thoughtful and sensitive to their surroundings.
DAY 9
Volcano Village (Big Island)
Volcano National Park consists of two of the world's most impressive volcanoes. Kilauea is one of the most active on earth; yet the Mauna Loa is the highest (13,680ft). The spectacular natural landscapes and geological activity make this region as exciting as it is brooding. Rain is frequent on the island but does not interfere with the observation of wildlife or magnificent lava flows, some still glowing as they enter the ocean.
In the itinerary - visit to Hawaii Volcano National Park. Discover Hawaiian culture and the UNESCO National Park with a guide from Big Island. The landscape changes with the volcanic eruptions and lava flows, and reveals impressive geological formations. There are rare birds, endemic species and giant fern forests.
DAY 10
Volcano Village, Big Island - Wailea, Maui
Flight to Kahului, Maui Island (40 minutes). Pick up the last hire car and drive to Wailea-Makena in the south-west of the island where the beaches expand from south to north. Wailea-Makena is most famous for, its generous sandy coastline and dense, well-preserved vegetation. Many up-market hotels and resorts have moved in. Spend three nights at one of its most recent. Designer lines, fresh colours, all the latest tech and trendy restaurants... All this with breathtaking ocean views and myriad infinity pools that reflect the stars and palm trees. There's an informal welcome, but the service is high quality. There are numerous sports and fitness activities to enjoy: several infinity pools with ocean views, a spa, yoga, kayaking, paddle boarding and snorkelling... Not to miss for amateurs: Mokapu Beach's famous surf spot is just a stone's throw away.
DAYS 11 & 12
Wailea (Maui)
To see and do- Hike in the Iao Valley under lava spines covered by the rainforest. Visit Haleakala National Park and its gigantic volcano. Marvel at the prowess of surfers who come to tame the wildest waves in the world. Clock up the miles to discover little fishing harbours, whaling towns and sugar cane fields...
Optional - A catamaran trip with snorkelling stops to Molokini, an island born of a submerged crater that has become one of Hawaii's most popular diving spots.
DAY 13
Wailea - Hana (Maui)
Head to Hana on the other side of the island, sitting alone at the end of a huge rainforest, which you can reach via the stunning Hana scenic road with no fewer than 620 bends and 59 bridges. Spend one last night at the eastern tip of the island, in a small jewel of a hotel with a strong digital detox ethos. There isn't a television or telephone here, but absolute calm, with cottages scattered around the property, overlooking the sea or the garden side, as well as a small adjoining beach.
DAYS 14 & 15
Hana (Maui) - Return Flight
Last day exploring the island of Maui or relaxing, and then driving to Kahului airport and flying back to San Francisco. Overnight flight, arriving the next day.

A la carte
OAHU - KAYAK OR BOAT IN KANEOHE BAY
Leaving Waikiki, head for the windward coast of Oahu and remote Kaneohe Bay Peninsula. From there, you can go on a kayak or boat trip (motorboat or small catamaran) on the protected waters of the bay, one of the finest the island has to offer. This is an opportunity to arrive at the White Sand Bar, a secluded sandbar home to plentiful fish, turtles and manta rays. Several snorkelling breaks are included (as is equipment), and even paddle boarding for enthusiasts. Please note: the itinerary is subject to change depending on weather conditions.
Optional - Half-day, lunch included


KAUAI - TREKKING IN THE WAIMEA CANYON
It's nicknamed the Grand Canyon of Hawaii and is the largest canyon in the Pacific. Just the route into the entrance of Waimea Canyon State Park offers stunning views. Next, hike through the dense vegetation to a viewpoint overlooking the Waimea River, 1,312ft below, passing waterfalls on either side.
Optional - Easy level, with a private guide


BIG ISLAND - SWIMMING WITH MANTA RAYS
In Kona at dusk, manta rays come up to the surface of the ocean to feed on plankton. This is the opportunity for swimmers to get close to them. These so-called sea devils are totally harmless despite their sometimes 15ft span. This trip takes you almost 1000ft offshore by boat, and during this jaunt everyone is free to swim wherever they like among the rays.
Optional - With a guide


BIG ISLAND - CATAMARAN CRUISE
A big half-day outing along the Kona coast aboard the 56ft-long Hula Kai, the latest Fairwind catamaran. The cruise leaves from Keauhou Bay and includes two snorkelling stops, in locations famous for their shallow waters and corals. There's a pre-booked barbecue lunch on board. Those who wish can also try paddle boarding. For an extra, enjoy the SNUBA, or Sea Rocket Tour, which propels divers underwater to see as much as they can in a short span of time.
Optional - Half-day, lunch included


MAUI - CATAMARAN AND snorkelling IN MOLOKINI
Embark on a comfortable catamaran and then stop at two snorkelling spots around Molokini, an island born of a submerged crater, that has become one of the most popular spots in Hawaii for snorkelling (equipment included). The site is unique in itself: Molokini is one of only three sheltered offshore volcanic calderas in the world. In these crystalline waters, it's often possible to see at more than 131ft under water. An adventure in the heart of a marine sanctuary that is home to hundreds of endemic Hawaiian species, turtles and corals that aren't found anywhere else. Please note: the itinerary is subject to change depending on weather conditions.
Optional - Half day, breakfast included
A Rough Idea of Price
Dependent on season, accommodation and activities
The estimated cost for this trip is £7,600 to £8,400 per person. The final cost of the trip depends on the way we tailor it especially for you. The final cost varies according to several factors, which include the level of service, length of trip and advance booking time. The exact price will be shown on your personalised quote. The average price for this trip is £7800 per person.
International flights with a scheduled airline
Airline taxes and fuel surcharge
Inter-island flights mentioned in the itinerary
Car hire on each island
Two-night stay on Oahu Island in Honolulu at the Surfjack Hotel and Swim Club in a double bungalow (accommodation only)
Three-night stay on Kauai Island in Koloa at Koa Kea Hotel & Resort at Poipu Beach in a double room with garden view (accommodation only)
Two-night stay on Big Island in Kohala Coast at Mauna Lani Bay Hotel in a double room with mountain view (accommodation only)
Two-night stay on Big Island in the village of Volcano at the Volcano Rainforest Retreat B&B in a double room (accommodation only)
Three-night stay on the island of Maui in Wailea in Andaz Maui in a double room (accommodation only)
Overnight stay on Maui Island in Hana at Travaasa Hana in a junior garden double suite (accommodation only)
Kauai Island helicopter flight (50 minutes)
Discover Hawaii Volcano National Park in private with a guide based on Big Island
Our local Concierge service
A few of the benefits of travelling with us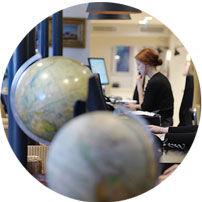 Get in touch
Our experts have the inside track on the destinations they sell and will tailor-make a holiday to your unique requirements.
Contact one of our USA specialists