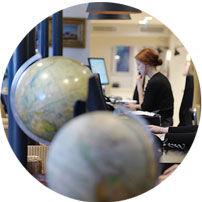 Home to 20 national parks and many more private game reserves, South Africa is the ideal safari destination if you're after a sighting of the notorious 'Big Five'. With both a ranger and tracker on hand to lead the way, be sure to tick them off as you catch a glimpse: lions, leopards, elephants, rhinos and buffaloes (as well as many, many more). And if it's more than just wildlife you're after, you can extend any of our South Africa safari holidays to include some of the 'Rainbow Nation's' cultural highlights. This makes them perfect for all ages and stages of life, as the exhilarating and varied
country lends itself to honeymoons and couples holidays, as well as family and multi-generational escapes.
South Africa Safari Holiday Ideas
A few suggestions to get the holiday planning process started
Safari Holidays by country
Other South Africa collections
A few of the benefits of travelling with us
What our clients say about us
South Africa customer reviews (3 reviews)
4.3/5
To say we had the holiday of a lifetime would be an understatement. The attention to detail was unbelievable and it's those things that helped contribute to the great time we had. Given my brief was pretty vague(!), you did an incredible job at creating the most magical of holidays. I could wax lyrical

about all the amazing things we saw and did but I won't bore you. But suffice to say, it really surpassed all of our expectations and then some! My husband loved it and both boys have got some memories that will last them a lifetime. The team (and I mean a team!) listened to my rather vague ideas and came up with a wonderful plan for my holiday, which had a significant meaning and they were really respectful of that. Their attention to detail was fantastic, their communication was great and the holiday itself was wonderful in every way. They even handled my last-minute panic (my son was ill 48 hours before we were due to travel!) with calmness, reassuring me and putting an alternative plan into place, should we have needed it (thankfully we didn't!). I would not hesitate to recommend them or indeed use them again. The only downside - they have rather spoilt me for holidays as I only want to do big, 'holidays of a lifetime' with them....! Incredible on every level. The locations, the staff, the resorts, the little touches, the smooth transitions, the planning, the detail - just fantastic.
South Africa Guide
Practical advice, client testimonials and inspiration to help you prepare for your holiday
Contact one of our South Africa specialists