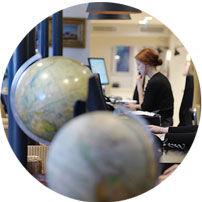 Adrenaline is flooding through you like never before as you watch the Eland bull you've just helped give lifesaving antibiotics to, bolt back into the South African bush. In South Africa, wildlife and heritage conservation are just as important as maximizing green travel. When in Cape Town, venture out on a walking tour with a private local guide and visit traditional markets and artisan souvenir stalls, or if you are headed to the south coast, jump on a train to the Cape of Good Hope to see penguins paddling in the pellucid waters at Boulders Beach. For a sense of adventure, explore the savannahs of northern South Africa on a riding safari,
or even on foot with a guide who knows where to find an elusive aardvark or the tiniest wobbly-legged giraffe calf. To make your already responsible trip even greener, take part in a game census safari in the Waterberg, or witness the wonder of a rhino release with the Rhinos Without Borders conservationists, so that you can go home knowing you have helped make a difference. The overwhelming 'clean travel' hurdle when it comes to South Africa responsible travel is flying to and from this wonderful wilderness. But fear not. We absorb 100% of your flights carbon footprint as part of our Original Services so you can travel guilt-free.
Responsible Travel by country
Other South Africa collections
A few of the benefits of travelling with us
What our clients say about us
South Africa customer reviews (3 reviews)
4.3/5
To say we had the holiday of a lifetime would be an understatement. The attention to detail was unbelievable and it's those things that helped contribute to the great time we had. Given my brief was pretty vague(!), you did an incredible job at creating the most magical of holidays. I could wax lyrical

about all the amazing things we saw and did but I won't bore you. But suffice to say, it really surpassed all of our expectations and then some! My husband loved it and both boys have got some memories that will last them a lifetime. The team (and I mean a team!) listened to my rather vague ideas and came up with a wonderful plan for my holiday, which had a significant meaning and they were really respectful of that. Their attention to detail was fantastic, their communication was great and the holiday itself was wonderful in every way. They even handled my last-minute panic (my son was ill 48 hours before we were due to travel!) with calmness, reassuring me and putting an alternative plan into place, should we have needed it (thankfully we didn't!). I would not hesitate to recommend them or indeed use them again. The only downside - they have rather spoilt me for holidays as I only want to do big, 'holidays of a lifetime' with them....! Incredible on every level. The locations, the staff, the resorts, the little touches, the smooth transitions, the planning, the detail - just fantastic.
South Africa Guide
Practical advice, client testimonials and inspiration to help you prepare for your holiday
Contact one of our South Africa specialists