The scenery of South Africa spans pristine beaches, wild national parks, majestic mountains and so much more. As your plane touches down on South African tarmac, it's a good idea to free up some space on your phone, ready to fill your camera roll with photo after photo of natural beauty. From the iconic peak of Table Mountain to the gorgeous Garden Route, landscapes in South Africa are easy to fall in love with. Here are our photogenic favourites for a trip to remember.
1
The Garden Route
Following an ocean-hugging highway that stretches for 124 miles through the Western Cape, the Garden Route is South Africa's finest road trip. This is the definition of taking the scenic route; beautiful beaches, lush forests, welcoming towns and tempting wineries, all linked by one stunner of a coastal road. Pit stops include the St Blaize Trail (a nine-mile leg-stretcher along the coast), Wilderness National Park (a haven for campers and kayakers) and Plettenberg Bay (popular for its surfer-friendly coves and whale-frequented waters). The most pressing problem? Deciding how long to dedicate to your drive through one of the most rich and varied landscapes in South Africa. Four days or a fortnight – whatever the duration of your road trip, you couldn't ask for a more idyllic itinerary.
2
De Hoop Nature Reserve
Walking, wildlife spotting and whale watching: De Hoop Nature Reserve has it all. And despite being just a three-hour drive from Cape Town, the reserve is still something of a hidden gem among holidaymakers. Whether strolling among the windswept white dunes of the wild beaches or hiking from mountain to coast along the unspoilt Whale Trail, De Hoop has picturesque paths aplenty for walkers. Meanwhile, the animals here are incredibly tame and unfazed by vehicles, so you're likely to encounter ostriches, mountain zebra and more during a game drive. The reserve is also one of the best places in the world to watch whales from the land. This protected marine area provides a vital nursery for endangered Southern Right whales, which can be spotted from the shoreline between June and November. Simply sit back on the sand and observe as these magnificent creatures blow and belly flop in the turquoise waves.
3
Table Mountain
Picture landscapes in South Africa and Table Mountain is probably one of the first images that materialises in your mind. The world-famous plateau dominates the skyline above Cape Town; a rugged crown for the colourful city below. It serves as a striking backdrop to every selfie or street portrait captured in its shadow. And making the ascent to that imposing tabletop is a must-do during a trip to Cape Town. Don't worry if hiking trails aren't your scene (there are a few to choose from if you want to ascend in more adventurous style), as the cable car takes just five minutes to reach the spectacular summit. From there, the vista unfurls before you with ocean and beaches, skyscrapers and streets, the neighbouring crests of Devil's Peak and Lion's Head. Table Mountain might have been standing for around 600 million years, but the views never get old.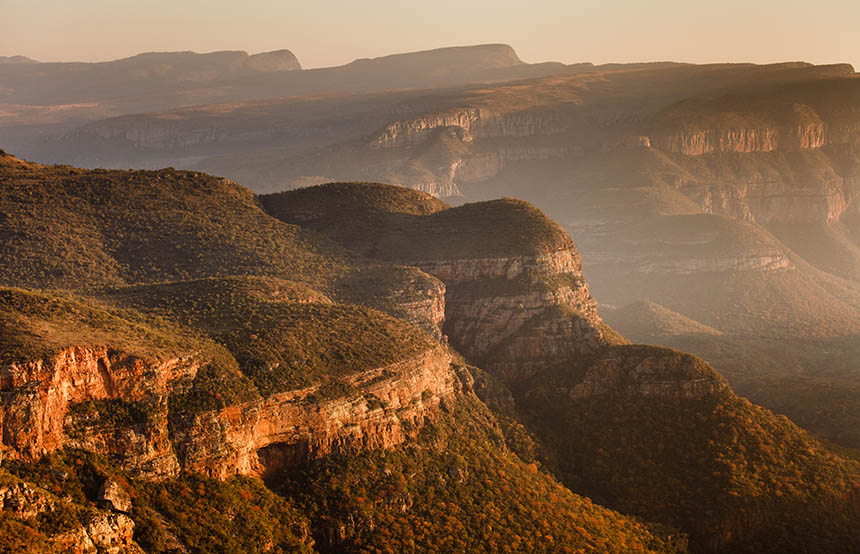 4
Blyde River Canyon
Say hello to South Africa's take on the Grand Canyon. The first thing you might notice is that Blyde River Canyon is much greener than its American counterpart. This verdant landscape is lush with vegetation, which contrasts with the weathered red rock to create a particularly beautiful colour palette. Located in the Blyde River Canyon Nature Reserve, this natural wonder is easy to admire from afar as you drive around the canyon rim. It's the highlight of the popular Panorama Route; another epic road trip to add to your wish list. And did we mention that the canyon isn't far from Kruger National Park, the safari showstopper that's home to all the Big Five? So, you can tick off two legendary landscapes in South Africa in quick succession.
5
Drakensberg Mountains
Often unfairly overlooked, KwaZulu-Natal is one of South Africa's largest provinces. And it has everything you could want from your South African adventure: the vibrant city of Durban, dazzling coastline and the dramatic peaks of the Drakensberg Mountains. Those mountains form a natural border between South Africa and Lesotho and encompass an almost-endless supply of natural marvels. The Amphitheatre is a three-mile-long crescent-shaped cliff face, over which the Tugela Falls tumble; the world's tallest or second-tallest waterfall depending on who you ask. Part of the Drakensberg is also UNESCO-listed for its spectacular landscape and rock paintings; visit Battle Cave to see the best of this ancient art. Whether you're hiking, climbing, horse riding or helicopter sightseeing, the Drakensberg Mountains deliver adventure and awesome views by the bucket load.
6
The Wild Coast
Sandy bays and emerald hills await on the Wild Coast. As the name suggests, much of the coastline remains remote and untouched meaning you can often enjoy the vast stretches of virgin sand and secluded sea views all to yourself. This rural region is most definitely off the main tourist trail, but if you like your beaches empty and your braai (barbecue) with an unblemished view, this is the coast for you. It's one of the most ruggedly beautiful landscapes in South Africa to get lost in for a while. And it might quickly become your favourite part of this captivating country.
Header image by Paloma Saint Léger