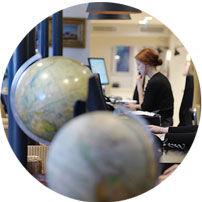 Cape Town, South Africa's so-called 'mother city', is also arguably the highest of the country's many highlights. Sitting at the foot of a continent - and a spectacular mountain - the city faces the ocean in one of the most iconic of all urban settings. As a result, Cape Town holidays are all about outdoor activities, be that exploring the glorious Kirstenbosch National Botanical Gardens, Silvermine Nature Reserve, Table Mountain, the Cape Peninsula or the scenic drive to Chapman's Peak. Nearby, the vineyards of the Cape Winelands, established by the Dutch and French Hugenots in the late 17th century,
stretch for miles around Franschhoek, Stellenbosch and Paarl. Visit for an alluring combination of charming Cape Dutch architecture and ever better vintages of classic European grape varieties such as sauvignon, merlot and cabernet. Then try the local favourite - pinotage. As you'd imagine, we like to give things an Original twist, so how about visiting the Cape wineries by motorbike or sidecar? Ask our Africa experts for other ways to enhance your Cape Town holiday.
Cape Town Holiday Ideas
A few suggestions to get the holiday planning process started
A few of the benefits of travelling with us
What our clients say about us
South Africa customer reviews (3 reviews)
4.3/5
To say we had the holiday of a lifetime would be an understatement. The attention to detail was unbelievable and it's those things that helped contribute to the great time we had. Given my brief was pretty vague(!), you did an incredible job at creating the most magical of holidays. I could wax lyrical

about all the amazing things we saw and did but I won't bore you. But suffice to say, it really surpassed all of our expectations and then some! My husband loved it and both boys have got some memories that will last them a lifetime. The team (and I mean a team!) listened to my rather vague ideas and came up with a wonderful plan for my holiday, which had a significant meaning and they were really respectful of that. Their attention to detail was fantastic, their communication was great and the holiday itself was wonderful in every way. They even handled my last-minute panic (my son was ill 48 hours before we were due to travel!) with calmness, reassuring me and putting an alternative plan into place, should we have needed it (thankfully we didn't!). I would not hesitate to recommend them or indeed use them again. The only downside - they have rather spoilt me for holidays as I only want to do big, 'holidays of a lifetime' with them....! Incredible on every level. The locations, the staff, the resorts, the little touches, the smooth transitions, the planning, the detail - just fantastic.
South Africa Guide
Practical advice, client testimonials and inspiration to help you prepare for your holiday
Contact one of our South Africa specialists