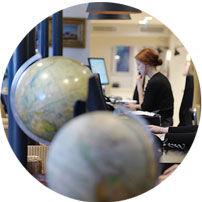 Who knew that our favourite island outpost in the North Atlantic had its own island outposts that are - if possible - even more quirky than Iceland itself? Welcome to the Westman Islands, or
Vestmannaeyjar
, a collection of 15 main islands and sprawling islets. Well, 15 to date, that is. Surtsey Island only emerged from beneath the waves between 1963 and 1966, while the main island of Heimaey grew by an estimated eight billion cubic feet after its own eruption in 1973. As you can see, the Westmans are, geologically speaking, quite an active place, but if you choose to stay here (and you really,
really should) then you'll also have the chance to be pretty active yourself. For instance, there are several huge puffin colonies which can be visited on 4x4 safaris or – for added adventure – on a RIB safari where you will also explore a series of huge sea caves and some of the smaller outer islands. The puffins are normally in residence between May and September, while killer whales make an appearance in July. Westman Islands holidays also include trips to see the centre of the Eldfell volcano, lava flow walks, riding excursions and watching a display of the traditional Westman sport of sprangan, which involves rappelling from cliffs. Originally a technique honed by hunters for reaching puffin nests, over the centuries the locals have turned the skill into an art form that is even taught to young children.
Westman Islands Holiday Ideas
A few suggestions to get the holiday planning process started
Iceland Regions
Discover more 100% tailor-made holiday ideas
A few of the benefits of travelling with us
What our clients say about us
Iceland customer reviews (3 reviews)
4.3/5
Iceland was AMAZING!!! It was the most incredible place and everything went to plan so well - you guys did an absolutely brilliant job. Thank you!
Iceland Guide
Practical advice, client testimonials and inspiration to help you prepare for your holiday
Contact one of our Iceland specialists