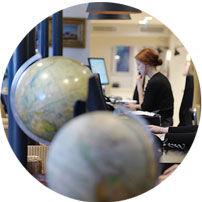 Mauritius is a seasoned pro when it comes to blissful beach escapes with all the frills. There are hundreds of top-notch hotels, some of the all-singing, all-dancing variety with private pools, sprawling spas, seamless service and mounds of fresh seafood. Others are more low-key with sedate toes-in-the-sand dining, sunrise yoga sessions and pared-back rooms, concocted to the vision of acclaimed interior designers. This is an island of extraordinary beauty with flour-soft sand to laze on, gin-clear seas to splash in and verdant rainforest to venture through. Wild dolphins play in the early morning
waves; kayakers launch from shore at sunrise; and colourful markets dish out fiery local curries. Mauritius luxury holidays really do set the bar.
Ideas
A few suggestions to get the holiday planning process started
Luxury Holidays by country
Other Mauritius collections
A few of the benefits of travelling with us
What our clients say about us
Mauritius customer reviews (1 reviews)
4/5
Great gym, fantastic spa, lovely tennis. Villa was brill, super comfy, had everything. Transfer company great. All in all, amazing.
Mauritius Guide
Practical advice, client testimonials and inspiration to help you prepare for your holiday
Contact one of our Mauritius specialists