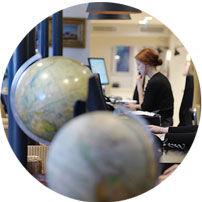 An island made for lovers, in the heart of the Indian Ocean, famed for powder-white beaches and shimmering crystal-clear waters, it's not hard to see why Mauritius is honeymoon heaven. Post-wedding bliss starts here; laze on loungers by the shimmering sea and dip your toes into the water to cool off during the heat of the day. Swap those wedmin worries for boat trips complete with a spot of lunchtime deck-snoozing and snorkelling. The diving here is sublime and tempts many a newlywed into the water and deep beneath the waves. Exploring the rest of the island is a must, if you can drag yourselves away from the shore.
Stroll through beautiful botanical gardens or busy street markets. Head off the beaten track to hike in the forested, mountainous heart of the island and keep an eye out of the many natural treasures and wondrous wildlife. A match made in heaven, Mauritius honeymoons are the perfect place to start married life.
Mauritius Honeymoons Ideas
A few suggestions to get the holiday planning process started
Other Mauritius collections
A few of the benefits of travelling with us
What our clients say about us
Mauritius customer reviews (1 reviews)
4/5
Great gym, fantastic spa, lovely tennis. Villa was brill, super comfy, had everything. Transfer company great. All in all, amazing.
Mauritius Guide
Practical advice, client testimonials and inspiration to help you prepare for your holiday
Contact one of our Mauritius specialists