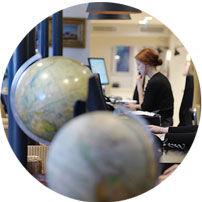 Argentina, Paraguay and Brazil meet where the Iguazu River joins the Parana River at the very tip of the north-eastern province of Argentina called Misiones. It is here that the Iguazu Falls (Big Water in the local Guaraní language) plunges over hard granite into a wide gorge in a series of gigantic waterfalls two miles in length and more than 240ft below. The sound of the thunderous roar of crashing water and the sight of the multi-coloured mist which rises above the falls combine to make an Iguazu Falls holiday an unforgettable experience. Further south, in the Corrientes province, the marshland
region known as the Ibera Wetlands - or Esteros del Ibera - is utterly unspoilt and a haven for birding, riding safaris, walking and wildlife. Made up of lagoons, marshlands, and pools, and hugely rich in flora and fauna, the area is a game reserve similar to the Pantanal in Brazil and scenically reminiscent of Botswana's Okavango Delta. Wildlife here includes hundreds of capybara, wild boar, caiman, marsh deer, anteaters, fox, otters and howler monkeys and thousands of bird species.
A few of the benefits of travelling with us
What our clients say about us
Argentina customer reviews (5 reviews)
4.4/5
Our Argentine experience was great, thank you for all your hard work. Buenos Aires was an amazing city, we had a wonderful guide and the Tango, I know a bit of a tourist trap, but it was terrific. We were most impressed by the level of professionalism. Both hotels were perfect. Glacier was also simply perfect.
Argentina Guide
Practical advice, client testimonials and inspiration to help you prepare for your holiday
Contact one of our Argentina specialists