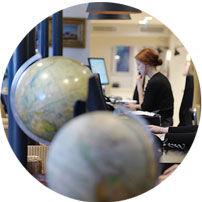 One of the most evocative destinations in the world, Russia is represented in all its contrary ways by two cities: St. Petersburg and the capital Moscow. St. Petersburg is simply one of the world's most beautiful cities, built in defiance of nature and logic - and at great human cost - on marshy islands at the mouth of the River Neva on Russia's Baltic coastline. In contrast, but no less fascinating, Moscow is a more eastern-focused city than it's long-term rival. Want to expand the horizons of your Russia holidays? Take a seat on one of the world's greatest railways with a ride on the Trans-Siberian.
Sip tea from a samovar (Russian tea urn), savour high-quality caviar and lose track of time in the dining car. On this amazing adventure you quickly become accustomed to the rhythms of the train as you peer out of the window at charming wooden houses with flowers in every window, and the deep blue water of Lake Baikal. Pass through the northern corners of Nenets and Evenk and finally pull into the station of Ulan-Ulan, the capital of Buryatia, and the great steppe where shamans and Lamaist Buddhists carve out an existence close to the border of Mongolia.
Russia Holiday Ideas
A few suggestions to get the holiday planning process started
Russia Regions
Discover more 100% tailor-made holiday ideas
A few of the benefits of travelling with us
What our clients say about us
Russia customer reviews (2 reviews)
4.5/5
We had a fabulous time: all the planning and detail were worth it. I know I am a travel nerd but it (usually) pays off. This time it did. Thank you again for bearing with me. The guide in St Petersburg was especially good.
Russia Guide
Practical advice, client testimonials and inspiration to help you prepare for your holiday
Contact one of our Russia specialists