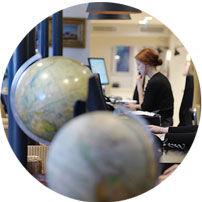 Emerging from its source 2,300 miles away, between Moscow and St. Petersburg, the Volga River - one pivotal to Russian trade - carries years of history along its waters as it flows into the Caspian Sea. Today, Volga region holidays will take you from the iconic cities of Imperial Russia, Moscow and St. Petersburg, to the ancient Tatar capitals of Nizhny Novgorod and Kazan. Some consider the Volga to be the dividing line between Europe and Asia and when you discover the diversity lying along its banks, it's easy to see why. Experience an array of cultures as your journey takes you through the region
and board a cruise to enjoy the vastness of the Russian plains at a peaceful pace. Plan your getaway to the Volga and you'll get the chance to dive into the very soul of Russia.
Volga Region Holiday Ideas
A few suggestions to get the holiday planning process started
Russia Regions
Discover more 100% tailor-made holiday ideas
A few of the benefits of travelling with us
What our clients say about us
Russia customer reviews (2 reviews)
4.5/5
We had a fabulous time: all the planning and detail were worth it. I know I am a travel nerd but it (usually) pays off. This time it did. Thank you again for bearing with me. The guide in St Petersburg was especially good.
Russia Guide
Practical advice, client testimonials and inspiration to help you prepare for your holiday
Contact one of our Russia specialists