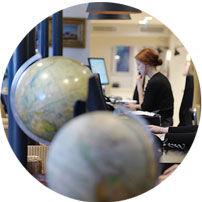 As the capital of a country so large that it spans nine time zones and two continents, Moscow was always going to be a pretty exciting place; combine that with the fact that it has morphed from the beating heart of communist Europe to capitalist panacea in the space of a generation, and you've got a city like no other. Moscow holidays are all about peering through a window into Russia's rich and complex history, from infamous rulers - such as the Tsars and Stalin - to the capital's new lease of life in its wide avenues and colourful neighbourhoods. The era of glitter, champagne and excess has given
way to a laidback lifestyle apparent in the old warehouses converted into artistic platforms, bars, restaurants, and trendy galleries. There is so much to do and see here: marvel at the golden onion domes of the Red Square; soak up the culture – old and new – at the Kremlin, St. Basil's Cathedral, the Art Deco and Pushkin Fine Arts museums; and enjoy Russia's highbrow culture while watching an evening opera or ballet at the Bolshoi, before savouring the haute-russe cuisine at Café Pushkin. One final thing to consider - the inhabitants of Moscow see their city through the prism of an age old rivalry with cultural capital of St. Petersburg, and the feeling is entirely mutual. While St Petersburg is undeniably more beautiful, Muscovites would argue their patch is way more fun, and with regular high speed trains between the two, there's a very easy to make the comparison.
Moscow & The Golden Ring Holiday Ideas
A few suggestions to get the holiday planning process started
Russia Regions
Discover more 100% tailor-made holiday ideas
A few of the benefits of travelling with us
What our clients say about us
Russia customer reviews (2 reviews)
4.5/5
We had a fabulous time: all the planning and detail were worth it. I know I am a travel nerd but it (usually) pays off. This time it did. Thank you again for bearing with me. The guide in St Petersburg was especially good.
Russia Guide
Practical advice, client testimonials and inspiration to help you prepare for your holiday
Contact one of our Russia specialists