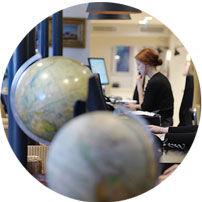 Built in defiance of nature and logic, St. Petersburg is a monument to the will of Peter the Great. His city became a 'window on the West' and remains Russia's cultural capital. Spruced up in celebration of its tercentenary in 2003, the city's sights range from the humble log cabin from which Peter oversaw the construction of his city, to grandiose buildings such as the Admiralty, headquarters of Peter's beloved navy. And then, of course, there's the incomparable Hermitage with its (conservative estimate) three million artefacts and art works, and its extraordinarily opulent interiors. Whether you
see Saint Petersburg draped in a blanket of snow or under the light of its midnight sun, this Russian icon is undeniably picturesque. In the winter, bundle yourself up in a hat and fur-lined boots, and skate on the frozen Neva River. Come summer, take in the city's intricate architecture during its sleepless nights. The eternal capital of the tsars, founded by Peter the Great, will delight art fans and history lovers alike. Take a tour of the city: visit the Hermitage, Pushkin and Dostoevsky museums; soak up the regal atmospheres of the Menshikov, Catherine II and Summer Palaces; and breathe in the fresh air by the fountains, canals and gardens. Enjoy a moment of peace and quiet inside St. Isaac's Cathedral; dress up for a night of culture at the Mariinsky Theatre (formerly the Kirov); or go on a shopping spree at the old Gostiny Dvor department store. When you're feeling peckish, taste caviar at the Eliseyev Emporium, before enjoying a traditional Russian meal in one of the restaurants on Nevsky Prospekt. Saint Petersburg holidays have it all and more.
Saint Petersburg Holiday Ideas
A few suggestions to get the holiday planning process started
Russia Regions
Discover more 100% tailor-made holiday ideas
A few of the benefits of travelling with us
What our clients say about us
Russia customer reviews (2 reviews)
4.5/5
We had a fabulous time: all the planning and detail were worth it. I know I am a travel nerd but it (usually) pays off. This time it did. Thank you again for bearing with me. The guide in St Petersburg was especially good.
Russia Guide
Practical advice, client testimonials and inspiration to help you prepare for your holiday
Contact one of our Russia specialists