Our essential practical information on
Lapland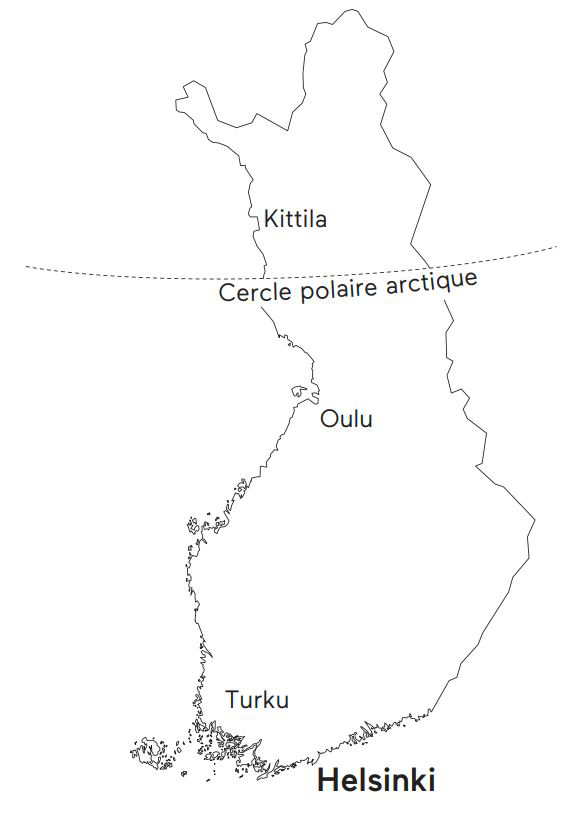 Best time to visit : from December to April. In January you'll find deep snow and record cold.
Go : with Finnair, London-Kittila via Helsinki then by car to Akaslompolo (about one hour).
Time difference: GMT+ 3, two hours later than in the UK, in winter and summer.
Good To Know : Always carry sunscreen with you to protect yourself from stronger UV rays due to the very clean air and high altitudes. Similarly, pack sunglasses with lenses that have a high degree of polarisation.
WHY NOW?
TRAVELLING IN LAPLAND
This year Finland will celebrate a century of independence, on the 6th December, to be precise. Numerous cultural and sporting events are being planned in Finnish Lapland
Finnish Lapland is one of the best spots in the world to view the Northern Lights. These luminous phenomena occur there almost 200 nights a year, and are visible from the end of August to April.
Go for a breath of fresh air (the cleanest in Europe, in fact), to lose track of time in the endless night of January and to enjoy a rare natural environment. A landscape of snow-clad forests and lakes allows you to experience true silence.
TASTE, TOAST, TAKE REFUGE
Karilan Navettagalleria - Akaslompolo
A cafe/gallery exhibiting works inspired by witches, trolls and other mythical woodland dwellers. A delicious 'savuporokeitto', smoked reindeer soup with vegetables and local wild herbs, is served here.
Kota Maja - Pallas-Yllastunturi Park
Situated in the heart of the national park, at the crossroads of the slopes and paths leading to Mount Kukas, Mount Lainio and Mount Pyhatunturi, the Maja 'cabin' is a must-see for snowshoers and skiers of all kinds. An open hearth allows everyone to grill their food.
Ravintola Poro - Yllas
All the specialties of Lapland gastronomy are available here: salmon soup, Arctic char fillet, elk roast, bear steak, not to mention reindeer in all its forms, accompanied by various edible roots, wild mushrooms, and lingonberry jelly.
Yllaksen Kaivohuone - Akaslompolo
A warm pub with the best reindeer burger in town. On the outside, a dipped headlight indicates whether the pub is open.
Wood Jewel - Kolari
Knife maker and designer Kauko Raatiniemi and his son Tuomas design and manufacture knives made of birch or reindeer wood, whose style - sheaths included - is inspired by the Saami tradition.
'What music, silence! '

Jean Anouilh, French writer and playwright (1910-1987)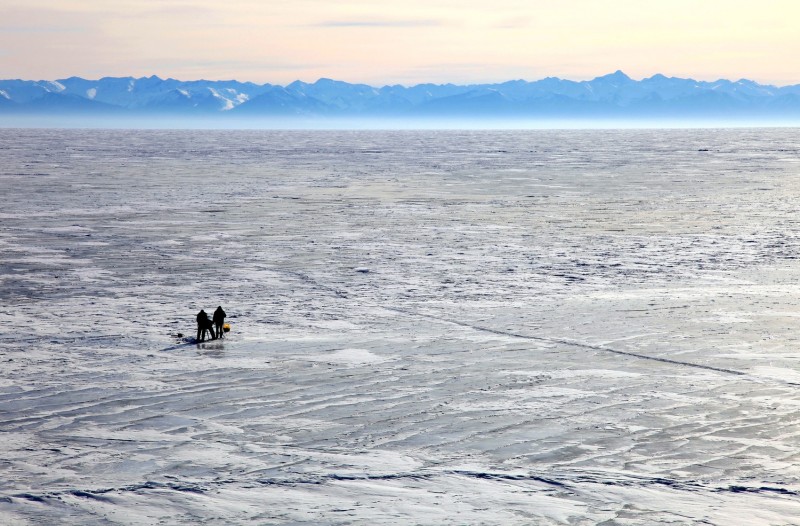 Fotolia
READ, LISTEN, SEE
• One Square Inch of Silence, Gordon Hempton, ed. Simon & Schuster. A book that helps us hear the world more clearly
• Silence, Erling Kagge, Flammarion. This Norwegian explorer, the first to circumnavigate the North Pole, South Pole and Mount Everest, recounts his approach to silence in this intimate narrative.
• Viimat, SomBy. Finnish Sami rock band on a mission to 'dynamite' the stereotypes and cliches that still cling to this indigenous people
• The Snow is Melting into Music, Gordon Hempton. The 'music' of melting snow, recorded by an acoustic ecologist.
• 71° Solitude Nord, Damien Artero. The wanderings of a woman, who set off to ski alone for 746 miles across Lapland.
• Lapland Odyssey, by Dome Karukoski. A couple's adventures in the Lapland winter.
PRACTICAL INFORMATION ON LAPLAND: THE NUMBERS
-41.2°
This is the record low temperature, recorded between January 4th and 5th 2017 by thermometers at Laukukero Meteorological Station, located in the heart of Pallas-Yllastunturi National Park.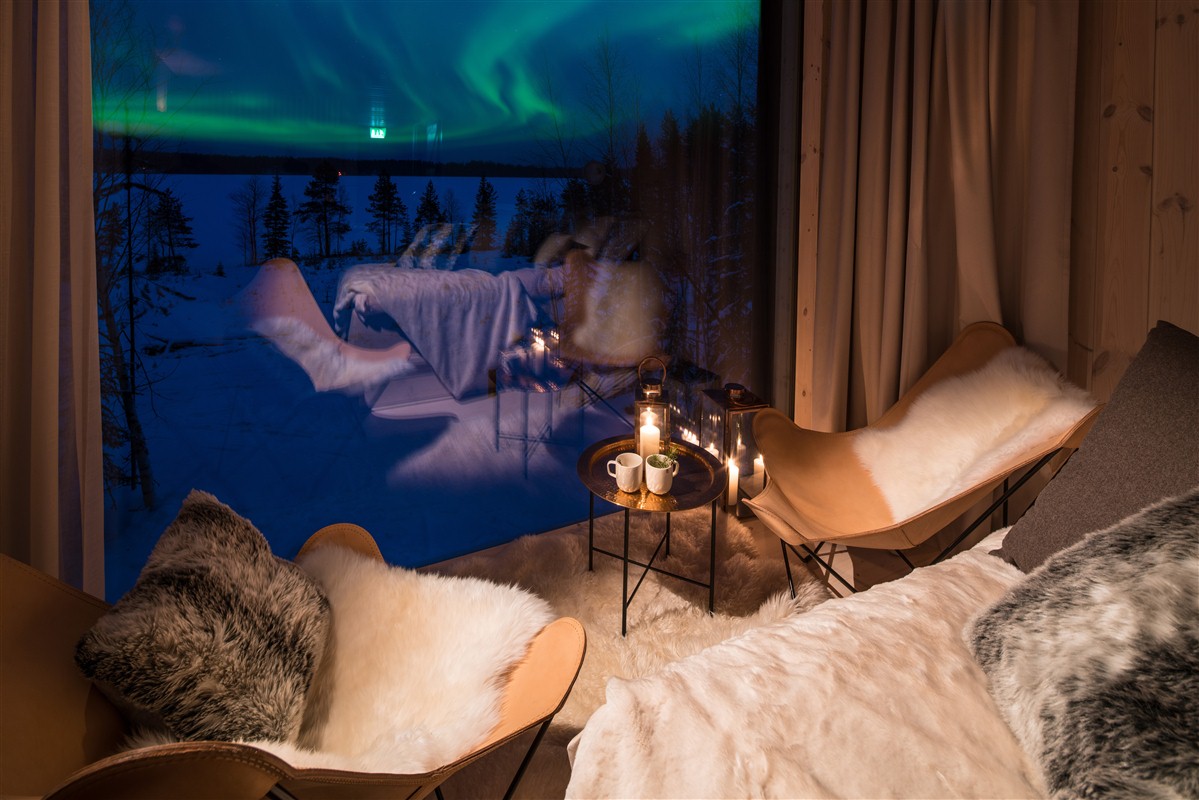 Arctic Treehouse Hotel
EXPLORE, ADMIRE, FLOAT
Snowshoeing
Explore the wilderness of Lapland off the beaten track, on your own or with a guide, while enjoying breathtaking views.
Small thrills
Ice-floating: a hole drilled into the frozen lake allows you to reach the water, and let yourself float, warm in a dry suit, hovering over the icy water and gazing up at the sky!
Snow Village
In Lainio, an ephemeral village of snow and ice is born every year. There's a hotel, a restaurant, sculptures, and even a chapel that melts in the spring.
Cool
Sleeping in an igloo is a must! The thermal equipment makes it possible to happily withstand the -5° temperature. A heated area with a fireplace provides refuge for the fainthearted.
If you have two-three more days...
HELSINKI STYLE
Behind its Art Nouveau facades and the at-times austere Soviet influence, Helsinki is a dynamic and festive European cultural capital. Just look at the Design District, a showcase of Finnish creativity, and around Lasipalatsi and its hub of museums.