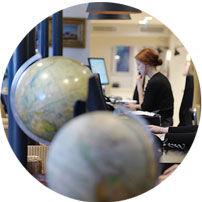 'It's not the destination, it's the journey' – so said every cheesy, road-to-redemption reality show presenter ever. But they might just be on to something, you know. When that journey involves switch-back turns through epic mountains, cruising along sweeping coastlines or trundling through rolling hills surrounded by olive groves and vineyards, road trips really are rather marvellous. Even better, an iconic road trip holiday is enough to justify a whole journey, and our famous road trips can take you across a whole country, or even a continent. The freedom of the road can evoke nostalgia or even be the stuff of legend:
that ribbon of asphalt stretching into infinity, crossing vast rugged landscapes, and following intricate coastlines. For road trip rookies, the US is a great place to start (maybe driving a classic Ford Mustang?), with a playlist to match the views. There's the epic Route 66, Highway One from San Francisco to Los Angeles, or the Blues Highway from Chicago to New Orleans. Closer to home, Europe is also road trip central, with northern Norway and Iceland two classics of the genre. So what are you waiting for? Put your foot to the floor on an Original Travel road trip.
Road Trip Ideas
A few suggestions to get the holiday planning process started
A few of the benefits of travelling with us
Review
What our clients say about us
This is the first time we went on a trip with Original Travel, a specialist advisor who listens to our expectations, and really the feeling of being pampered from departure to arrival. The concierge service is so efficient that we quickly become addicted.
Road Trips Guide
Practical advice, client testimonials and inspiration to help you prepare for your holiday
Contact one of our specialists