We asked our Italian specialists what their favourite beaches were. From Sicily to Tuscany to Puglia and Sardinia, here is their selection for the best beaches in Italy.
1
Le Maldive del Salento
Puglia
In the far south of Puglia, the beach of the Marina di Pescoluse is nicknamed 'Le Maldive del Solento' (the Maldives of Solento). And for good reason, too. There's a stretch of flour-white sand dotted here and there with parasols that form a border around a crystal clear sea.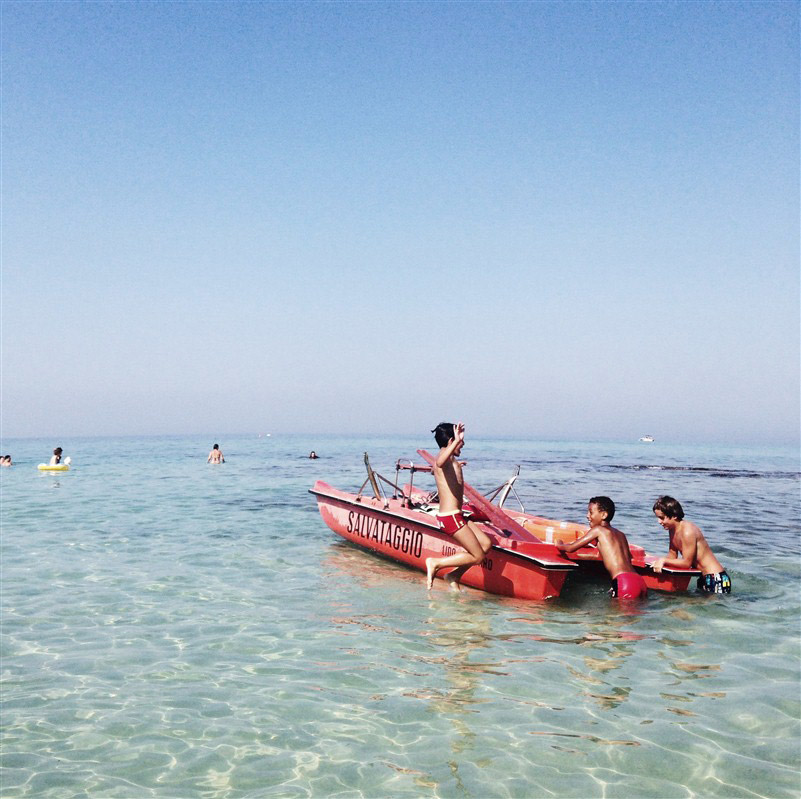 ©Olivier Romano

2
Baia di San Fruttuoso
Liguria
The beautiful San Fruttuoso Abbey, nestled in the heart of the Portofino Park about 25 miles from Genoa, is accessible by boat from Camogli. The setting is stunning : a small pebble beach surrounded by Mediterranean scrubland that overlooks the waters of Portofino's marine protected area, which is popular with divers.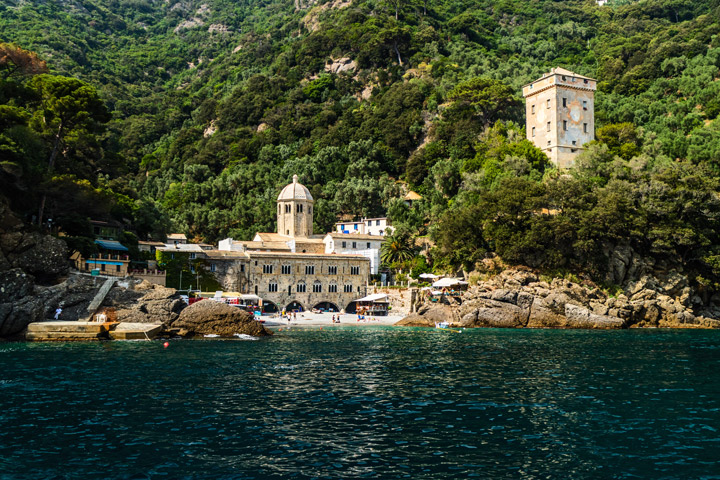 ©Frank - stock.adobe.com

3
Mondello
Sicily
Mondello is one of the most popular beaches on the Palermo coast, with fine sand and transparent seas reminiscent of the Caribbean. The former fishing village is home to a pretty little harbour, with its wooden boats in local colours. There are several bars and restaurants along the beach and the area is popular for octopus fishing.
4
Porto Pino
Sardinia
The Spiaggia delle Dune at Porto Pino in southern Sardinia, nestled between pine and juniper trees, is famous for its brilliant white sand and its dunes, which are some of the tallest on the island. You can also find pink sand creeks, lagoons and ponds populated by pink flamingos.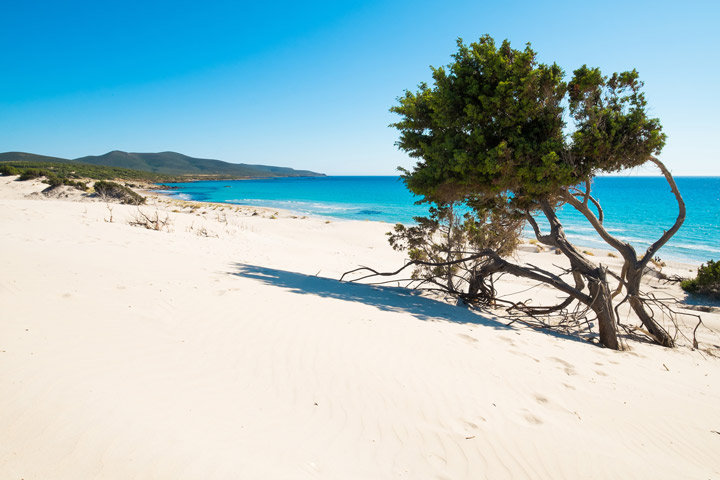 ©Elisa Locci - stock.adobe.com

5
San Vito lo Capo
Sicily
Spiaggia di San Vito lo Capo is located in the Trapani province at the end of the Zingaro Nature Reserve and stretches along a bay dominated by Mount Monaco. With its fine sand and translucent waters , you might think you're in the Caribbean. With its shallow waters, the beach is great for children. Tips from seasoned travellers : there are beautiful climbing spots on cliffs that plunge into the sea.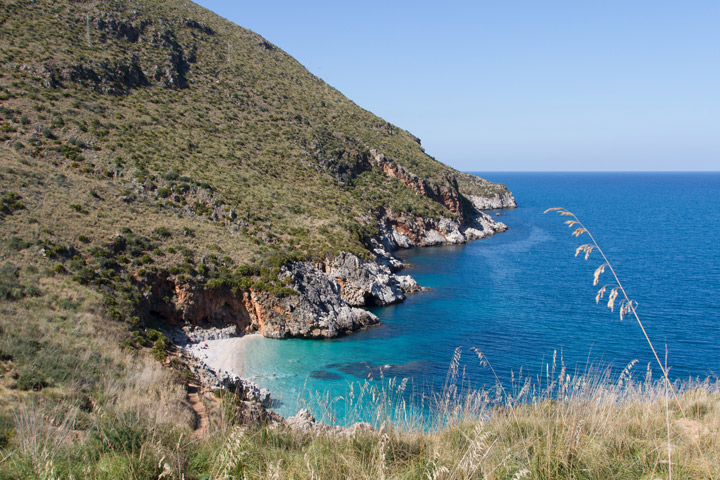 ©fotolia.com
6
Cavoli
Tuscany, Elba Island
On the south coast of the island of Elba and nestled in a cove surrounded by Mediterranean bush, is Cavoli beach, which is split in two by a cliff. The larger part is pretty busy in the high season, especially with families as well as the youngsters and beach partygoers. The smaller, western part is quieter and more wild.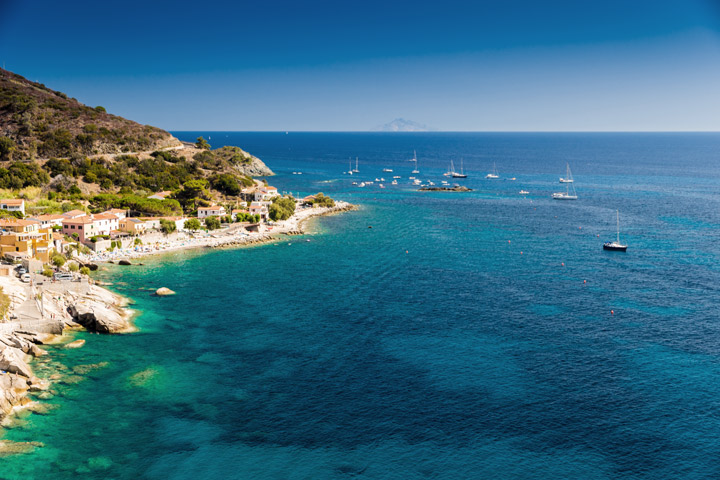 GettyImages
7
Eloro
Sicily
©Faustine Poidevin
8
Torre del Lago
Tuscany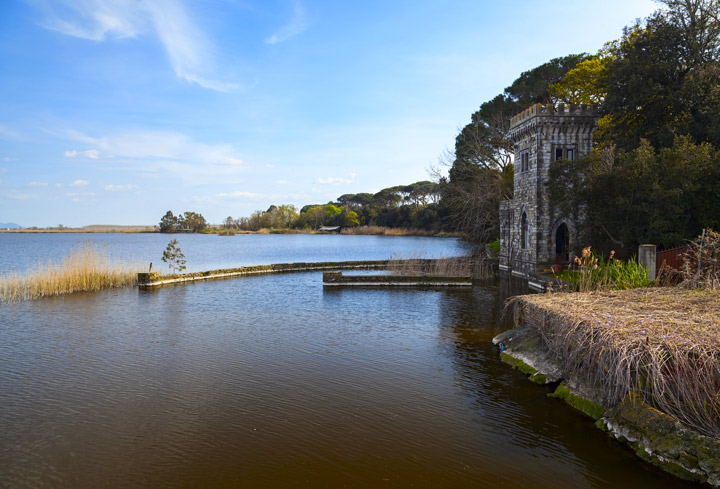 ©lorenzobovi - stock.adobe.com

There's beach stretching as far as you can see between Torre del Lago and Viarregio, one of the jewels of Tuscany. Miles of fine sand and clear waters stretch out along lines of pine forests. The site is divided between family beaches with sun loungers and parasols for rent and vast areas of free beach, including Lecciona, Italy's only openly LGBTdestination. Puccini lovers may prefer the banks of the pleasant lake Massaciuccoli, where Villa Puccini is located.
9
Scala dei Turchi
Sicily
About ten miles from Agrigento, this cove (which is worth visiting ) offers a unique setting. The sea and erosion have formed a rocky staircase-style edifice, which is a mixture of clay and chalk. The contrast between the dazzling white of the cliffs, turquoise water, thin strips of sand and azure sky is strikingly beautiful. A white paradise for photographers.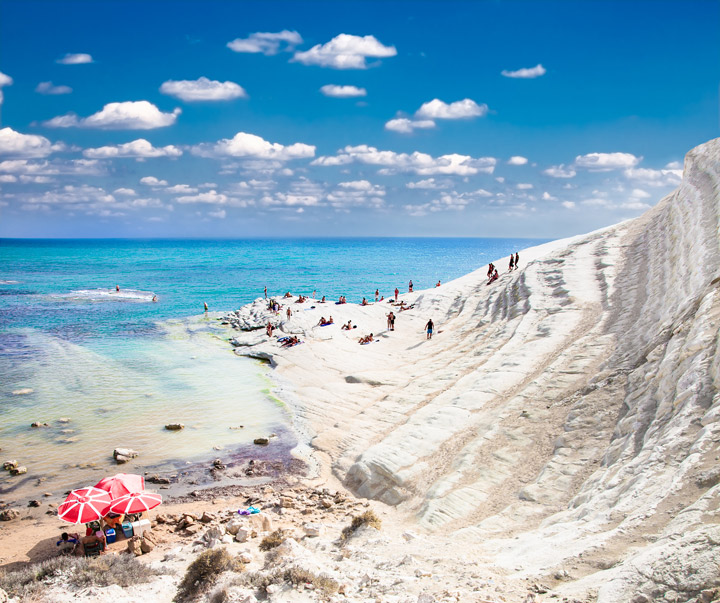 GettyImages
10
Tuerredda
Sardinia
A strip of incredibly fine sand between Capo Malfatano and Capo Teulada, not far from Cagliari, dissolves into a clear sea separated from the coast's other cove by rocks. Tuerredda beach is famous for its small offshore island, just a few minutes' swim away.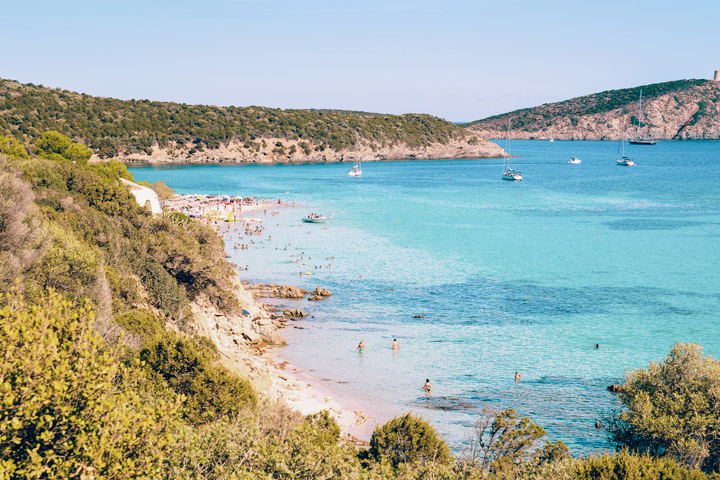 stock.adobe.com