Located in the heart of Lombardy in Northern Italy lies Milan, the fashion-forward city that dazzles with glamour and surprises with its rich cultural heritage. Beyond the chic boutiques and bustling business centre, Milan has a story to tell. It's a city where history, art and style converge, offering travellers a unique blend of experiences. Let's explore the ten best things to do in Milan, from the iconic Milan Duomo to the hidden gems that make this city truly unforgettable.
1
Visit the Duomo
The Milan Duomo is not your average church; it's a testament to human ingenuity and perseverance. Imagine starting a construction project in the late 14th century and not completing it until 1965 – that's some serious commitment. This colossal Gothic cathedral, built over six centuries, stands as Milan's most important landmark. But it's not just the exterior that captivates; the interior holds its own treasures. The real adventure begins when you ascend to the rooftop. Whether you choose the stairs or the elevator, you'll be rewarded with panoramic views of Milan's ever-evolving skyline. And don't be surprised if you encounter the occasional scaffolding; restoration is an ongoing tradition.
2
Sink Some Canal Side Drinks in the Navigli District
You've heard of Venice's romantic canals, but did you know Milan has its own waterways? Dating back to the 12th Century, Milan's canals, including Naviglio Grande and Naviglio Pavese, once served as essential transport and irrigation routes. Today, they've transformed into vibrant hubs of culture and nightlife. Picture yourself sipping an Aperol spritz at a canal-side café, watching the world go by. As you soak in the ambience, you'll understand why Milan has earned the nickname 'Venice of the North'. And yes, you can still enjoy risotto and ossobuco, local Lombardy delicacies, while you're here.
3
Marvel at Leonardo's Masterpiece
Ah, 'The Last Supper,' Leonardo da Vinci's iconic artwork that's been reproduced, parodied and meme-fied to no end. But here's the thing – nothing quite compares to seeing the real deal. Located in the Dominican convent of Santa Maria delle Grazie, this mural is a masterpiece of emotional depth and deserves a spot on your list of things to do in Milan. While history may have cost Jesus his feet during renovations in 1652, it hasn't diminished the painting's impact. To secure your spot, book your tickets in advance.
4
Explore the Sforzesco Castle
Transport yourself to the 15th century as you step into Milan's Castello Sforzesco. Once a mighty citadel, today it's a treasure trove of museums, artworks and history. But this castle isn't all about ancient artefacts; its courtyards are perfect for a leisurely stroll and a bit of daydreaming. And when you're done exploring, step out the back gate into Parco Sempione, Milan's 'green lung.' It's one of the city's most beautiful parks, and you might even spot a modern-day knight – in a jogging suit.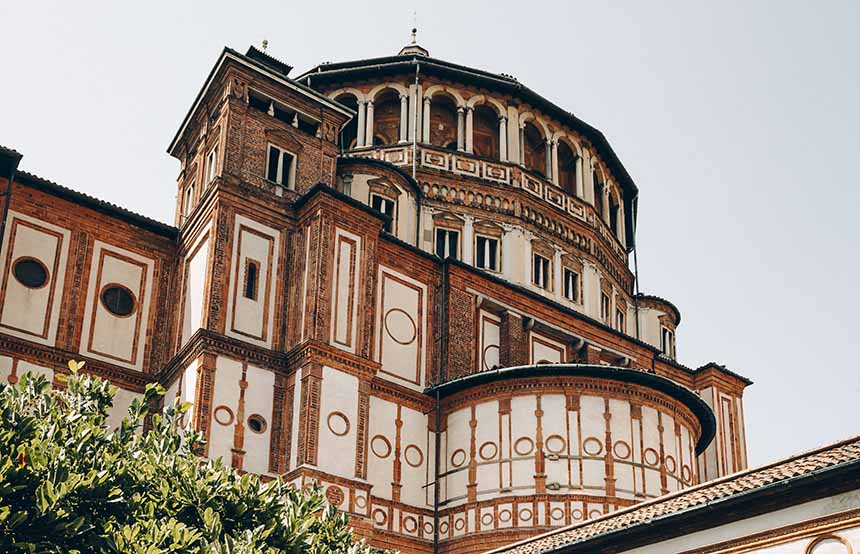 Image by Jerome Galland
5
Escape to Lake Como
Take a break from Milan's urban hustle and bustle and set your sights on Lake Como. Easily accessible by train, Como is your gateway to an idyllic retreat. Ferries crisscross the lake, connecting charming towns like Bellagio, Varenna and Menaggio. Whether you're exploring lush gardens, savouring local cuisine, or simply admiring the lakeside views, Como offers a slice of paradise in the foothills of the Alps. And who knows, you might even cross paths with a movie star – George Clooney did choose this region for his Italian villa, after all.

6
Window Shop at Galleria Vittorio Emanuele II
Walking into the Galleria Vittorio Emanuele II feels like entering a grand opera house or a royal palace – not your typical shopping mall. This opulent shopping arcade, born in 1877 and designed by Guiseppe Mengoni, is a Milanese icon. It's home to high-fashion boutiques like Prada, Gucci and Louis Vuitton, alongside some of the city's oldest cafés. Stroll through, do a bit of window shopping or join a guided tour to unravel the arcade's fascinating history. Remember, even if you're just window shopping, you're in good company; Guiseppe Verdi, Italy's famous composer, was known to frequent these elegant halls.
7
Leonardo da Vinci National Museum of Science and Technology
Leonardo da Vinci wasn't just an artist; he was a visionary, inventor and scholar. The museum bearing his name showcases his wide-ranging genius. Among the exhibits, you'll find an array of model cars, reconstructions of his flying machines, and an extensive collection of his drawings and blueprints. But the museum goes beyond da Vinci; it's a celebration of human innovation, featuring significant scientific inventions and breakthrough technologies.
8
Get Ahead of the Game at San Siro Stadium
Football fan or not, you can't ignore the allure of San Siro Stadium. With a history dating back to 1926, this iconic venue has witnessed some of the world's most legendary sporting moments. Its towering circular towers support colossal tiers, creating an electric atmosphere during matches. Whether you're cheering for AC Milan or Inter Milan, the energy in the stands is contagious. But your journey into Milan's football culture doesn't end with the match; visit the joint museum to delve into the rich histories of these celebrated Italian clubs. Who knows, you might leave with a newfound appreciation for the game.


9
An Opera Extravaganza
Teatro alla Scala, or simply La Scala, isn't just a venue for opera; it's a cultural institution that epitomises Milan's passion for music and theatre. Established in 1778, it's been the stage for countless world premieres and performances by some of the most celebrated musicians, composers and opera singers in history. The theatre itself is a masterpiece of neoclassical design, adorned with lavish red and gold decor, intricate frescoes and plush velvet seats. Even if your visit doesn't coincide with a performance, you can still explore the theatre's storied history and elegance by taking a guided tour.
10
A Taste of History at Leonardo's Vineyard
Tucked away within modern Milan, Leonardo's Vineyard is a delightful discovery for history and wine enthusiasts alike. Located near Sforzesco Castle, this vineyard is not your typical winemaking establishment. Leonardo da Vinci, the quintessential Renaissance genius, had a keen interest in agriculture, including winemaking. He designed this vineyard and cultivated it during his time in Milan. Today, the vineyard stands as a testament to his innovative spirit and his contributions to various fields. A guided tour offers insights into the winemaking techniques of the Renaissance. The highlight, of course, is the wine tasting.
Header Image by Jerome Galland