Traditional dancing in Cambodia provides a link between past and modern societies. Despite young Cambodian generations growing up in an ever-changing country, there is a sense of trying to hold onto these ancestral traditions.
As surprising as it may seem, young people throughout the country listen and dance not just to contemporary artists, but also traditional music. This is all part of wanting to remember their cultural roots rather than just listening to modern music. The traditional Aspara dancing, a classic Cambodian ballet, involves elegant movements and fluid gestures. The dance was inspired by the Asparas and dates back to the seventh century, as can be seen by the carvings in the stone of the ancient temples of Angkor. This dance can be seen today at all kinds of Cambodian parties, especially at weddings. UNESCO has even recognised the dance as among the world's Intangible Cultural Heritages of Humanity and has launched a plan to safeguard the tradition.
KHMER BOXING
Much like Thai boxing, Khmer boxing (also known as Kun Khmer or Bokator), has plenty of traditions and rituals. The battle scenes engraved in the stones of Angkor illustrate the ancestral presence of martial arts from which Kun Khmer originated. Boxing is the most popular sport in Cambodia and has fascinated young and old alike for generations.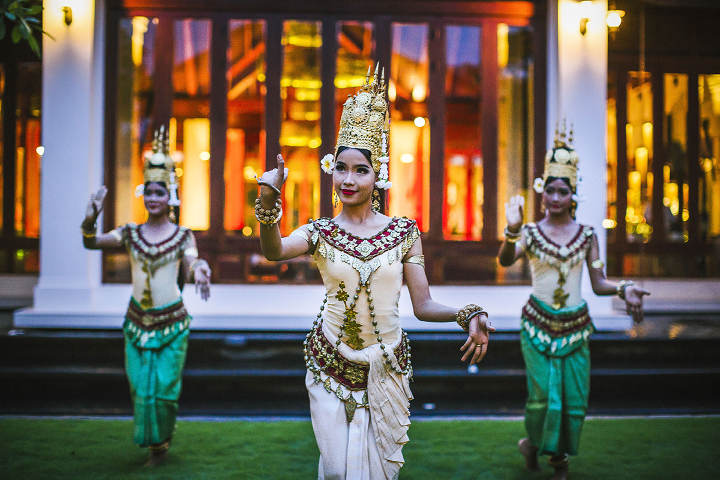 Anantara Angkor Resort
PRESERVING THE CULTURE
After the years of terror under the Khmer Rouge between 1975 and 1979, the Cambodian people are slowly reclaiming their culture. All intellectual and artistic activities were destroyed under the Pol Pot regime, and this is undoubtedly where the fierce desire comes from to maintain traditions along with contemporary practices. It is all part of the art of building the future and moving forward, without forgetting the past.