The capital of Portugal (600,000 inhabitants) is currently a leading destination for short city breaks in Europe. But while we love exploring the classic sites, we also know how to get really off the beaten track in Lisbon.
Stroll through a neighbourhood painted with superb frescoes - have a drink in a multicoloured bar, once a temple to the oldest trade in the world - tour the city in a 1940s sidecar - have lunch in a market where the star chefs of the city offer their specialties for just 10 [EUR].
1
Marvila - the temple of street art
Head for Marvila, a whole abandoned neighbourhood located opposite the commercial port. In days gone by it featured warehouses, storage sheds and workshops to repair just about everything. Now, it is home to collapsed roofs, abandoned worksites, unkempt cobbles and uneven paths. But a few walls have survived and offer ideal and original canvases for all kinds of artists. Law enforcement turns a blind eye after dark. Further afield, still on the docks, the facade of the Electricity Museum was officially handed over to a renowned 'mural' specialist , Alexandre Farto, who depicts huge faces in his art. Another excellent way to see some street art is on a walking tour of rua Artilleria. Here, local authorities have given street art enthusiasts carte blanche. Admittedly, the result is mixed. But over 4921ft of art, there's bound to be something good.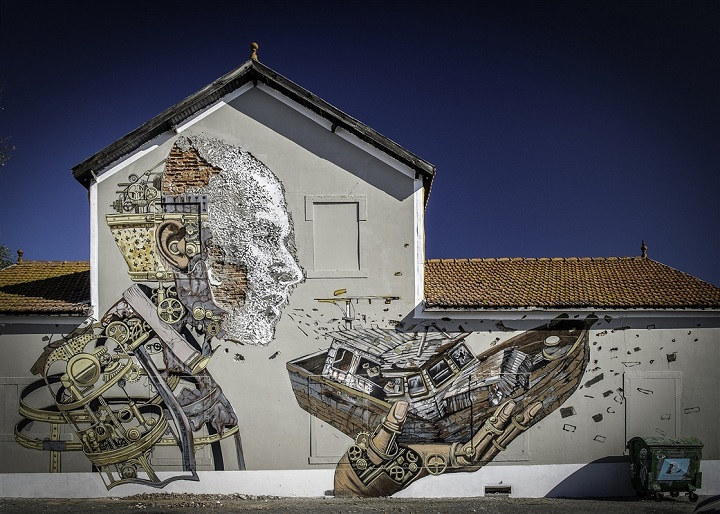 ©Vhils/Bruno Lopes
2
Luxury in Lisbon
Hotels don't come much more luxurious than the Ritz Four Seasons hotel, which even if you're not staying here, is perfect for a drink in the bar. The hotel was built in 1959 under the orders of dictator Salazar, who insisted that his capital have a hotel worthy of the name. The result is a magnificent 282-bedroom building in the exact centre of Lisbon (Rue Rodrigo da Fonseca), complete with seriously opulent interiors. There's even a jogging track on the roof of the building. For an amazing view as you run.
3
Trendy Lisbon
Head to Pensao Amor (rue do Alecrim) - a former brothel that has become Lisbon's hottest bar. Everything inside follows an erotic theme... walls, ceilings, armchairs, tables, sofas, old photos and sculptures.
4
The city of seven hills on a vintage motorcycle and sidecar
Explore the city in the sidecar of a vintage motorcycle from the 1940s, a brilliant way to get off the beaten track in Lisbon. The enthusiast who manages this ancient fleet says that they are copies of German army vehicles made in Russia before being recustomised in China. Charging along the cobblestone streets of the city of seven hills is quite the experience.
5
Some sweet Lisboan moments
Finally, there is time to enjoy gourmet delights. Head for Mercado da Ribeira (Avenida 24 de Julho). So much more than just a market. It is the oldest in the city, opened in 1882, burned, rebuilt in the 1930s and restored a few years ago. The huge hall under which it stands every day houses all the traditional food stalls, from fish to flowers, vegetables to cold meats, wines, and bakery items. Down one alley you'll find restaurant stalls where about 40 cooks have made their homes, including several big Lisbon stars. You choose your dish (for about ten [EUR]); seafood, salads, grilled fish, desserts, and then sit down at the large communal tables to enjoy. Note that on Saturdays, the Mercado da Ribeira also welcomes craftsmen who present their works here and on Sundays.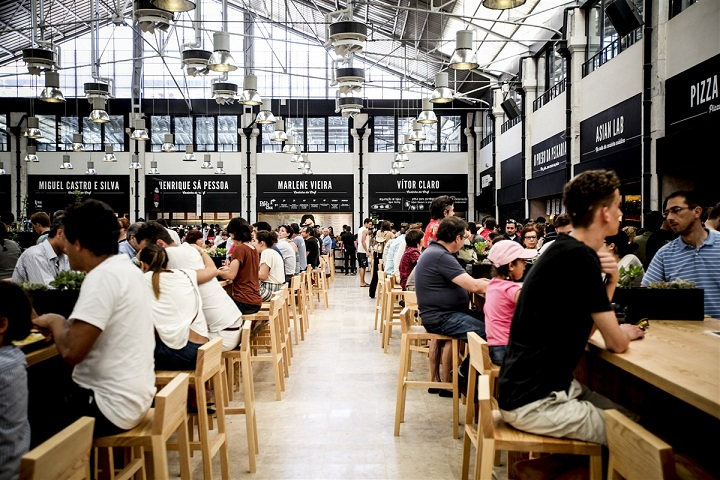 ®Arlindo Camacho/Citur
By
Jean-Pierre Chanial