Portugal's main cities seem to get most of the attention. Lisbon is lauded as the perfect place for a city break, while Porto is praised as the capital's charming culture-filled counterpart. Both are blessed with the added benefit of close proximity to the coast, meaning your city stay can feature a seaside sojourn as well as world-class dining, exquisite architecture and vinitourism (wine tasting). As an overwhelmingly ocean-loving country, Portugal's coastline is punctuated with plenty of other pleasing beach towns, which we believe deserve their moment in the limelight. Calling all seafood lovers and sun worshippers, here are the best beach towns in Portugal…
Tavira
Straddling the Algarve's Gilão River, Tavira tops our list of the best beach towns in Portugal thanks to its authentic atmosphere and expanse of honey-hued sand. A seven-arched Roman bridge connects the two riverbanks and much of the architecture is Gothic or Renaissance, adding to the town's caught-in-time appeal. More reminiscent of the country's rural regions than the Algarve's popular tourist areas, Tavira embraces a slower pace of life and its beachside location further lends itself to this.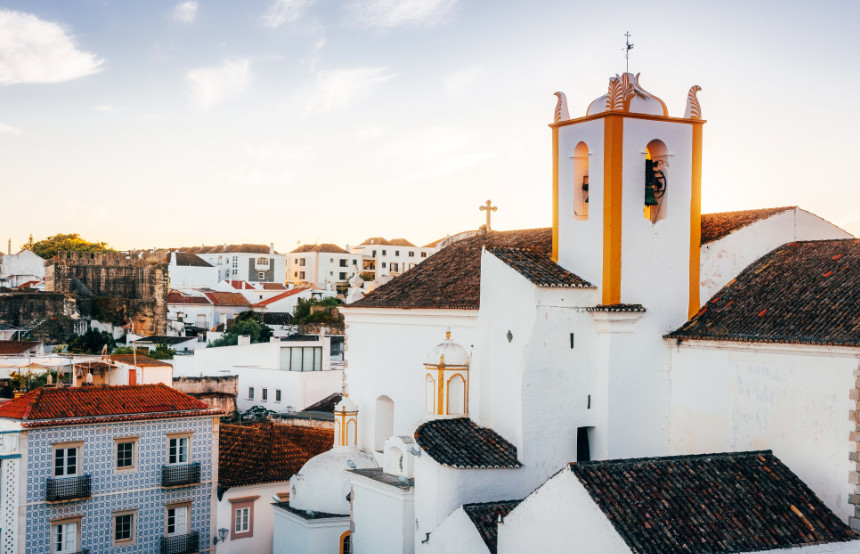 Cascais
Just a 30-minute train ride from Lisbon and with a prime spot on the 'Portuguese Riviera', Cascais makes for an idyllic day trip from the capital. Mooch around the cobbled old town past confetti-coloured facades and al fresco eateries and join trendy lisboêtas as they tuck into petiscos (Portuguese tapas). The town entices locals looking to escape the city for the weekend, so a space on the sand is a hot commodity during summer, yet its trifecta of shimmering bays bags it a place on our list of the best beach towns in Portugal.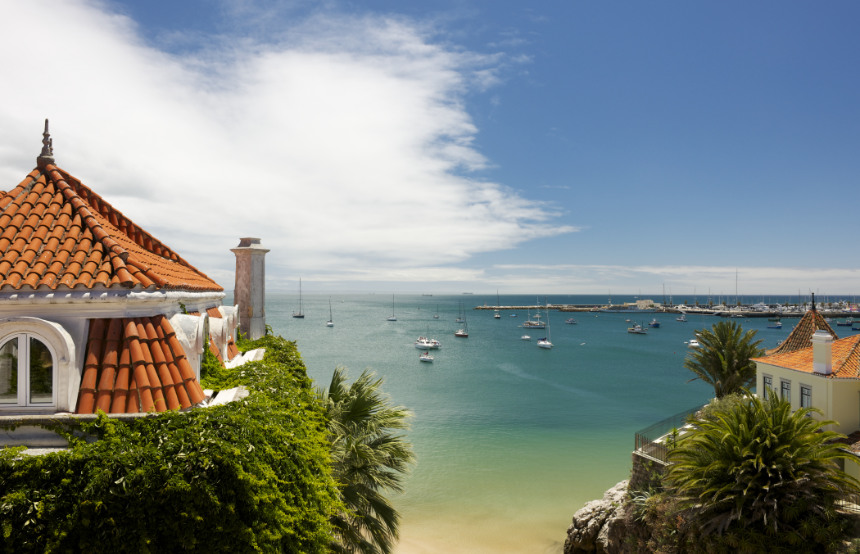 Ferragudo
A fishing village as classic as they come, Ferragudo is another quieter town situated on the Algarve coastline, at the mouth of the Arade River. Quaint is an apt word to describe the delightful jumble of white-washed buildings and winding walkways which characterise Ferragudo and thanks to its lesser-known status, the nearby beaches remain gloriously uncrowded. Praia Grande and Praia de Angrinha are two of the best and both within easy reach of the town.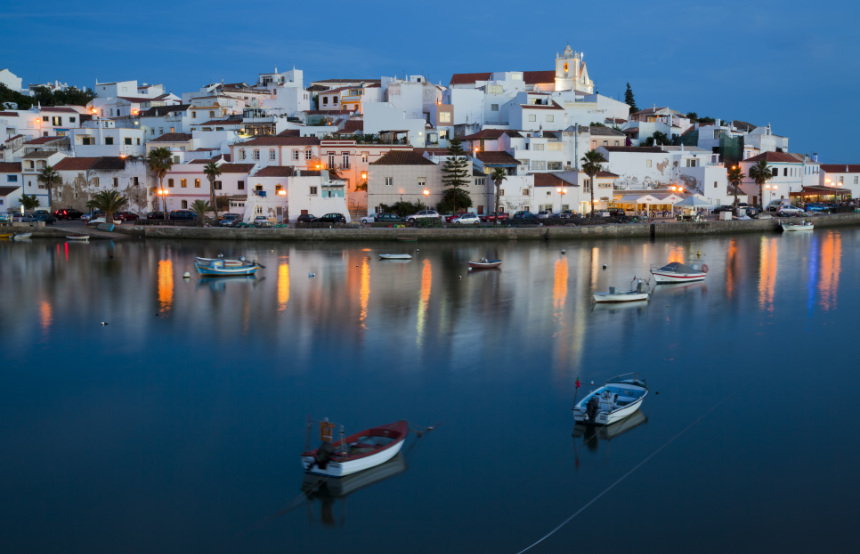 Peniche
While beachside holidays conjure up images of days spent languidly lounging on the sand, Peniche is the place for those who wish to inject some action into their beach town trip, with its position on a coastal peninsula making it one of Europe's best and most consistent surf spots. If you're less inclined to grab a board and catch some waves, situate yourself on the shoreline to watch pro-surfers competing in Peniche's annual surf championship. What's more, Peniche is one of the largest remaining fishing ports meaning you're guaranteed outstanding seafood dishes for refuelling come evening.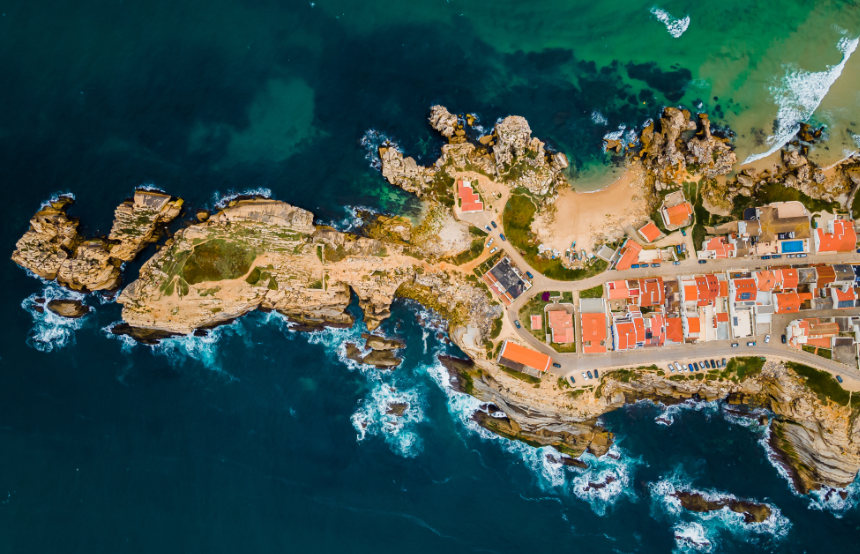 Nazaré
Another of the best beach towns in Portugal which attracts wave riders from far and wide, Nazaré is renowned for its giant swells caused by an underwater canyon-like geomorphological phenomenon that allows large uniform wave formations. Located on Portugal's 'Costa de Prata' (Silver Coast) and boasting a golden crescent-shaped beach, 'Nazaré Canyon' isn't the only intriguing thing about this beach town. Many of the fishermen and women here still follow ancestral fishing traditions, including preserving the fish using ancient drying methods and dressing in rainbow-coloured skirts consisting of seven petticoats.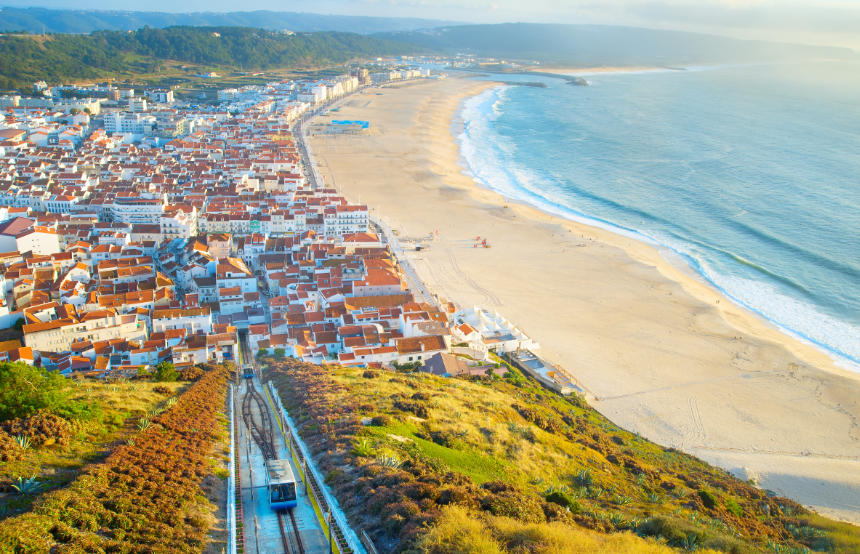 Azeitão
Huddled at the foot of the Arrábida Mountains, Azeitão is a town awash with culinary and artistic traditions. The region is renowned for its cheese in particular (queijo de Azeitão), a cured variety with a soft, pudding-like consistency. Wash this down with a glass of Azeitao tinto or branco, produced by the vineyards which blanket the hillsides (vinitourism is another draw of the region). Intricate azulejo tile art, which is abundant throughout Lisbon and Porto, is found around Azeitão and the Quinta da Bacalhôa wine estate combines premium wine with this appealing art form. The beaches here are remote and tranquil; Praia de Galapinhos and Praia da Figueirinha both stun with their strips of pale-blonde sand and deep azure ocean.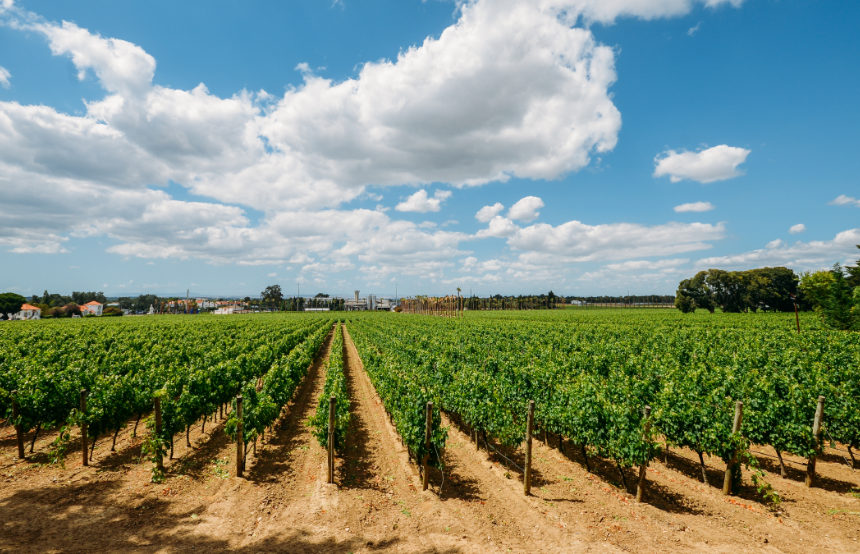 Aveiro
Set along the Ria de Aveiro lagoon and dubbed the Venice of Portugal, Aveiro features a series of canals linked by pastel painted bridges and navigated by gondola-like boats called barcos moliceiros (originally used for harvesting seaweed). Its colourful cornerstone is undoubtedly Praia da Costa Nova, with an eye-catching line of candy-striped beach huts sandwiched between the sand and the lagoon, where fisherman traditionally stored their nets. 44 miles south of Porto, it makes a great day-trip from Portugal's 'northern capital'.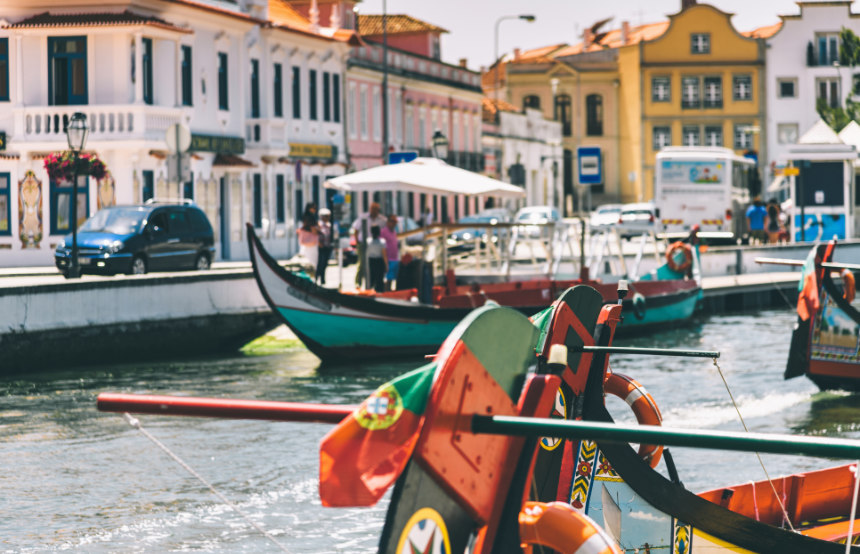 Azenhas do Mar
Situated near the magical city of Sintra (a must-see during any Lisbon stay), Azenhos do Mar is a dinky fishing town carved into the coast, with white-washed cottages spilling down the cliffside towards the indigo Atlantic Ocean. The name, which means 'Watermills of the Sea' originates from the once-powerful stream that turned the watermills as it flowed towards the sea. Alongside the petite beach, you'll find a natural sea water pool which fills at high tide and offers safer swimming conditions.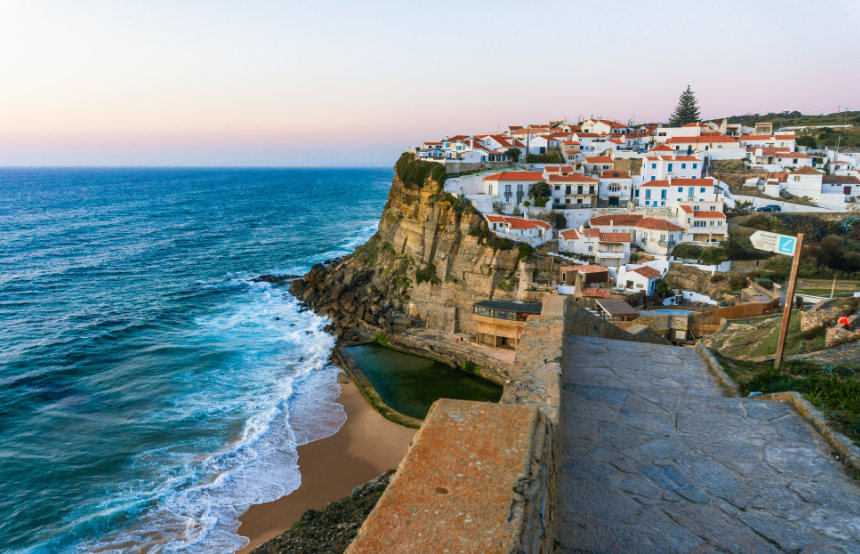 Written by Luisa Watts