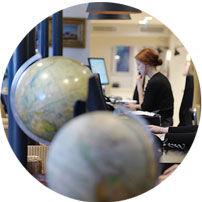 The Brits have long had a penchant for port, but the vineyards where the fortified wine is created and the eponymous city of Porto are, in themselves, a delight. While there are a couple of sites worth seeking out specifically during any stay here, the best way to spend Porto holidays is to wander around the maze of cobbled alleys before ending up in one of the port warehouses across the Douro river
enjoying a sample of the city's most famous export. After a night or two in town, we recommend heading for the countryside and in particular the Douro Valley, famed for beautiful vineyard terraces etched into the steep hillsides. The Douro Valley is a UNESCO World Heritage Site and the Douro River (or 'Golden River') that runs through the valley is the lifeblood of the north, weaving through beautiful landscapes before opening out onto the beaches of the Atlantic Ocean. Douro Valley holidays can be experienced from a luxurious hotel, or on a luxury cruise, by travelling alongside the river's winding banks on a hike or aboard a quirky vintage train.
Porto & Northern Portugal Holiday Ideas
A few suggestions to get the holiday planning process started
Regions Portugal
Discover more 100% tailor-made holiday ideas
A few of the benefits of travelling with us
Review
What our clients say about us
This is the first time we went on a trip with Original Travel, a specialist advisor who listens to our expectations, and really the feeling of being pampered from departure to arrival. The concierge service is so efficient that we quickly become addicted.
Portugal Guide
Practical advice, client testimonials and inspiration to help you prepare for your holiday
Contact one of our Portugal specialists