From the dancing streets of Rio to the outlandish floats of Mardi Gras, a country's carnival offers an electrifying view of a nation – one where serious fun is the name of the game and a non-stop party is always on the cards. The costumes, music and dates may change, but the spirit of carnival across the globe is universal – it's a chance to indulge the soul and enjoy a moment of free abandon for a few sweet hours or days. Historically, carnival was the last chance for a feast before the fasting of Lent, which is why so many festivities centre around Shrove Tuesday. These days, it's simply a chance to let loose and enjoy yourself to the max. Here's our round-up of some of the best fiestas around the planet. Let the celebrations begin…
Cologne Carnival, Germany
11-17 February 2021
Traditionally, Cologne's magnificent carnival kicks off on November 11 at 11:11am and doesn't end until Ash Wednesday, which falls sometime around February/March each year. But really, the true party of this German extravaganza explodes during the last six days – known as the 'crazy days' – when concerts, masked balls, amazing art, fireworks and shows fill up every establishment in the city. There's a women-only celebration, an electrifying Ghost Parade ('Geisterzug') and a day of dressing-up for schools and families. It's all a prelude to the biggest parade of them all on Rose Monday, when 10,000 costumed participants and their incredible floats blaring with music weave around the city for 7km. It's a dazzling show that's applauded by more than a million spectators.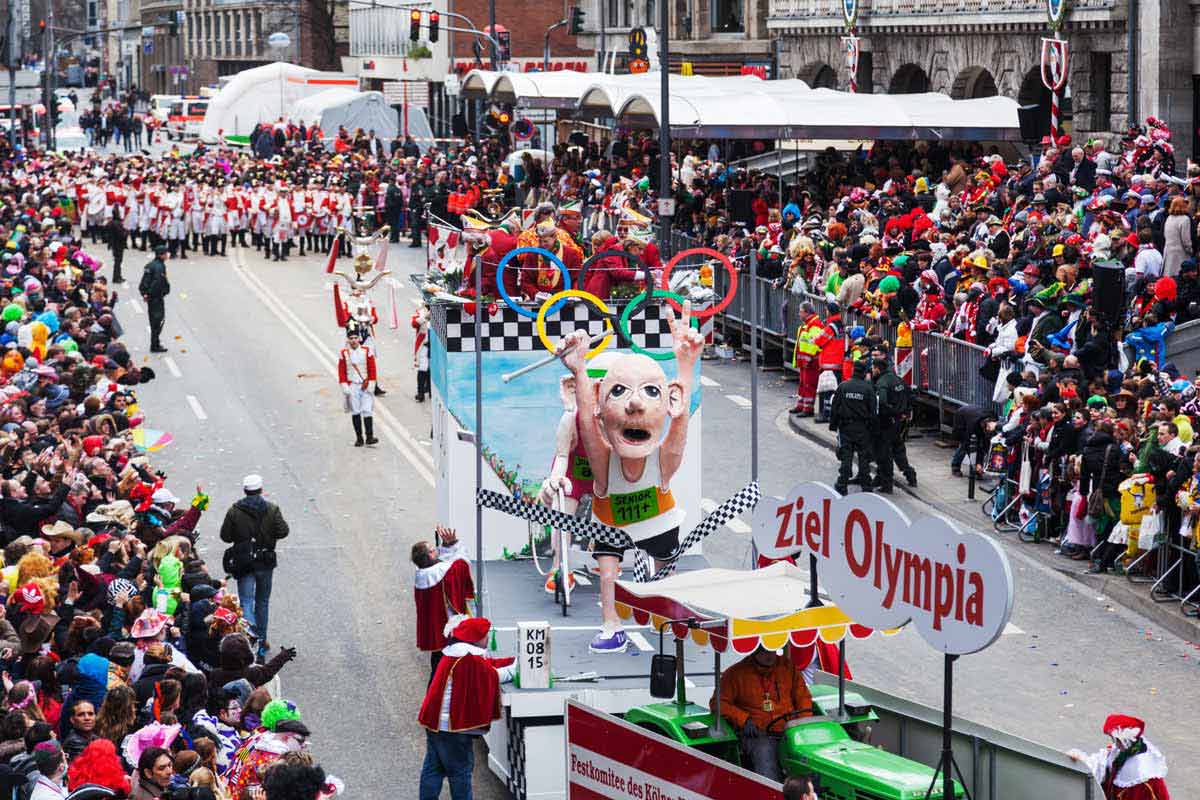 Christian Müller/Getty Images
Bremen Carnival, Germany
14-15 February 2021
A challenger to Cologne's epic celebration, Bremen's carnival is also launched on November 11, but sets itself apart from its rival by starting an hour later at 12:12pm. February marks the climax of merriment for this event, which is famous for its samba music – intense drums, exotic costumes and hip-shaking moves play on into the night in an array of delirious, enthralling demonstrations. More modest than Cologne, Bremen's carnival is no less hypnotic.
Notting Hill Carnival, London, England
30-31 August 2020 / 29-30 August 2021
This legendary carnival, self-proclaimed as second only to Rio in fame and size, began in 1965 as a celebration of the UK's West Indian community. Today's event stays true to its roots and the music, dancing and food is a vibrant, powerful love letter to the Caribbean. The carnival begins warming up on Saturday night when steel bands compete against each other, while Sunday centres around families with child-friendly floats, processions and activities. On bank holiday Monday, the grown-ups take over for the flagship event of the carnival; feather-filled, diamond-studded costumes fill the streets; groups of booming musicians stomp their way through the crowds and the smell of Caribbean cooking fills the air – Notting Hill Carnival is a street party to end all street parties.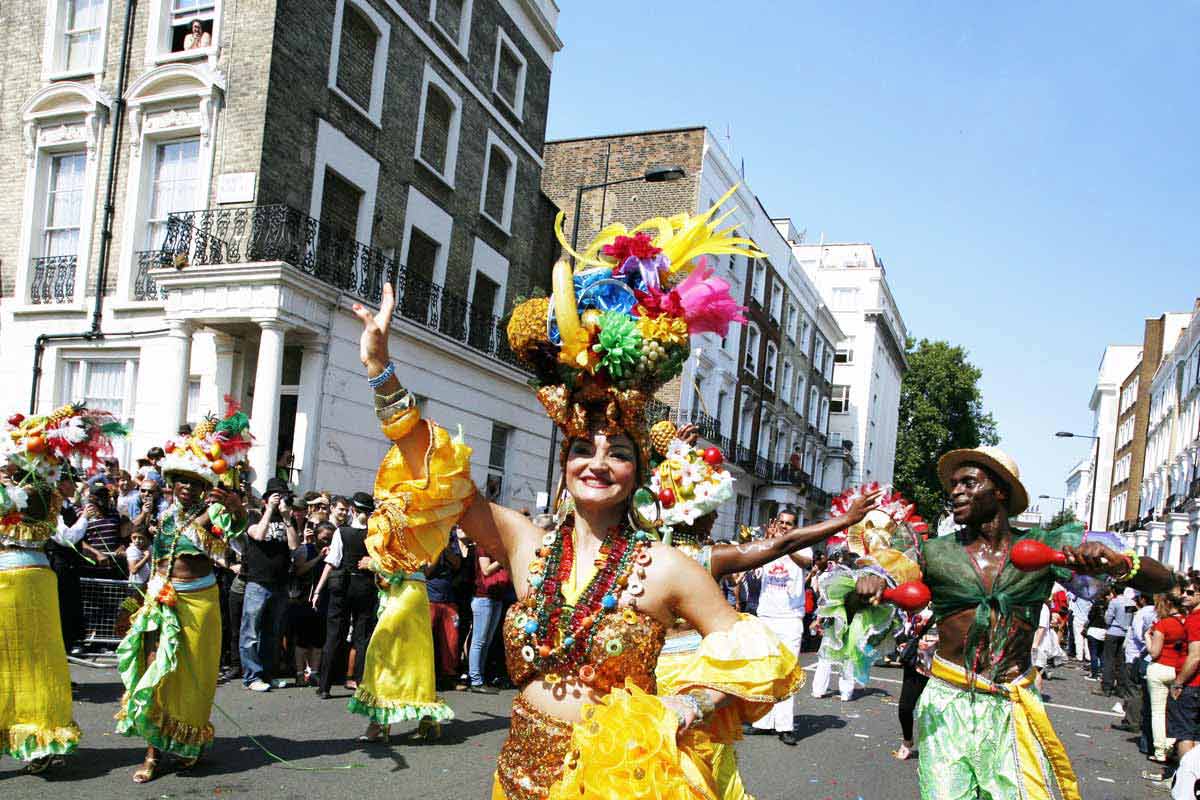 Bikeworldtravel
Guadeloupe Carnival, The Guadeloupe Islands, French Antilles
6 January – 17 February 2021
Every year, almost two months of pure fun and wild celebration light up the islands of Guadeloupe in a typically colourful, Caribbean party. Top of the carnival agenda are dance battles, dress-up contests, elaborate parades, street music, the election of Carnival King and Queen and more rum than you can shake a stick at. Months of costume making and band rehearsals culminate in the carnival's biggest parades on Shrove Tuesday, when the entire archipelago comes alive; booming drums create infectious beats, glittering dancers cha-cha in sequence and gigantic, impressive floats roll down the road in a whirlwind of excitement and joy. Ash Wednesday marks the end of the festivities, when the effigy of the so-called King of Carnival, Vaval, is burnt at the stake and thrown out to sea ready to rise and do it all again next year.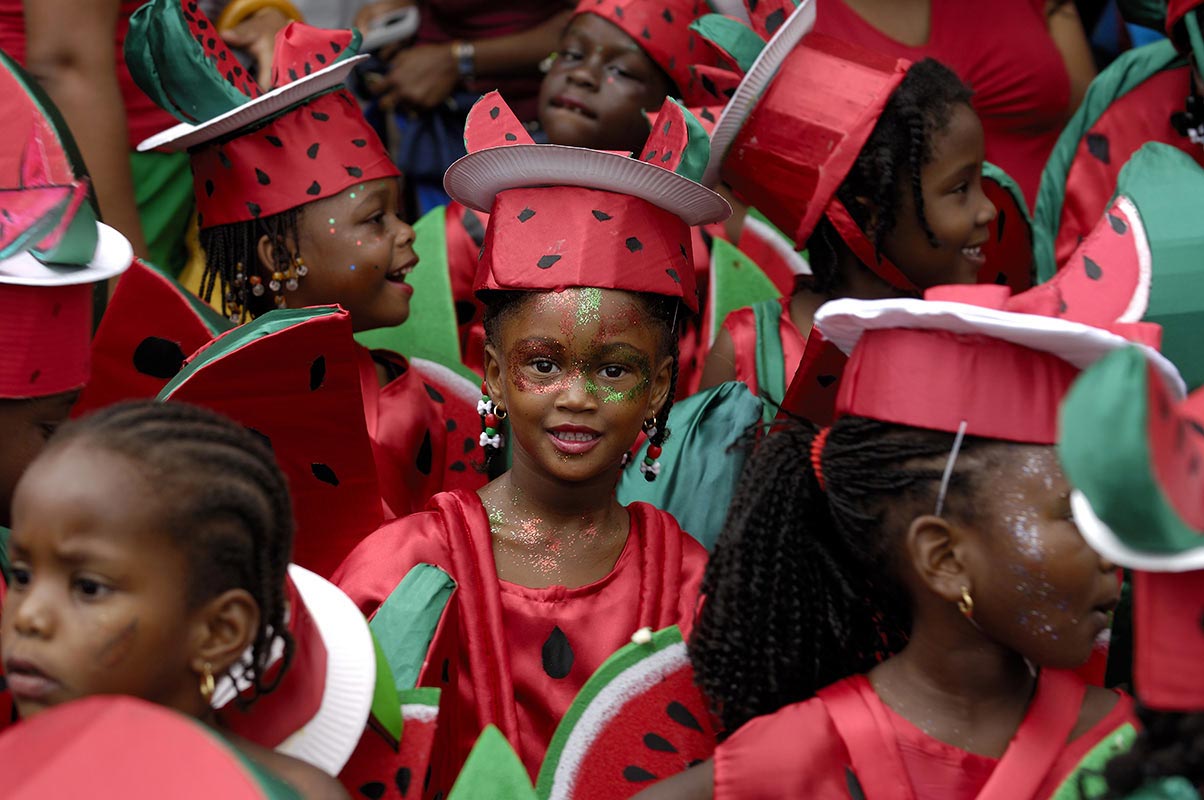 Philippe Giraud
The Carnival of Binche, Belgium
14-16 February 2021
Given the UNESCO stamp of approval in 2003 for its cultural significance, the Carnival of Binche is a celebration steeped in history and timeworn customs. With origins dating as far back as the Middle Ages, it's one of the oldest surviving street carnivals in the world. Festivities take place in the town of Binche, around an hour south of Brussels. Masqueraded revellers dressed in sensational costumes swagger en masse around the town's centre accompanied by traditional music, played on the drums, viola and various brass instruments. Every day is a parade with the most spectacular held on Shrove Tuesday when 1,000 'Gilles' emerge – historic characters who appear sporting wax masks, clogs, vibrant costumes complete with jingling bells and a bonnet adorned with giant ostrich feathers. Dancing and fireworks under the Grand Place conclude this spectacular event.
The Carnival of Oruro, Bolivia
13-16 February 2021
Another carnival that has gained UNESCO status as an integral cultural and social event is the Carnival of Oruro, the highlight of Bolivia's annual calendar. A cocktail of Christian and indigenous Indian traditions, this Andean party brings together a host of Bolivian traditions and their devoted followers. Countless performers dressed head-to-toe in rainbow-bright traditional folkloric costumes put on the show of their lives – spectators watch agog from the stands as the procession snakes its way past, taking up to 20 hours from start to finish. The extravaganza features the ritual La Diablada, or the Dance of the Devils, where hundreds of masked dancing diablos perform amazing choreographed routines. It's a dazzling carnival in a beautiful corner of the world.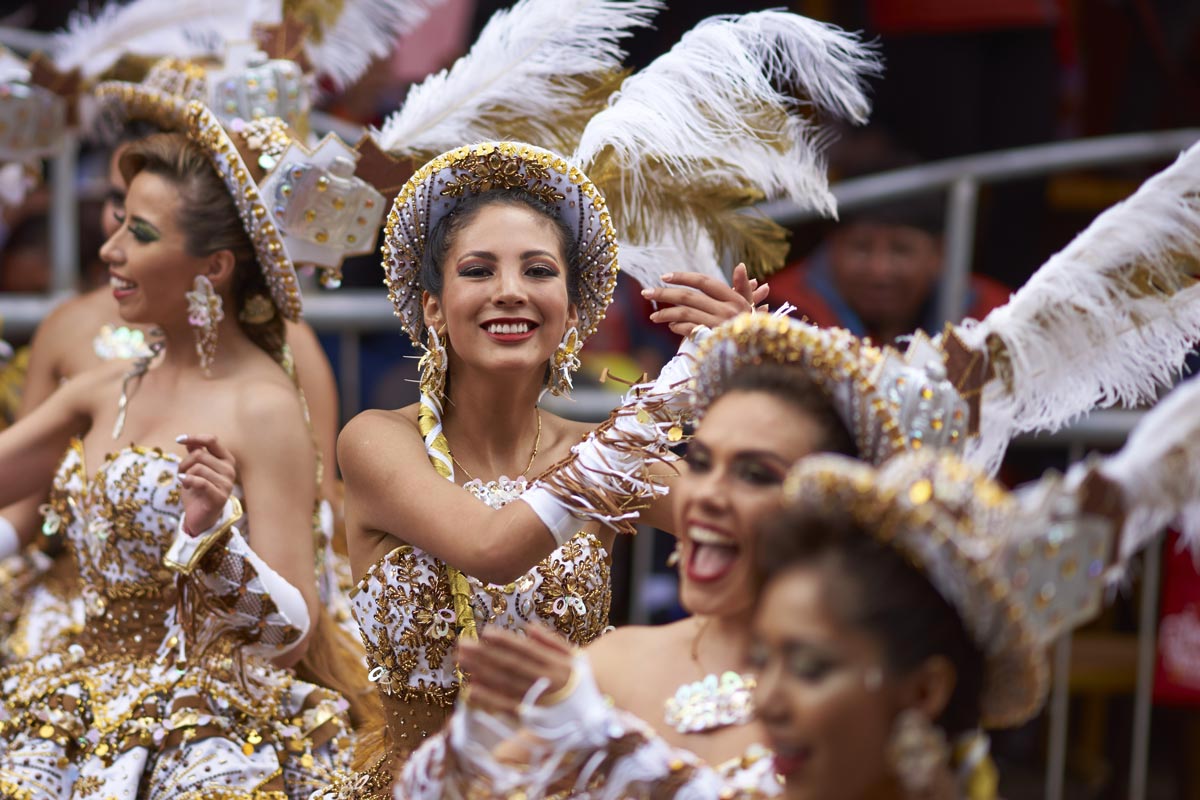 Jeremy Richards/Getty Images
Rio Carnival, Brazil
12-16 February 2021
The most famous carnival on Earth is also the most fun. Lavish, gigantic chariots, on-point dancers, world-famous costumes, thundering music and an electric atmosphere – Rio Carnival is everything you want it to be and more. It's the carnival to which all others aspire to – more colourful, in-your-face and dramatic every year, to gain a coveted space in the procession is a one-way-ticket to strut your stuff on a world stage. The country's best samba schools show off their best moves in the host venue, The Sambadrome, to win the title as parade champion – here, no costume or float is too big, too dramatic or too flamboyant. But if you thought the magic was contained in the stadium, you'd be wrong – the carnival spirit sweats from every pore of Rio de Janeiro – hundreds of street parties with millions of revellers blend into one another and celebrate into the night, which creates a city alive with merriment. The greatest party on the planet is one hell of a ride.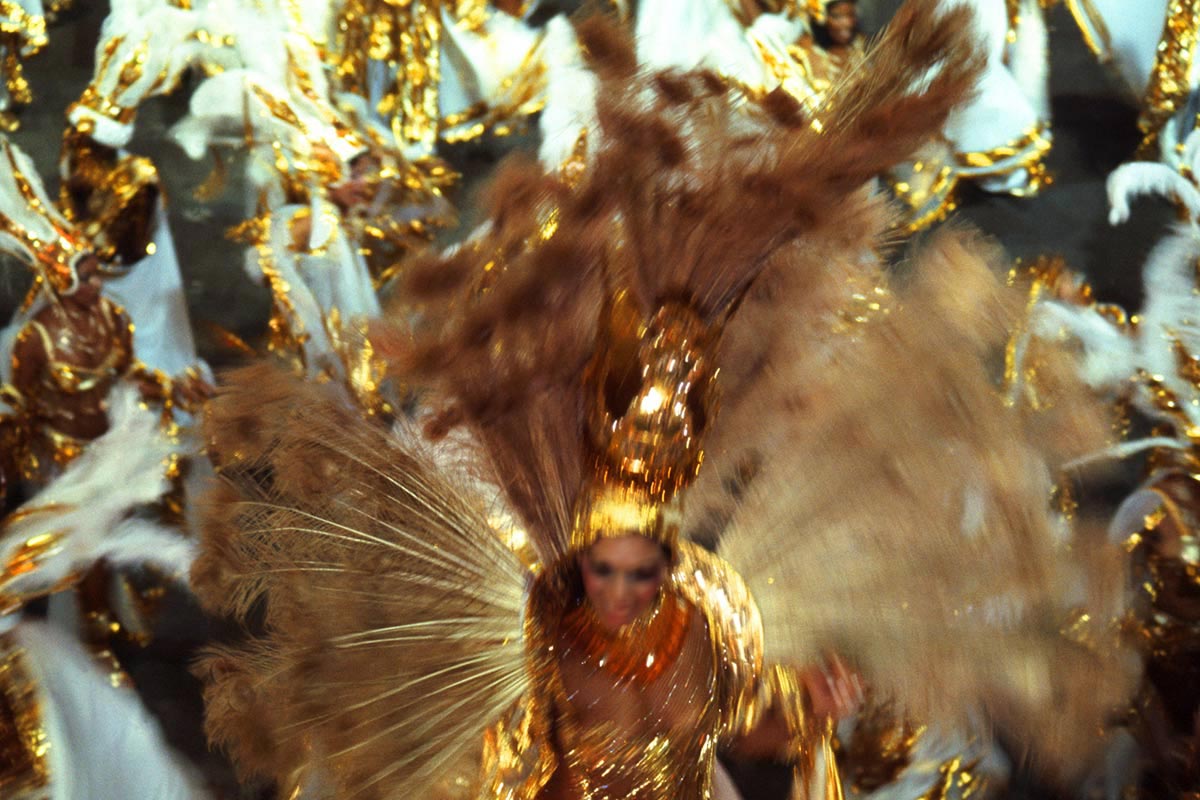 John Foxx/Getty Images
Salvador Carnival, Brazil
12-16 February 2021
It'd be natural to compare Salvador with Rio when talking about Brazilian carnivals, but the former has stood out for different, and no less illuminating, reasons to its Rio rival. While samba is the heart and soul of Rio Carnival, in Salvador there are no samba parades, and instead, it's legendary for its incredible music – it showcases notes from inside the country, with a spicy touch of reggae, African percussion, and more than anything, electric guitar. The biggest stars of Brazilian music lend themselves to the party and climb aboard huge trucks installed with massive speakers and the country's best dancers. Two carnival circuits, one by the sea, the other in the city centre, are designed to host the show and you can either reserve a place in the gallery for the right price or pay slightly less to get inside the cordon of the procession. The madness of carnival seeps into the soul of Salvador, which is crammed with street parties – it's a fun, mad atmosphere where drinking and dancing the days and nights away are all part of the experience.
Quebec Winter Carnival, Canada
5-14 February 2021
One of the biggest winter carnivals in the world, held in a Canadian city with a decidedly French heart, Quebec Winter Carnival is a masterclass in how to throw a snowy celebration. In February, temperatures linger at a pleasant 7°C to 12°C, the perfect conditions for festival fun, but you'll still need your gloves, scarf and hat for the powdery landscape. Impressive ice sculptures; a grand ice palace; circus shows; fireworks; masked balls; folk concerts; canoe races; snowmobile demonstrations; a glittering night-time parade; ice skating; fishing tournaments and even an axe throwing competition all help keep the fun dial set to high in this jam-packed celebration. Bonhomme, a mammoth snowman and the face of the carnival is everywhere and sparks almost as much childhood joy within all visitors as Santa. A major dose of happiness and wonder are a given at this magical occasion.
Santa Cruz de Tenerife Carnival, Canary Islands
10-21 February 2021
Clearly inspired by the sights and sounds of Rio, Tenerife's biggest carnival takes the reigns of the island's capital city for at least ten days every year. A chaotic jumble of musical parades with grandly-decorated floats, dancers in spangled, multicoloured costumes and musicians of all varieties come out in force, along with the tourists who appear to whoop, sing and jive at the side-lines – all 100,000 of them. The mercury hovers around 20°C, the ideal weather for partying from dusk until dawn. Festivities end with a ceremonial burning of the sardine or the 'chicharro' fish, an emblematic creature for locals – thousands of mourners dressed for a funeral wail as the flames lick the sky, then the music is resumed and merriment is continued into the night to mark the final farewell of yet another carnival.
Crop Over Festival, Barbados
29 July – 5 August 2020
Barbados's biggest party has been held since 1780 – back then, the country was the world's biggest sugar producer and the Crop Over Festival marked the end of the mammoth sugar cane harvest. This jam-packed festival is a huge celebration of all things Bajan and there's an atmosphere of liberation that threads its way through each and every event, from the vibrant parades and epic feasts to the energetic dance battles set to the rhythms of calypso and soca. The election of the king and queen of the carnival kicks things off and traditionally they were the best cane cutters on the island. Next, a huge craft market is held in the capital of Bridgetown, but this isn't any old craft market – troupes of musicians and dancers decked out in feathers and rhinestones parade in front of the stands. Monday is the grandest evening of all – for around €100 you can take a seat and watch in awe as flamboyant, immaculate calypso groups compete for the many dance crowns up for grabs. You may even catch sight of the most famous Bajan of them all, Rihanna, who has sprinkled A-list stardust over proceedings more than a few times.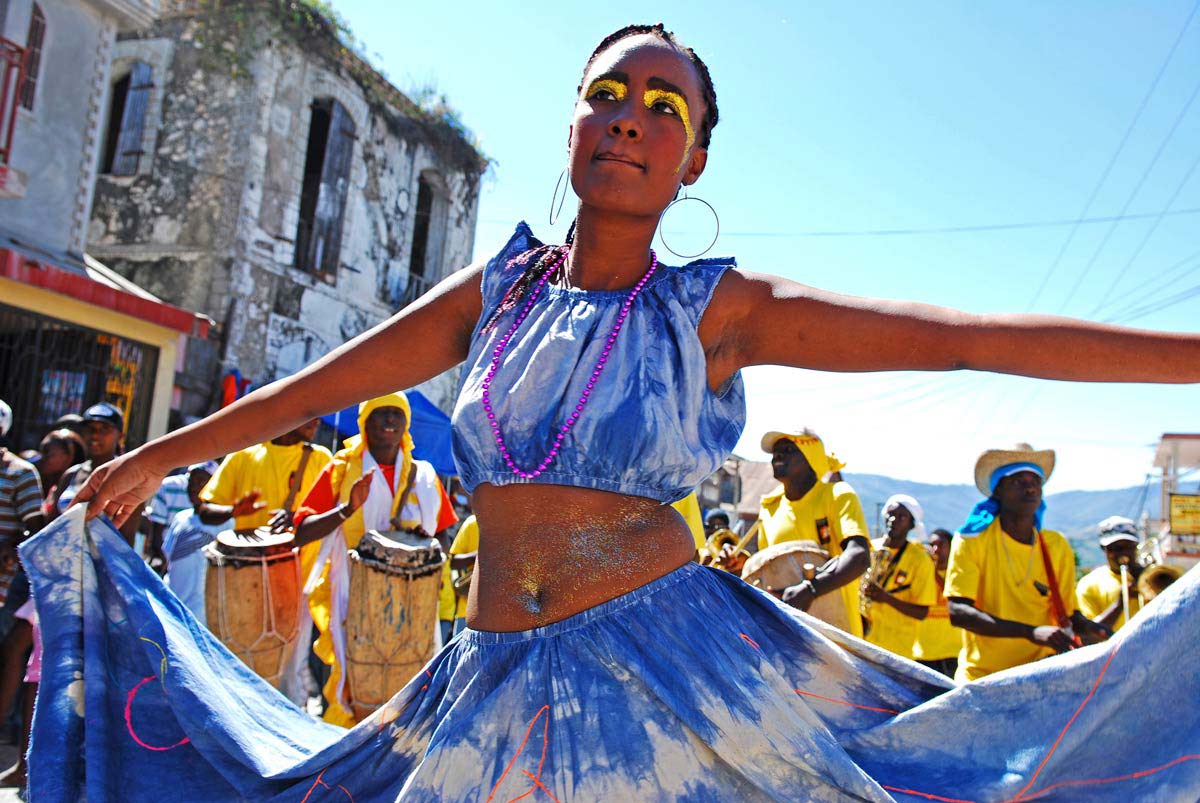 Getty Images
Kingston Carnival, Jamaica
16-20 April 2020
In Jamaica, everyone is on fire during carnival season! Naturally the nation's capital, Kingston, hums with energy, but it's just as alive along the north coast in resorts like Montego Bay and Ocho Rios. In fact, this fantastic fiesta spreads its infectious tendrils across the entire island and the festivities themselves are spread over a much longer period, starting in January and running until Easter. But the key moments of the event take place during one week of traditions in April, where a happy, heady mix of feathers, glitter and shimmering colour adorn everyone in sight and daily life pretty much comes to a standstill. It's replaced with breakfast parties, beach shindigs, live music blaring from screaming trucks, soca cruises and the ultimate climax – a glittering road march on carnival day. It's all set to the non-stop sounds of reggae (we're in Bob Marley's homeland here) and the catchy sounds of soca. The result of this sterling effort is around one million visitors who flock to the island every year.
Barranquilla Carnival, Colombia
13-16 February 2021
Proclaimed the most beautiful celebration in Latin America outside of Rio, Colombia's Barranquilla Carnival is a lively, intense, vivid celebration of the country's traditions through costumes and music. A vital cultural event, UNESCO declared it a Masterpiece of Humanity's Intangible and Oral Heritage in 2003. Held in its namesake city of Barranquilla, the celebrations take place during four days of revelry leading up to Ash Wednesday and open with La Batalla de Flores, or The Battle of Flowers. The most historic, important parade of all, it's an explosion of rainbow shades, floral displays, flawless costumes and dazzling floats and it acts as the catalyst for the next few days of entertainment, with processions and parties at every turn. Children aren't left out and can take part in costume workshops and their own special parade. Festivities draw to a close with the burial of Joselito, the guardian of the carnival, who is revived at the start and burnt at the end in an atmospheric ceremony.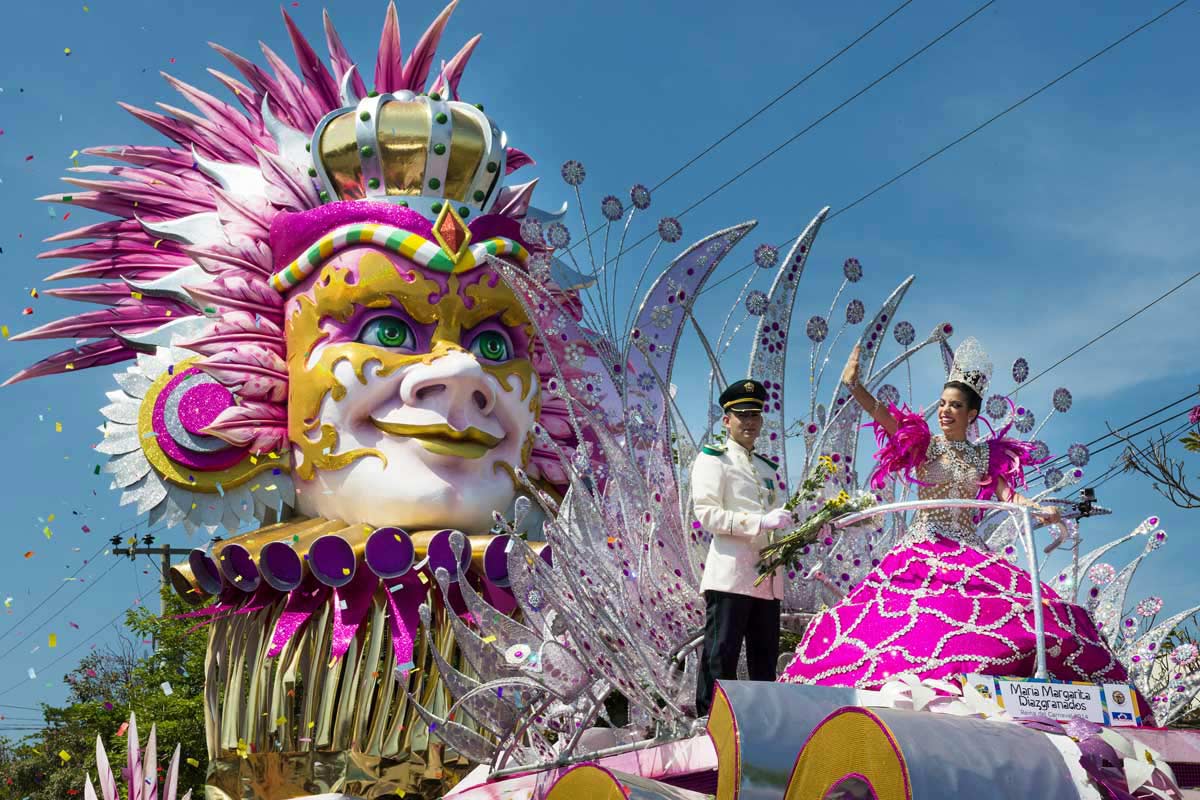 Tiago Lopes Fernandez
Copenhagen Carnival, Denmark
29-31 May 2020 / 21-23 May 2021
A relative newcomer in the world of carnivals, 2020 will be the 38th edition of Copenhagen's annual celebration. Every year for three days during the Whitsun weekend, locals and visitors alike let their hair down during a dizzying array of parties and parades. A champion of samba and salsa music, there's more than a pinch of Rio to be found in this varied, tasty dish of a festival, which attracts 120 orchestras, 2,000 dancers and around 100,000 spectators. The largest park in the city, Fælledparken, is the main venue for shows and they're spread across eight stages where music from across the globe is performed and applauded.
The Carnival of Cádiz, Spain
11-21 February 2021
From the central streets of Cádiz to its blooming parks and bustling main stages – the whole city turns into one big celebration for this beloved carnival, which is the oldest of its kind in mainland Spain. There are two codes always respected throughout the calendar of events: a commitment to all-out fun and a respect for Andalusian traditions and both principles are held dearly. The result is an occasion that's totally unique and completely unmissable – the eccentric feathers and skin-tight costumes of Latin America are swapped with elaborate, historically Spanish clothes and magnificent shows and processions designed to reflect the character of this wonderful region. There are dances with origins in the Spanish countryside, songs from ancient times and a traditional mocking of the powerful in various shows that has remained for centuries. Inspired by the theatrical, incredible carnivals in Venice, the Carnival of Cádiz is a distinctly Spanish celebration packed with historical significance.
Mardi Gras, New Orleans, United States
16 February 2021
This legendary spectacle, held from Epiphany in January to its grand finale on Shrove Tuesday in February, is best described as pure madness. It's an all-mighty party that sees more than 70 musical groups and their troupes compete for hundreds of thousands of excited spectators between the banks of the Mississippi river and Vieux-Carre in the French Quarter of New Orleans. Giant decorated floats meander down the road and candies, flowers and fake coins are launched into the air – costume is practically obligatory in the colours of the event: mauve, green and gold. Marching bands play continuously in the squares of the old town, boats with booming music sail on the river and talented musical soloists occupy the sidewalks. Mardis Gras is an American banquet of a celebration and any travellers here will be blown away by the spectacle of what the locals call 'the greatest free show on Earth'.
Nice Carnival, France
6-20 February 2021
Nice Carnival all starts with a famous Flower Parade – a beautiful display of blooms in every shade imaginable presented as larger-than-life moving works of art. Thousands of flowers are thrown into the crowds and that's just the beginning. This world-renowned celebration is one of the oldest carnivals in the world and easily the biggest winter event on the French Rivera. Every day and night of its two-week run it features illuminations, fireworks, street theatre and a vast array of music. Giant puppet heads bigger than houses bob in a sea of dancing people, street vendors peddle their wares, dancers line the streets and the entire city erupts into colour.
Venice Carnival, Italy
19th February – 1st March 2021
The most famous carnival in Europe is also one of the most sophisticated. It's offers a mesmerising, luxurious and at times, spellbinding peek at the history of Italy; there are period costumes reproduced with all the refinement of royalty; chic masked balls organised by exclusive hotels; private evenings with chamber orchestras and waxed parquet floors. Venice is endlessly beautiful any day of the year, but it's never more seductive than when it takes up the thread of its glorious history.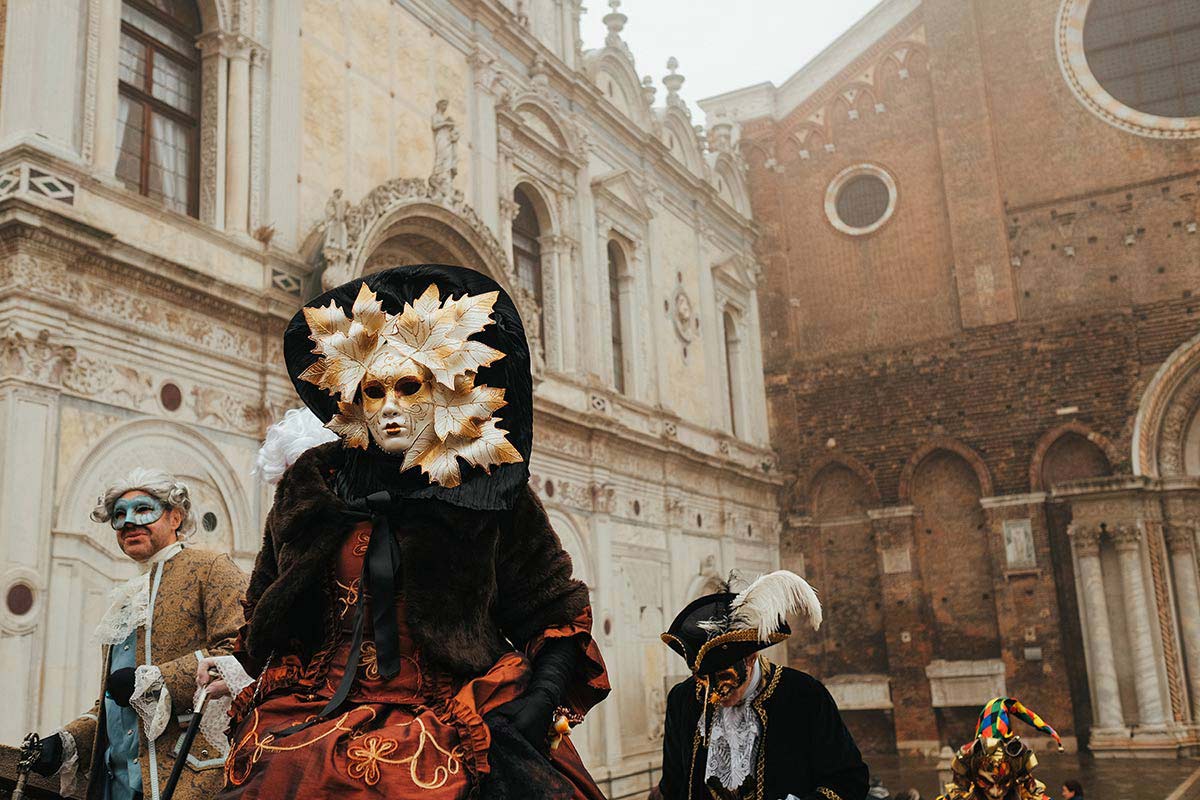 nastasenko - stock.adobe.com
Viareggio Carnival, Tuscany, Italy
30th January – 16th February 2021
Of all the carnivals in Italy, Viareggio is one of the most dramatic, and that's saying something. It has existed for 147 years and is marked by six immense parades that showcase the incredible works of papier-mâché art created for the event by talented artists. Pulled by huge wagons, the towering floats here are the biggest in the world and a major feat of design and engineering – they can reach up to 30 metres high and weigh close to 40 tonnes. Every year, the mammoth creations get bigger and better, drawing audiences from far and wide. The parades are accompanied by masked balls, street shows, concerts and countless parties.
Basel Carnival, Switzerland
22-25 February 2021
Two hundred decorated lanterns light up the night during the launch of this carnival, which starts at precisely 4am and brings together 1,200 costumed participants for 'Morgestraich', when drummers and pipers fill the black streets with music. The carnival is concluded in the same way 72 hours later – with music, darkness and dressed-up partygoers at 4am. In between these two magical ceremonies, fun, merriment and madness reigns supreme amidst the carnival atmosphere. Costumed music groups march through the town with drums and piccolos and decorated wagons slowly drive their designated routes, while unofficial entertainers thrill the audience from all angles.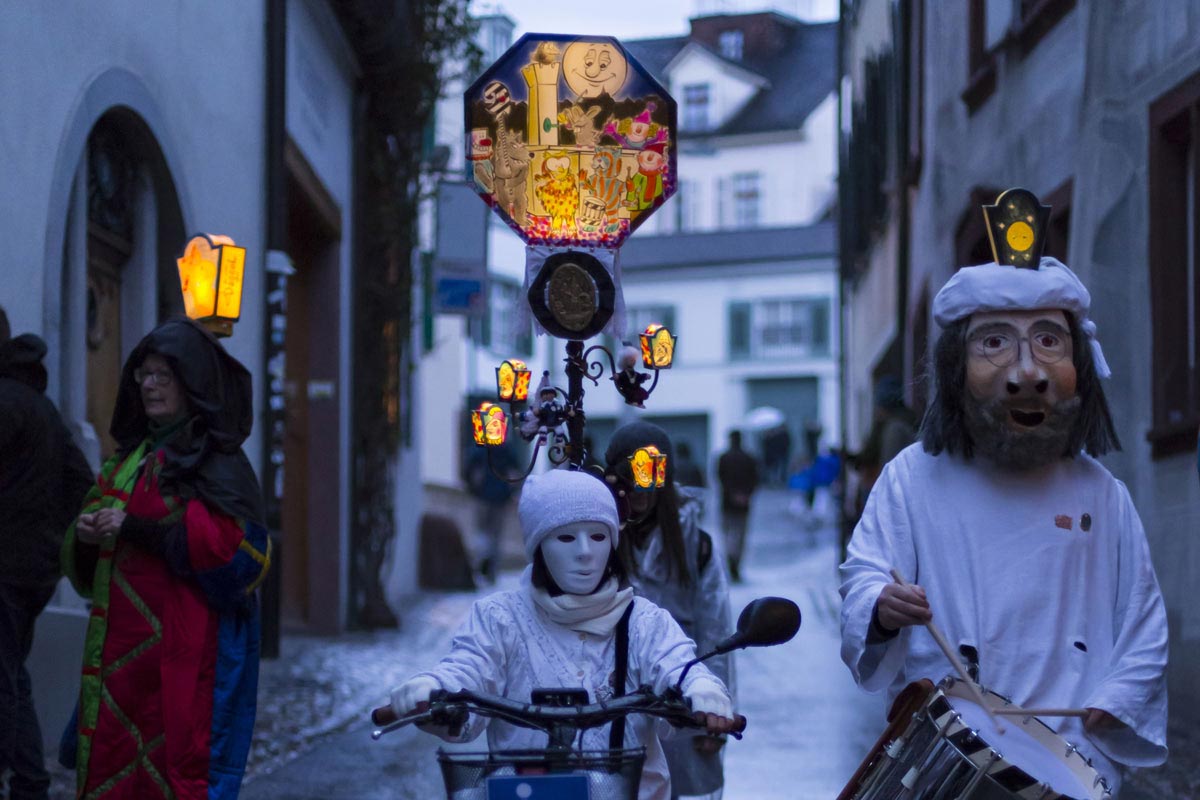 Andreas Mann/Getty Images
Cover picture : Nastasenko/stock.adobe.com