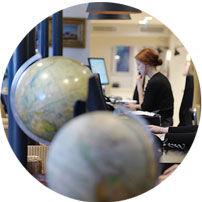 Andalucia holidays take you to the beating heart of Spain; a cultural and spiritual beacon, where flamenco dancing and bullfighting originated and where the image of quintessential Spain was born. Situated at the southernmost tip of the country - stretching from the Portuguese border in the west to the Mediterranean Sea in the east - Andalucia is a diverse, evocative region that boasts sun-bleached hilltop pueblos blancos (white villages), miles of windswept beaches, beautiful Moorish architecture, vast mountain ranges and a sun that won't quit. Over seven centuries of Islamic rule have left a rich
and varied legacy of influence on the region and Andalucia holidays are a fascinating dive into a melting pot of culture. Here, ornate architecture, spice-filled cuisine and grand mosques all jostle for your attention. Made up of eight distinct provinces, Seville, Cordoba and Granada are all key stepping stones on a tour of Andalucia and the finest example of life in action here. Another, Malaga, was the birthplace of Picasso and offers a unique glimpse into another more creative side to Spain, one which produced Mudejar Art - a blending of Moorish and European styles that's unique to Spain and a shining example of a hybrid art movement. Many of the buildings constructed in its style are now UNESCO World Heritage Sites and a wonderful example of the region's distinct history. With beaches and bars to play in, cities to explore and a cultural history like no other, Andalucia has all the ingredients for a holiday you can really sink your teeth into.
Andalucia Holiday Ideas
A few suggestions to get the holiday planning process started
A few of the benefits of travelling with us
What our clients say about us
Spain customer reviews (4 reviews)
4.5/5
I must tell you that you made a believer out of me. I travel a lot for business globally and everything you organised was top of the line. I was so enthusiastic about your team that I gave your coordinates to my flight neighbour. It says it all! Thank you for a wonderful vacation to Spain.
Spain Guide
Practical advice, client testimonials and inspiration to help you prepare for your holiday
Contact one of our Spain specialists