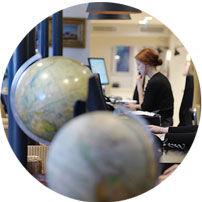 Sandwiched between the snow-dusted peaks of the Pyrenees and the sparkling blue Mediterranean Sea sits Catalonia, a proud and distinct region packed with personality and blessed with gorgeous beaches, a rugged coastline and stunning mountains. With its own language, parliament and customs, Catalonia is a part of Spain, but is very much in a world of its own. The seaside city of Barcelona, Catalonia's capital, is Spain's most buzzy destination (which is saying something), welcoming countless crowds to its shores every year. A vibrant, friendly, endlessly fascinating city, it's easy to fall in love
with the easy charm that envelopes you the moment you arrive. The sights to behold here are endless and the La Sagrada Familia - an extraordinary historic church - is the most legendary. Despite the tourists that arrive hourly on masse, this emblematic monument of the Catalan capital is the city's most prized possession and no amount of people can dampen its majesty – prepare for the neck strain as you gaze at Gaudí's unfinished masterpiece towering above you. And the culture doesn't end there. Barcelona's winding maze of streets offer surprises at every turn, from the shadowy twists and turns and Roman relics of the Gothic Quarter to the crazy concoction of colours in the UNESCO-listed Parc Guell, Gaudí's whimsical surrealist park. Make your way to the city's most famous street, Las Ramblas, and get set for a wild ride that shows off the best and worst sides of the city - artists peddling fantastical wares, human statues, dance troupes, giant floating street performers and pick-pockets line the streets to create a hive of activity that enthrals all who enter. Barcelona and Catalonia holidays are a hot-ticket to one of the most exciting trips around.
Barcelona & Catalonia Holiday Ideas
A few suggestions to get the holiday planning process started
A few of the benefits of travelling with us
What our clients say about us
Spain customer reviews (4 reviews)
4.5/5
I must tell you that you made a believer out of me. I travel a lot for business globally and everything you organised was top of the line. I was so enthusiastic about your team that I gave your coordinates to my flight neighbour. It says it all! Thank you for a wonderful vacation to Spain.
Spain Guide
Practical advice, client testimonials and inspiration to help you prepare for your holiday
Contact one of our Spain specialists