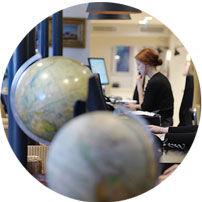 If you're after the three S's (sun, sand, sea), plus a side order of stunning mountain ranges, cool coastal towns and a surprisingly rich and diverse history, the Balearic Islands won't disappoint. Located off the coast of eastern Spain, this idyllic archipelago is home to four main islands, plus a scattering of 151 smaller uninhabited isles. There's cosmopolitan Mallorca, home to the honey-hued historic city of Palma; glamorous, party-centric Ibiza which offers up trendy yoga retreats by day and ubercool nightclubs come sundown; low-key Minorca, known for its endless beaches and pine tree-fringed coast; and the hippy haven of Formentera,
where snorkelling and sailing are the main orders of the day. Balearic Islands holidays are all about relaxing on the coast, indulging in tasty local produce, and enjoying outdoorsy adventures (and/or partying) aplenty... what's not to like?
Balearic Islands Holiday Ideas
A few suggestions to get the holiday planning process started
A few of the benefits of travelling with us
What our clients say about us
Spain customer reviews (4 reviews)
4.5/5
I must tell you that you made a believer out of me. I travel a lot for business globally and everything you organised was top of the line. I was so enthusiastic about your team that I gave your coordinates to my flight neighbour. It says it all! Thank you for a wonderful vacation to Spain.
Spain Guide
Practical advice, client testimonials and inspiration to help you prepare for your holiday
Contact one of our Spain specialists