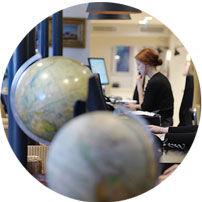 San Sebastian and Bilbao are the two main cities of the Basque Country, or Euskadi as it is known in the Basque language. Situated within an hour's drive of each other on the Bay of Biscay, both cities are very different in character, and to make the perfect driving circuit, we also recommend exploring the Basque hinterland and the Rioja winemaking region to the south. Bilbao, the urban heart of Basque Country, is a cosmopolitan centre of art, dining and architecture, and flaunts the shimmering Guggenheim Museum - a mecca for modern art lovers, while the alluring San Sebastian is the culinary capital
of Spain – a seaside city with an overflowing cultural calendar that doesn't pull punches when it comes to food, scenery and good times. Both are essential destinations on your Basque Country holidays, but we'd also recommend exploring the Basque hinterland, and as with any good food/wine pairing, visiting the Rioja winemaking region, home to Spain's finest wines.
The Basque Country & Northern Spain Holiday Ideas
A few suggestions to get the holiday planning process started
A few of the benefits of travelling with us
What our clients say about us
Spain customer reviews (4 reviews)
4.5/5
I must tell you that you made a believer out of me. I travel a lot for business globally and everything you organised was top of the line. I was so enthusiastic about your team that I gave your coordinates to my flight neighbour. It says it all! Thank you for a wonderful vacation to Spain.
Spain Guide
Practical advice, client testimonials and inspiration to help you prepare for your holiday
Contact one of our Spain specialists