Itinerary Highlights
The Guggenheim, fairy chimneys and Rioja vineyards come together to intoxicate your senses with the natural and cultural riches of Spain's Basque Country
Explore the Ebro Monument Valley in a four-wheel drive with a geologist guide
Your contemporary hotels with avant-garde architecture
A privately guided tour, Bilbao museum tickets and horse riding are already included
Contact one of our Spain specialists + 44 (0) 20 3958 6120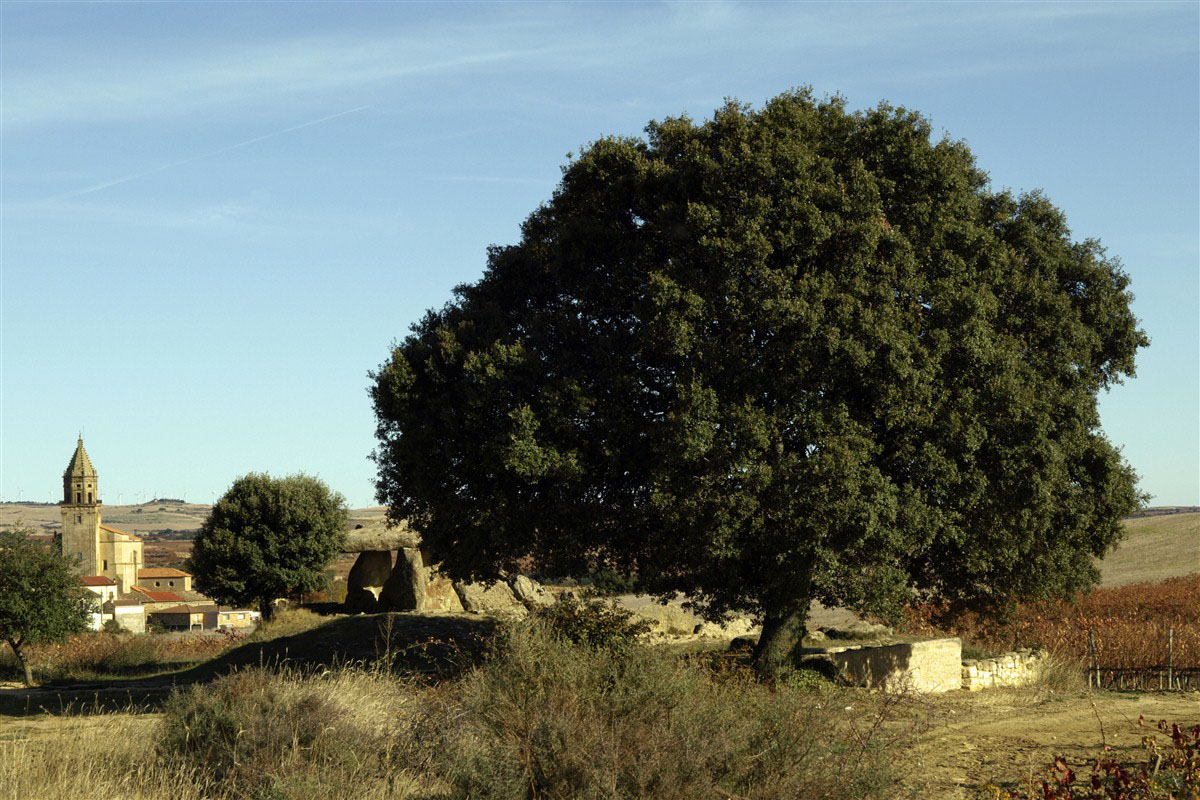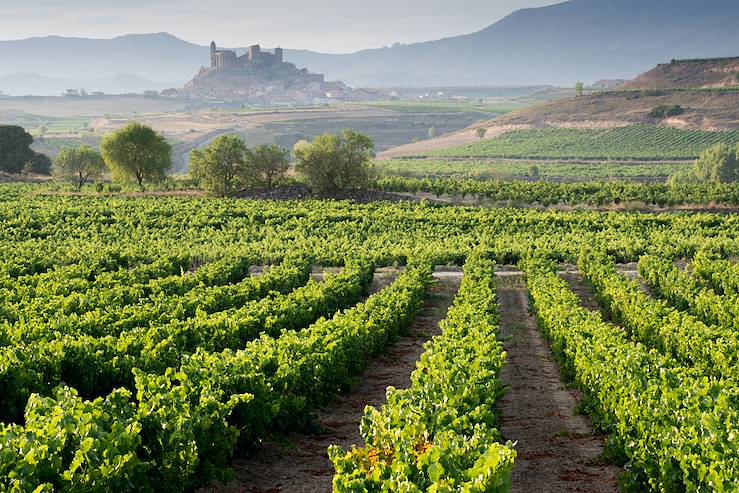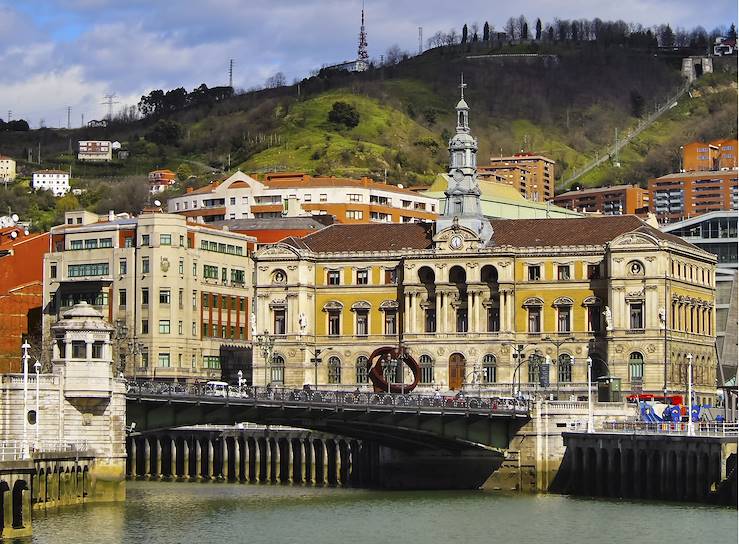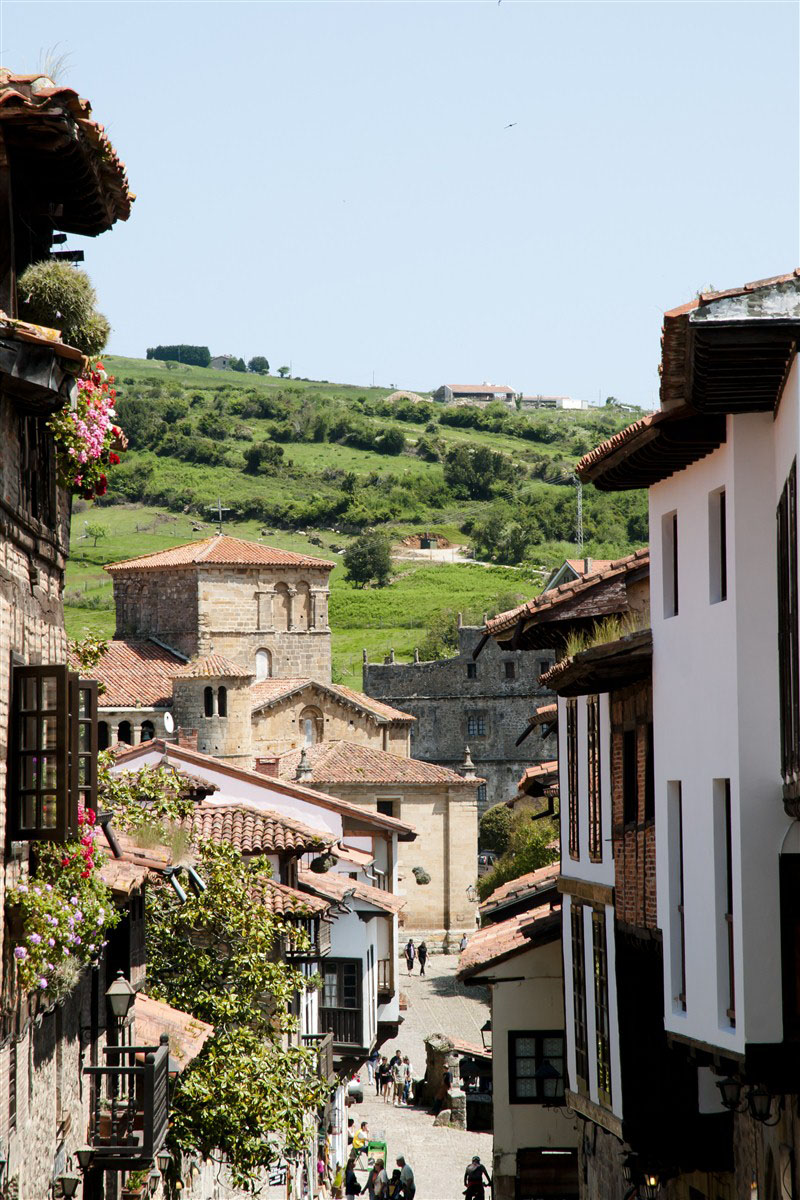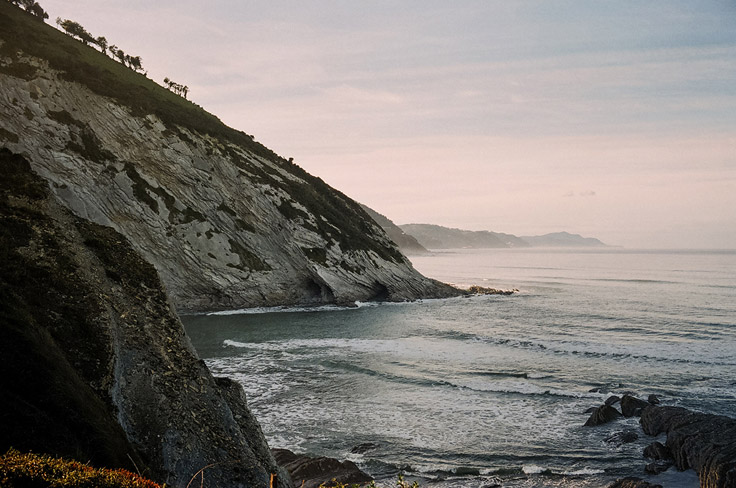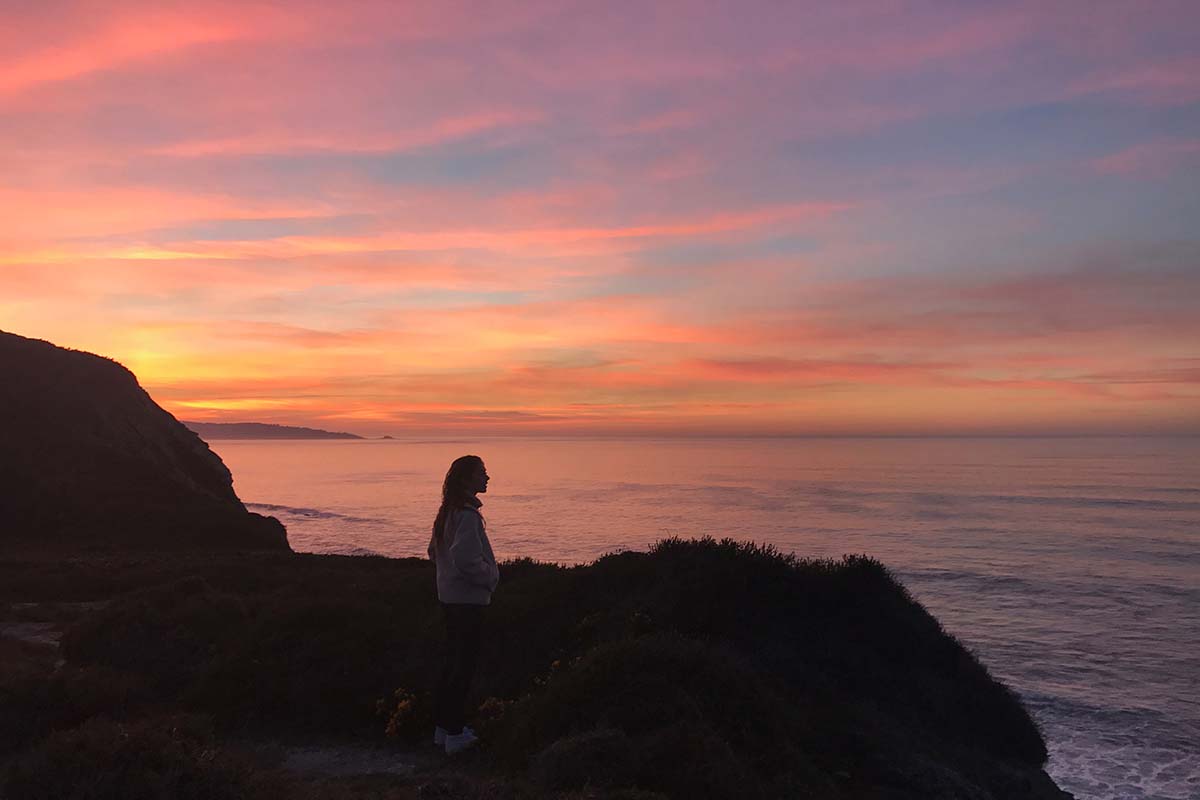 A desert in Spain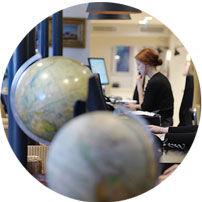 Classified as a biosphere reserve by UNESCO,
the Bardenas Reales desert
is a surprise for anyone who enters it for the first time: you feel like you are landing in a John Ford film. To give yourself this feeling, you will be based at
Tudela
in one of the most amazing hotels in Spain. On the way you will have passed through
Bilbao
, the great port on the Bay of Biscay. You can visit the Guggenheim collection, housed in Frank Gehry's famous building and nibble on pintxos (small dishes). Afterwards, you can explore the beautiful wines of the Rioja, around
Villabuena de Alava
. Exploring this wine-rich region on your own will also be an architectural adventure.
The Ebro winemakers are contemporaries. The countryside is lovely, just hilly enough to be beautiful without being difficult to explore on foot. And then, from the river to the Cantabrian mountains, the landscapes hold many secrets waiting to be explored, from vineyards, vast spaces for woods and pastures, and rivers that have carved out charming little valleys.


Your trip
Driving in Spain is relatively easy. So we've hired a car for you. Your individual and stylish accommodation represents the best in contemporary Spanish hotels. In Bilbao, the tendency towards the geometric contrasts with the bold architecture of the Guggenheim Museum; in Tudela, the hotel blends with the surrounding rock; in Villabuena de Alava, it hides the precision of a clock under its disjointed exteriors. Comfort is exemplary everywhere and service is flawless. We've thought of all of the little details to ensure your itinerary is amazing, from tickets to the Guggenheim Museum; your expert-guided trip to Bilbao, exploring the spectacular geology of the Bardenas and a gentle ride through the beautiful landscapes of the Rioja. In case there's still something you need, you have the contact details for our local Concierge.
Route
Everything is 100% tailored to you
Arrival at Bilbao Airport and private transfers to the city centre. Enjoy accommodation for two nights within sight of the Guggenheim Museum, in a hotel designed by the Barcelona designer Antonio Miro, who has used clean lines, contemporary materials, and urban design. The hotel has all of the modern comforts you need, plus healthy breakfasts are served in the dining room. There's a bar for relaxing with a drink after a day exploring, plus a spa and a gym.

Included in the itinerary - The Guggenheim Museum. Your tickets will await you at the hotel and you will receive the audio guide at the entrance to the museum. Some exhibitions change (you can check what's on ahead of time on their website), but some works are permanent. Like Richard Serra's eight steel sculptures making up The Matter of Time. Another imposing and subtle work. The Guggenheim collection is one of contemporary art's great institutions and visiting always stimulates the brain and senses. And just like the pintxos, it's part of the way of life in Bilbao. Make sure you devote the evening to these Basque tapas, which are generously sprinkled with txakoli wine. And why, you may ask, are the beef ribs here so good? Because local legislation makes it possible to leave the meat to hang for just the right amount of time, a small but important detail.
Included in the itinerary - Bilbao with an expert guide. Enjoy a guided walk around Bilbao to discover its history and culture. It will be an opportunity to share a small slice of life, to discuss everyday life in Bilbao, to discuss society, the arts, cuisine or to learn the history of this maritime city's industrial past, which has become the height of modernity in a few short years. The tour can be completely tailored to your interests.
Take the car and drive to Tudela. Enjoy accommodation for two nights on the edge of the desert. The hotel, designed by Monica Rivera and Emiliano Lopez, is made up of white cubes that create a striking shape against the skyline and stony landscape. In the distance, there's a line of wind turbines on the hills. Each room is perfectly equipped and comfortable, and opens to the outside, while still remaining private. The hotel's vegetable garden is located in the grounds of the estate and provides the kitchen with the finest fresh vegetables for the chef to whip up into delicious dishes. Pair your vegetable-focused meal with some delicious local wines. The hotel's pool is beautiful. All of this is done with sustainability and contemporary aesthetic values in mind.
Already included in the itinerary - Les Bardenas. There are more than 100,000 arid acres between Tudela and Carcastillo - it is the largest Spanish desert. Here the jutting peaks carved out from erosion create a dramatic landscape with striking and contrasting shapes and colours. The Castil de Tierra is the national park's iconic fairy chimney. Steppes, juniper and rosemary scrub, Aleppo pines, garrigue oaks and tamarisk are the predominant vegetation, and flying above are Egyptian vultures and eagles. A four-wheel-drive trip, accompanied by a geologist guide, provides a better understanding of a majestic and troubled environment that is constantly evolving.
DAY 5
Tudela - Villabuena de Alava
Drive to Villabuena. Enjoy accommodation for two nights in a hotel that looks like a set of building blocks, or like it's been toppled by an earthquake. In fact, we soon discover that this architecture, far from being random, is the result of careful planning and calculated balance. The interior spaces are extremely comfortable and pleasant. The light wood of the barrels gives everywhere a warm feel. Rooms overlook the village houses and Cantabrian Mountains. The chef's cuisine combines produce from the Basque earth with oriental fruits and spices (such as pigeon with dates and figs) and results in some unusual dishes (we're talking pig's trotter carpaccio or wild boar tartare); which are excellent when paired with local wines. Take a trip to the spa for a pampering treatment to complete the indulgence.
DAY 6
Villabuena de Alava
Take a pleasant stroll around nearby Villabuena, to walk past the noble houses with their baroque or Renaissance facades. Behind the hotel, the church of San Andres deserves a visit. But it is undoubtedly its rolling countryside and the vineyards on it which are of most interest in the small town. This wine-rich region is beautiful when it comes to both natural landscapes and stunning architecture. And then, from the river to the Cantabrian mountains, the landscapes hold many secrets waiting to be explored, from vineyards, vast spaces for woods and pastures, and rivers that have carved out charming little valleys..
Already included in the itinerary - A horse ride through the Rioja vineyards, accompanied by an instructor.
DAY 7
Villabuena de Alava - Bilbao - return flight
Drive to Bilbao Airport. Return the rental car and catch your flight home.
A la carte
Visit Bilbao
Accompanied by a private guide, you'll take a walk through a city with a contrasting artistic landscape. See the Gothic 15th-century church of Saint Anthony the Great in the Casco Viejo, the heart of old Bilbao, with Renaissance and Baroque alterations. The large Basilica of Begona, dedicated to the patron saint of Biscay, Nuestra Senora de Begona or Amatxu, is Renaissance. But the Zubizuri Bridge on the Nervion is the work of Santiago Calatrava; along its axis, Isozaki Arata built a 'gate' that connects the Ensanche and the Ria; Azkuna Zentroa is a versatile activity centre designed by Philippe Starck in a former wine warehouse (Ricardo Bastida, 1909). In short, there is plenty to do around the Guggenheim Museum!
Option - Half day


Visit to a wine cellar and Rioja tasting
During your stop in Villabuena de Alava, meet a winemaker and religious convert who has transformed his shop into a Rioja wine store, and taste, compare and allow yourself to be seduced by Denominacion de Origen Calificada wines full of complex flavours.
Optional



Optional add-on
A Rough Idea of Price
Dependent on season, accommodation and activities
The estimated cost for this trip is £1,900 to £2,300 per person. All of our holidays are tailor made so prices will vary dependent on a number of factors, such as seasonality, level of accommodation and how far in advance you book. The final cost will vary according to several factors, including the level of service, length of trip and advance booking time. The exact price will be provided on your personalised quote. The average price for this trip is £2000 per person. * seasons recommended for this trip: spring, summer, and autumn.
Round-trip flights to Bilbao with a scheduled airline
Airline taxes and fuel surcharge
Airport-hotel transfer on arrival in Bilbao
Five day car hire, in an all-inclusive package
Two-night stay in Bilbao in a double room with breakfast
Two-night stay in Tudela (Bardenas) in a double room with breakfast
Two-night stay in Villabuena de Alava (Rioja) in a double room with breakfast
Tickets with audio guide to the Guggenheim Museum
Tour of Bilbao with an expert guide
Four-wheel drive desert trip with a private guide
Riding through the Rioja landscape with a private instructor
Our local Concierge service
A few of the benefits of travelling with us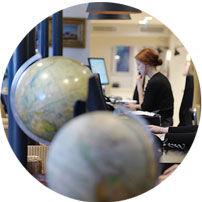 Get in touch
Our experts have the inside track on the destinations they sell and will tailor-make a holiday to your unique requirements.
Contact one of our Spain specialists