Do you like stunning beaches, beautiful gardens and Spanish-style architecture? If so, spending 24 hours in Santa Barbara will feel like an absolute treat as it's jam-packed with unforgettable attractions, experiences and activities. There are so many things to see and do in this vibrant city, from visiting historical landmarks and art exhibitions to eating fresh seafood by the ocean and catching a theatre show. Whether you're into art, nature, wine or afternoons by the sea, there's something for everyone to enjoy in this bustling Californian coastal city. Want to know more? Of course you do. Keep reading to discover our detailed guide on how to make the most of your 24 hours in Santa Barbara.
Morning
What's that buzzing noise? It's the sound of your alarm – good job you set it for 7am and didn't press snooze, isn't it? Because there's lots to do and not much time to do it in when you've got just 24 hours in Santa Barbara. First things, first: food. We're talking pastries, waffles, omelets, pancakes and breakfast burritos. And coffee. Strong coffee. Whatever neighbourhood you're staying in, there are lots of little cafes and breakfast spots serving up delicious American dishes. So just follow your gut (quite literally) and you're sure to find something flavoursome and hearty to enjoy. With a full tummy and an adventurous spirit in tow, it's time to head to the iconic Santa Barbara Courthouse: one of the country's most beautiful public buildings. It's hard to miss, with its distinctive four-faced clock tower, red roof and tiled fountains. The courthouse has been the hub for legal and civic activities in Santa Barbara for decades and has also been featured in a variety of films and TV shows. Take a free tour of the building, where you can climb to the top of the clock tower for some impressive panoramic views of the city and beyond. And don't forget to visit the cactus garden and palm-lined walkway before you leave. Got room for another landmark before lunch? Walk over to the Explore the Santa Barbara Mission, founded in 1786. It's another fantastic example of the USA's Spanish-colonial architecture and a great opportunity to explore the ruins of an extensive aqueduct system, an original cemetery and mausoleum, and ten acres of sunken gardens.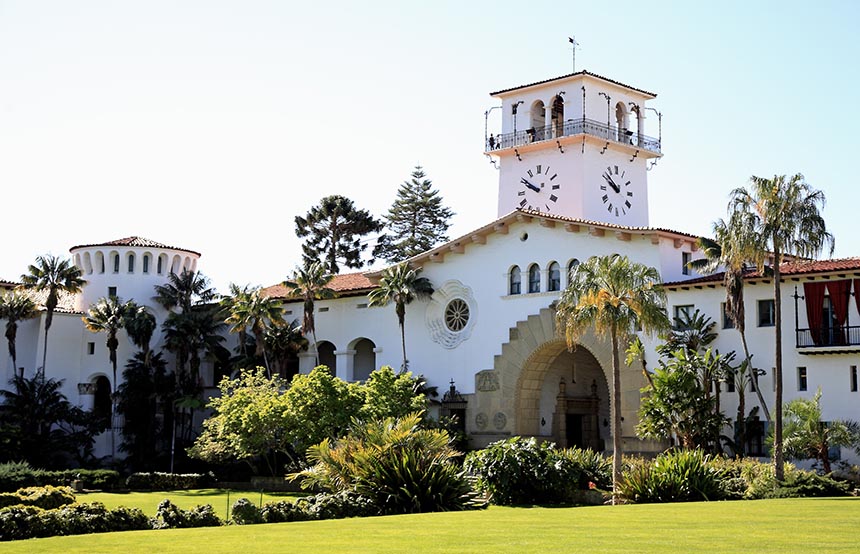 Lunch
Lunch is best served in the Funk Zone: a particularly hip neighborhood with a wonderful selection of boutique shops, galleries, restaurants, and – perhaps best of all – wine tasting rooms. The latter may be the best option if you're still full from breakfast, as you can order a few small plates and learn about the region's winemaking history. If you're more of a beer drinker, there's a whole host of breweries to visit in this district too. Hungry for more? Take your pick from the diverse range of restaurants and cafes in the area, from casual eats to upscale dining and everything in between. Whether you fancy some fresh seafood, a bit of Mexican street food, or even a taste of Asian-fusion cuisine – you'll get it all here. There's plenty of outdoor seating too, so you can enjoy some alfresco dining with a side of people-watching. Be sure to check out the local shops and art galleries when you've finished eating, especially if you want to take home a few souvenirs.
Afternoon
If you're not quite ready to get some more steps in yet, that's fine. Thankfully, Santa Barbara has a number of great beaches to unwind at, including East Beach, West Beach and Leadbetter Beach, among the best beaches in California. Go for a refreshing dip in the ocean, take a leisurely stroll along the shoreline, or simply sit back and soak up the sun. What happens next is up to you. You could escape the heat and enjoy some culture at the Santa Barbara Museum of Art, whose permanent collection includes over 27,000 works of art. Expect to see all sorts of paintings, sculptures, photography and decorative arts from Europe, Asia and the Americas. Alternatively, if you want to stay outside in the fresh air, there's Stearns Wharf: a historic pier and popular tourist destination that offers stunning views of the ocean and the mountains. The 78-acre Santa Barbara Botanic Garden is also worth a visit, especially if you're a nature lover, as it's located in the foothills of the Santa Ynez Mountains and showcases the region's native plants, including some rare and endangered species. Travelling with little ones? The Santa Barbara Zoo houses over 500 animals, including elephants, lions, giraffes, gorillas, and more. It offers several family-friendly activities, such as a carousel, a play area and a petting zoo, as well as special events, including animal encounters and live shows.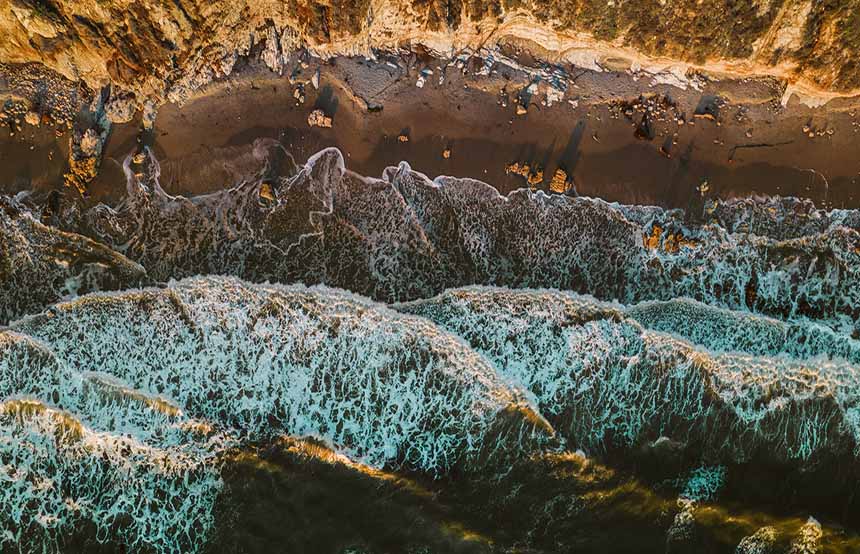 Evening
We're coming to the end of our 24 hours in Santa Barbara but there's still lots of action to be had. And lots more food to be eaten. Kick off your night in the city with a stroll down State Street, the main shopping and dining district. Keep an ear out for live music too, as lots of the places in this area host open mic nights and band performances as the day draws to a close. If you enjoy a sunset, head to the harbour after dinner. It's a lovely place to potter around at any time of day but at night it's the perfect place to watch the sun go down (cocktail in hand). End your evening by taking a look at what performances are on at either the Arlington Theatre or the Granada Theatre for a dash of entertainment.