Two well-kept secrets of the Aegean Sea, on the Turkish and Greek sides: a bohemian retreat in Alacati, and a nature escape in Chios, where the sea extends across the horizon.
Alacati ( pronounced "Alatchateu") is perched on the Çesme Peninsula on the Aegean coast. Its charm lies in its winding alleyways, its white houses sparkling before the turquoise sea. The Mediterranean air is reminiscent of Greece, which is not really surprising : until the beginning of the 20th century, of Alacati's 13,000 residents, 10,000 were Greeks (forced into exile during the population exchange between Greece and Turkey in 1923, they moved across the way, to the Greek islands). We love its cobblestone streets and its houses with pastel gates, bougainvillea and lavender. The village has long lived from growing vines and olive trees and is now a trendy and closely guarded refuge for Istanbul residents. Here, athletes compete every summer for the winds on the Aegean Sea during the windsurfing World Cup.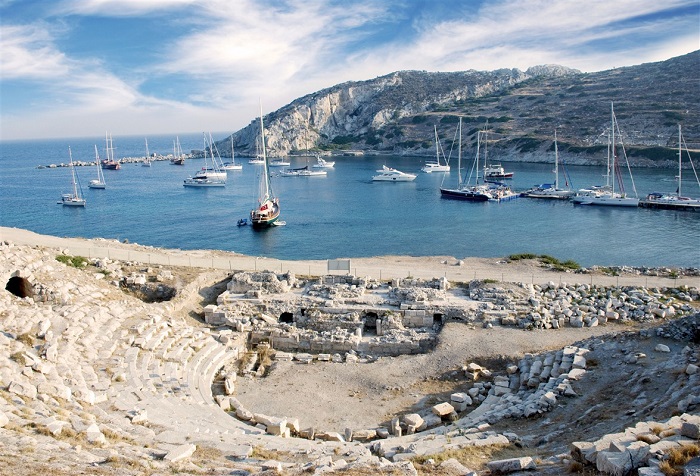 Fotolia
Young Istanbulites have decided to stay on after the weekend races, and have opened charming hotels, art galleries or restaurants. Like this couple from Istanbul, who once lived in exile in the United States and bought several acres of vineyards, to turn them into an organic farm. All this could have ruined the charm of the place - but it didn't. Blue shutters closed on the lime walls of the houses. Stroll down the still sleepy streets, meeting only a few stray cats. A coffee on the terrace and watch as the village awakens slowly : in front of the old Orthodox church converted into a mosque, an auction for just-caught fish, still wriggling. Farther afield, antique shops open their doors, where beautiful glazed porcelain dishes are hung. A jaunt to the beach. Lunch seated around a large wooden table in a large courtyard, under the sweet-smelling fig tree. Enjoy braised artichokes, zucchini flowers stuffed with mint, fresh figs à l'orange made with vegetables from neighbouring market gardeners, and aromatic herbs picked from the surrounding countryside - and the feeling of being at home. After a little nap by the pool, we go back to the beach in the late afternoon.
The next day of your trip on the Aegean Coast, after barely a few nautical miles by ferry, we land on Greek soil at Chios, the Greek anti-island. Its villages are not white or blue, but made of golden stone. It's an ecotourism paradise : the island lives less on tourism than on traditional mastiha culture - resin harvested in tears for its therapeutic properties; local products are featured everywhere.