These two cities will likely frame any trip to California. In one corner we have San Francsico, the so-called 'most European American city ', with 870, 000 inhabitants living within the city itself, and 4.7 million within the extended urban area. In the other corner, we have the urban giant with its ever-expanding boundaries, stretching 75 miles along the Pacific and 30 miles wide, with four million inhabitants living in the centre, and almost 19 million in all its neighbourhoods combined. The first, a city that has spawned some of the great causes of the past and present, and which is currently the world's tech hub; the other, sporty, cinematic, showy. Each has its devotees, and its detractors. So which one would you choose, San Francisco or Los Angeles?
1
Weather
San Francisco is famous for its chilly temperatures, even in summer. In July, for example, the mercury ranges from 13°C to 20°C, while at 15°C the ocean only attracts the hardiest swimmers. In contrast, over the same period, Los Angeles experiences temperatures of between 19°C and 29°C under the blazing sun and with a water temperature of 18°C.
advantage Los Angeles
3
Travel and Traffic
San Francisco is famous, at least in the city centre, for being easy to get around on foot or by tram. The tram is the city's local method of transport, offering spectacular views as they climb the hills. You can also get around by car, but street parking spaces are limited and parking rates prohibitive (up to $20 for two hours). Overall, the traffic flows fairly well.
In Los Angeles, the car is king. Taxis are hard to find but Uber is very accessible. The city has a network of vast motorways with heavy traffic throughout the day, meaning there's a significant risk of missing an exit and having to rework your route from the next one. Then there are the frequent monster traffic jams. Except within the city centre and on a few avenues (Hollywood Boulevard, Melrose, etc.) walking is impossible, as the city is so vast. Unless you plan to stay put, expect to spend hours a day in your car, basically.
advantage San Francisco
4
Atmosphere
Los Angeles wants to be the Pacific capital of the United States, and in the same way that New York embodies the glory and style of days gone by, LA has a more forward-focused dynamic. Cinema, television, music, fashion, lifestyles... everything here is one step ahead of the rest of the United States. Huge movie-star villas and crazy parties are never too far away either, thanks to the influence of Hollywood and its stars. An obsession with body image is also a meme born in California, on Venice Beach specifically. People here eat organic food, run, listen to their personal trainers and make sure their smiles sparkle. It's a city whose inhabitants spend a crazy amount of time in their cars, and a crazy amount of time and money on 'improving' themselves.
In comparison, San Francisco feels like a much more intellectual city. This city has led all of the revolutions of the last fifty years , such as the student protests at Berkeley in 1967, the beatnik and hippie movement immediately afterwards, musical revolutions with Joplin, Hendrix, the Grateful Dead, gay and lesbian sexual revolutions, the evolution of computing in Palo Alto, ecological revolutions and the evolution of winemaking, to name but a few. The result: the cliched stereotype of hipsters with ponytails and beards decked out in flannel, each carrying their own niche musical instrument, being who they want to be, sitting in Starbucks with their laptops open, always ready to take part in a debate.
advantage San Francisco
5
Living There and Visiting
Getting around San Francisco is easy, thanks to public transport. Make your way from the north - home to the Golden Gate Bridge and Fisherman's Wharf, where you can enjoy a Budweiser while applauding the local sea lions - to the south with its markets, restaurants, and plenty of opportunities to watch performances along the quays before boarding the ferry to Alcatraz, or from the legendary hippie junction of Haight-Ashbury to Union Square, the vibrant heart of the city or Chinatown.
Meanwhile, Los Angeles has almost 90 neighbourhoods. While visitors set their sights on two or three of these areas - such as the centre, which has become a newly trendy hotspot, Hollywood Boulevard and its parade of stars, or Bel Air to see the magical hill and its celebrity villas - the vast majority of Angelinos stay in their own neighbourhood, where they work, shop and take their children to school. Public transport around this sprawling city is scarce so you'll need a car to get around, but be warned: even the smallest amount of travel takes a while so always plan with extra travel time.
Verdict: advantage San Francisco
6
Local Colour
With the USA so present in our film, TV and music, exploring anywhere in this vast country can feel like you're in a movie, especially in California. While colour is popping up in the Arts District as Los Angeles unveils a host of impressive murals and paintings on blank facades, and local hipsters and artists hit the latest hot spots in wild costumes and extravagant, luxe nights out, right next door is the square of downtown where LA's homeless population congregate. These social, aesthetic and cultural contrasts can be seen across this diverse city. Another of the city's contrasts is Venice Beach's skate park, a Mecca for teenagers. Around twenty champions constantly challenging each other against a backdrop of wide sandy beaches, palm trees and cycling and jogging paths.
Meanwhile in San Francisco, walk or cycle across the Golden Gate Bridge, enjoy a sailing getaway in one of the most beautiful bays in the world, or drive along a road so steep that one minute the bonnet is pointing to the sky and next diving steeply into the ocean on the city's hills. Other attractions include the city's real farmers' market (Ferry Plaza Farmers Market), classic concerts in the back of forgotten bistros, the creative haunt that is the SFMoMa, and the Opera where one of the best ballets in the United States dances. A great stay is guaranteed whichever you pick. So who wins the cultural race? San Francisco or Los Angeles?
So who wins - San Francisco or Los Angeles? it is a draw
7
What To See And Do Nearby
It's all about north vs south. California high-tech versus Californian glamour and the big blue. Starting from San Francisco, aim for nearby Napa to explore its famous wine valley, or head south (50 miles) to Silicon Valley where Cupertino, Palo Alto or San Jose are the stuff of every geek's dreams. For more touristy thrills, head to Carmel on the Pacific coast, a boutique and gorgeous seaside resort filled with perfectly manicured oleanders and umbrella pines, or head inland to visit some of the trails at Yosemite National Park and wonder at its beauty.
From Los Angeles, it's simple : head south to San Diego on the Mexican border (a relaxed two-hour drive), with a beautiful historic centre and around a hundred craft breweries ; or north to Santa Barbara, the Californian Mecca for holidaymakers (alongside Palm Springs in the middle of the desert), where, whilst dipping your toes in the Pacific, it is impossible not to ponder on how beautiful life can be .
Verdict: it is a draw
8
The American Dream
Which of the two cities embodies the Californian dream more, San Francisco or Los Angeles? Although the techy-minded think of San Francisco as the current melting pot for new technology and development, they know that crossing Silicone Valley, where Cupertino (Apple headquarters) and Palo Alto (Tesla, Facebook, Stanford University, etc.) are located does not provide even the slightest visual thrill, except to admire some daring architecture.
Los Angeles, however, is both showy and bold. Appearance is everything, hence why cosmetic surgery , crazy parties, quirky outfit choices, statement accessories (think: micro pig) or riding around in a Ferrari with your driver at the wheel are all considered normal. Everything is possible because LA is the city of cinema, illusion and special effects. LA opens its doors and invites its visitors to create their own dreams there. It's a city of pretenders, and only a select few get chosen, but that is America.
advantage Los Angeles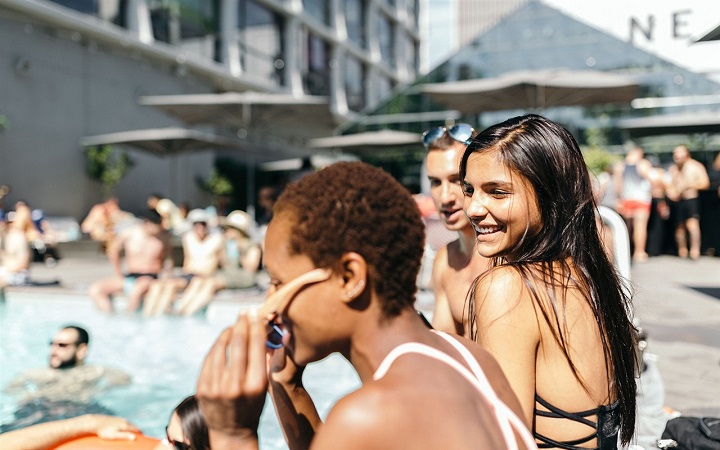 ©The Line Hotel
10
The Final Verdict: Experience Both
The best part about all of this, is that you don't have to choose between these two very different destinations. Plan a trip to California with a road trip that connects the two cities, and drive the 500 miles along iconic Route 1 with its wonderful seaside setting. It's one of those trips where the journey is as good as the destination (some might say, better!) Leave San Francisco due south. Take a break in Carmel-by-the-Sea, a cosy seaside enclave frequented and inhabited by wealthy Americans, then on to the coast at Big Sur, famous for its cliffs overlooking the sea and terrifyingly beautiful Bixby Bridge, and not forgetting Santa Barbara, the perfect holiday spot to learn how to surf, before getting lost on the tangle of Los Angeles motorways. California Dreamin'.
Verdict: a perfect pair
By
Jean-Pierre Chanial