When you think of Morocco you probably think of mesmerising medinas, tantalising temples and pretty palaces, not little blue-washed artsy towns that look like they belong on Greek islands. Chefchaouen is Morocco's anomaly. Perched beneath the rugged Rif Mountains, this is a town that has fused everything from religion and architecture to colour (who knew terracotta and topaz went so well together?). But beneath its sky-blue surface, this is a hardy town that has survived invasion after invasion and a near constant stream of new residents (thanks to other wars elsewhere). So, it should come as no surprise that this town has a lot to offer. When one of our content writers, Naomi, went on holiday there, we put her to the test to try out all things to do in Chefchaouen. Read on to discover more.
Arriving in Chefchaouen
My first thought upon entering Chefchaouen was how much they seemed to want us there. As we approached the checkpoint, stony grimaces turned to smiles as we wound down the car window and flashed our freshly stamped passports. From there, it was like the town purposely rolled out its red (or blue) carpet just for us. Crumbling mountain lanes opened out to freshly paved blue-lit roads, dilapidated homes turned into freshly painted buildings and dusty roadside shops became chic boutiques flogging Morocco's best exports. Even as we arrived at our riad, six men came rushing over to us to help us park and unload our bags. If this was an insight into the type of treatment the Kardashian clan received when they arrived somewhere I thought, I like it here already.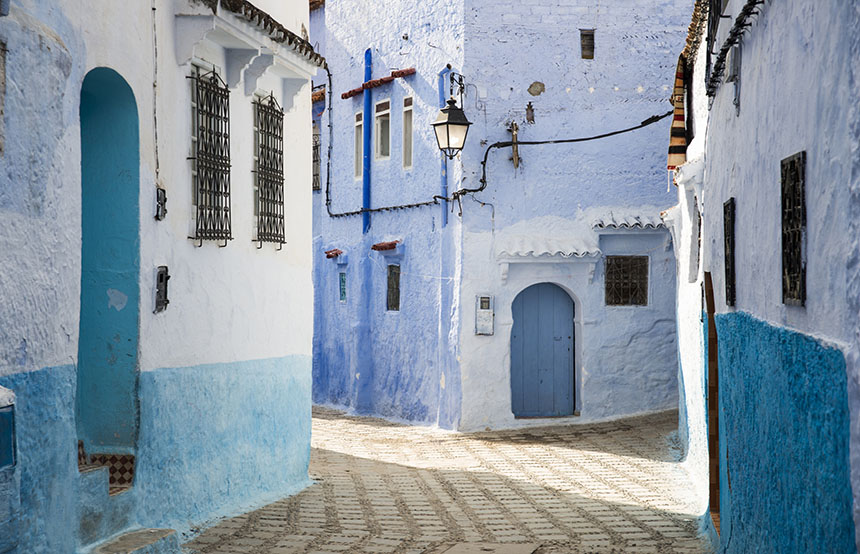 Capture the medina's magic
After a breakfast of msemen (square, crepe-like bread), eggs, fruits and jams, it was time to tackle our shared Google Doc, appropriately named 'Things to do in Chefchaouen'. First on the list was exploring the town's blue-washed medina. With our cameras at the ready, we strolled through centuries old organically built alleys, pondering why a city founded in the 15th century would only get its 'blue pearl' moniker in the 1920s. The answer? Not as straightforward as we'd hoped. Almost every shop seller, waiter and street dweller had a different explanation. Whether it was to keep the town cool during hot summers, deter mosquitos or serve as a reminder of the town's past life as a Jewish stronghold (with blue considered a sacred colour, representing the sky, heaven and God), we reached the conclusion that whatever the reason, there really was nowhere quite like Chefchaouen. Painted in endless shades of cyan, cobalt, lapis and powder blue, a walk through its medina felt like a walk through an extension of the sky. Round every corner was another tiny archway, another cluster of cats dosing in the sun and a new set of freshly painted staircases so tempting I left Google Maps safely tucked away in my pocket.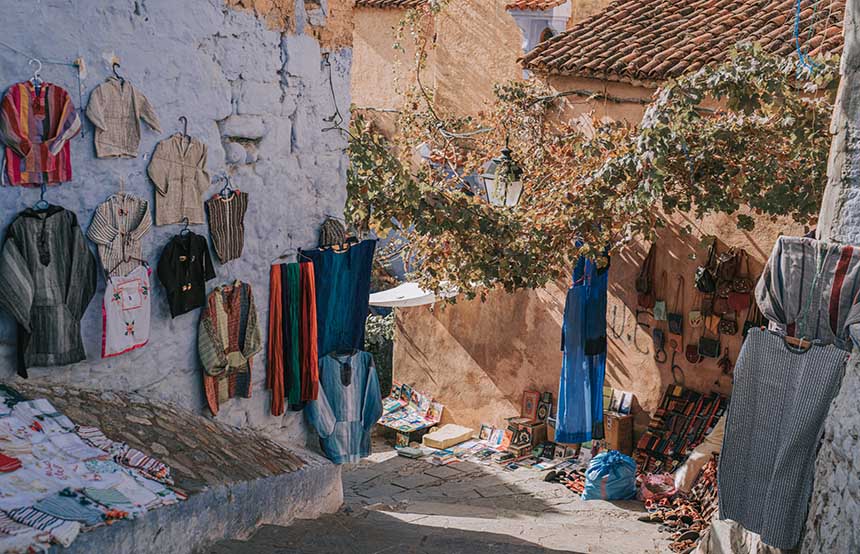 Ramble in the Rif Mountains
With Daz the Dacia (our trusty rental) in tow (not very in keeping with the Kardashians, I know) we thought the next day should be spent in the nearby Rif Mountains. Little did we know that just 45 minutes from our pearly blue hillside town were tangles of hiking paths treacherous enough they make ambles in the Lake District look like child's play. From the ochre-tinged natural stone bridge (justly named God's Bridge) to the spellbinding Akchour Waterfalls, which come shrouded in sparkling moss if you time it right, an afternoon in the Rif Mountains felt like an afternoon in nature's notepad. Time-worn trails and hulking steppingstones probe forest-strewn valleys while rainbow-hued peaks hulk overhead. We didn't see another tourist during our time there but it was obvious they came thanks to the number of precariously perched cafes leading us to the falls like breadcrumbs. Yet, despite the fact we indeed hadn't timed it right and the waterfall we were promised was nothing more than a trickle, an afternoon in the Rif Mountains felt like an opportunity to see the real Morocco, away from the hustle and bustle of hagglers, kasbahs (fortresses) and medinas.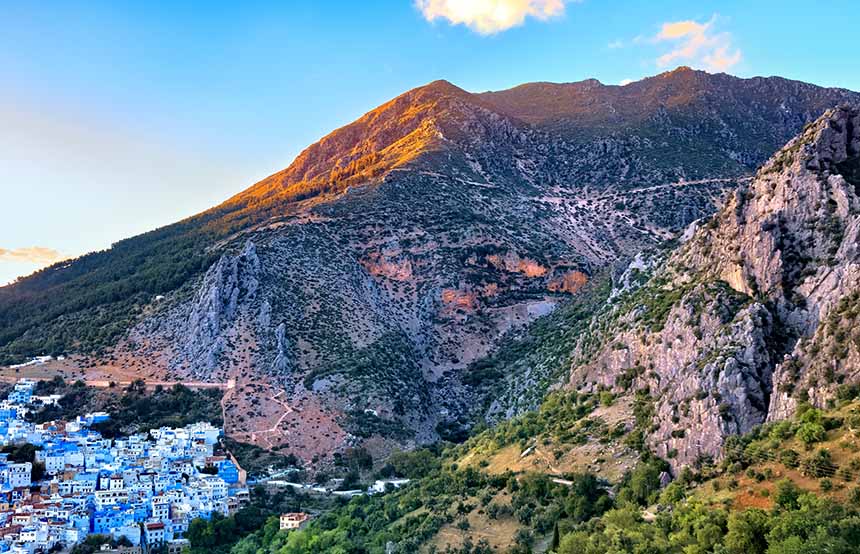 Sunset spot at the Spanish Mosque
I'd read that one of the top things to do in Chefchaouen was to watch the sunset from the Spanish Mosque. So, after a quick turn around from sport shorts to summery dresses, we marched up for the seven o'clock sunset. As we got our breath back on a stone wall in front of the church, it was the first time we'd been able to appreciate the town from a bird's-eye view. Looking like a patchwork quilt strewn across the mountainside, the equally mottled honey sky seemed to compliment it perfectly. The Monet-esque scene wasn't unnoticed by the droves of equally awe-struck tourists either, who all cooed in unison as the sun slowly sunk behind the mountains. All our choral attempts were quickly thwarted once the maghrib (after sunset) call of prayer began. Echoing across the town like a swarm of bees, you got the impression that this was a town that didn't run low on energy. Back in Chefchaouen's main square, Plaza Uta El-Hammam, we made our way to the recommended Chez Aladdin. With the promise of less tagine and more lemon chicken, we found the restaurant's panoramic views over the plaza, kasbah and mountains to be the most delicious treat of all.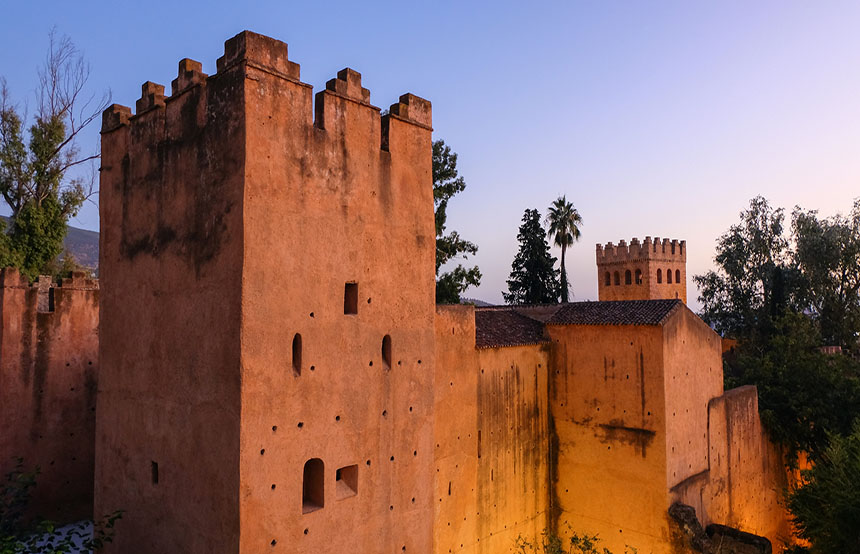 Go kasbah crazy
We knew Chefchaouen was more than just blue-washed buildings and pretty mosaics. Berber founded, it began its history as an outpost to fight the Portuguese from before becoming a sanctuary for Ghomara tribes, Moriscos and Jews fleeing persecution from the Spanish Reconquista. So, naturally, a visit to its 15th-century copper-coloured kasbah had to make it to our list of things to do in Chefchaouen. Home to Andalusian-style gardens, a former prison (talk about a contrast), an art gallery and, of course, a scenic spire to ogle from, the fortress felt like the perfect antidote to the town's sea of blue. The fact all descriptions were in Spanish, French and Arabic didn't matter either. Upon hearing us try and put our GCSE French to the test, a Frenglish-speaking Moroccan holidaymaker offered to translate for us. Leading us from room to room, you could feel the passion practically pouring out of him. And it was the same for every Moroccan I'd come across during my visit. They wore their heritage like a badge of honour and seemed genuinely surprised and thankful by the number of tourists eager to listen to their stories, acknowledge their customs and ­­look past their bad rap (particularly among female tourists).
A holiday to Chefchaouen felt like an opportunity to get a slice of the Kardashian treatment. But, somehow, I couldn't imagine them haggling with exuberant shopkeepers, hiking along rocky trails or trying every type of tagine imaginable. Maybe the best way to see Chefchaouen is quite simply, simply.