1971, India's princely order was abolished, ending the privileges enjoyed by retired maharajas and nawabs. Most of the maharajas (there were 671 of them!), who were impoverished by the end of their civil service, converted their palaces into museums and hotels. The homes are a testimony to the splendour of feudal and colonial times, transformed into luxurious and historic caravanserais for the delight of travellers. Sometimes the monarch still lives there, reserving a wing or a corner of the garden. Here is our pick of the top ten most beautiful palace hotels in India. These hotels welcome visitors like kings.
1
Ummaid Bhawan - Jodhpur
Ranked the Best Hotel in the World in 2016
This colossal 357-room Indian palace is above all a charitable institution. For 15 years it enabled the maharajah to give work to 3,000 local people, who had been impoverished by drought. The 70-bedroom Umaid Bhawan Palace is a beautiful blend of golden limestone, marble and Burmese teak and is run by the Taj Group. The monument looks ablaze under the sun, even more than Jodhpur, which is known as 'Sun City'.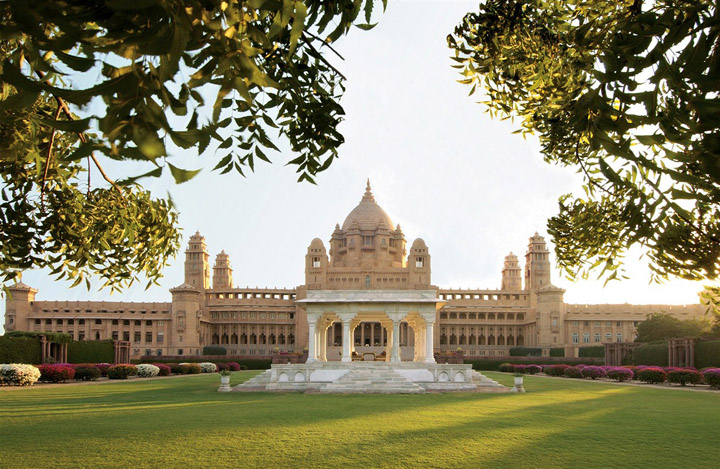 2
Taj Lake Palace - Udaipur
This legendary floating palace is very James Bond
There's no need to describe this white marble palace in the middle of its sacred lake: magazines and James Bond himself (in Octopussy) have already taken care of that. Instead, take a seat in a patio under the arbours filled with scents of jasmine and honeysuckle and watch as the sun softly set on the waters of the sacred lake, as young women in saris gently lay armfuls of flowers on the waves. Hear and see Udaipur as it lights up in front of you. There is only one word for it: magical.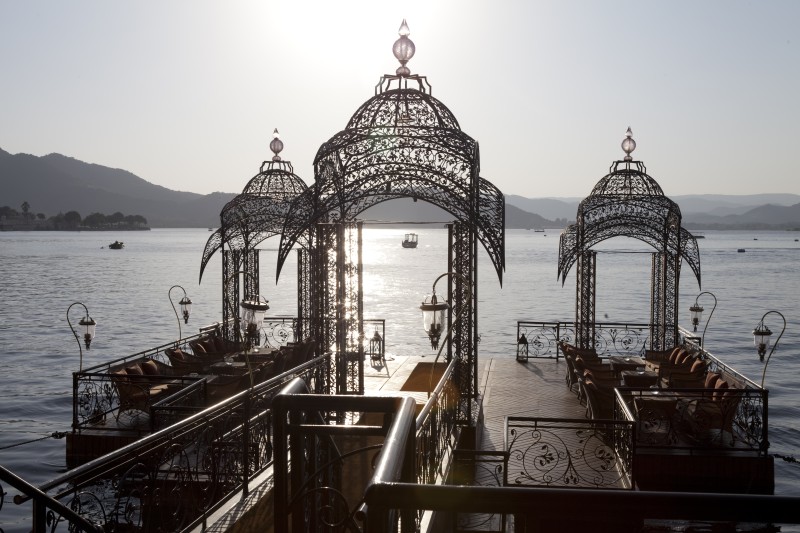 3
Taj Mahal Palace - Mumbai
India's history was built here. The Taj (as it's known among regulars), the flagship of the Tata group, was built in 1903 on the shores of the ocean next to the Gateway to India. The Taj is an iconic (and classified) monument of Mumbai and an absolute must-see in for the discerning traveller. With 1,500 employees, luxurious suites, trendy restaurants and an iconic pool in Bollywood's capital, this is the ultimate version of the caravanserai.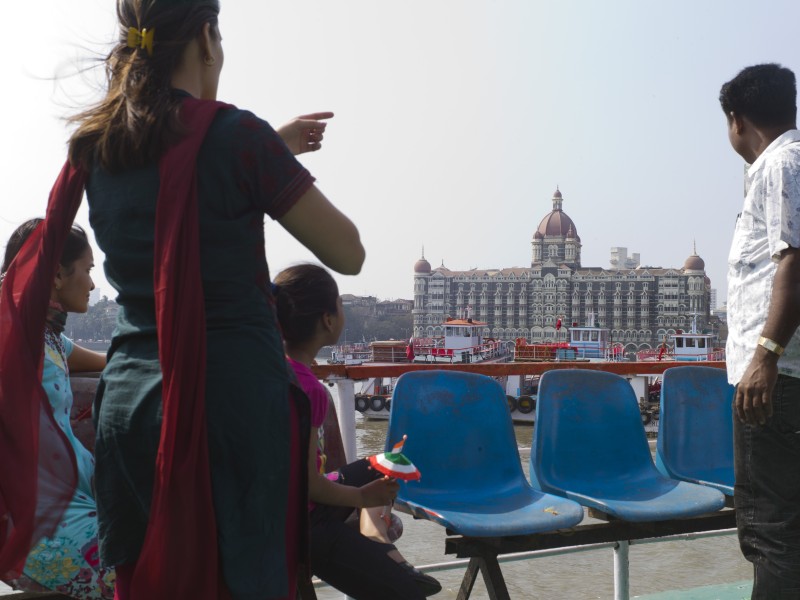 4
Devi Garh - Delwara
Delvi Garh, perched on a hill on the outskirts of Udaipur with the village of Delwara at its feet, is absolutely beautiful. In the heart of Eden-esque gardens, dotted with British lawns, is a white stone fortress surrounded by centuries-old ramparts. There are minimally-decorated suites, restaurants to die for and a spa with a plethora of treatments. As the saying goes, Devi Garh is almost too good to be true.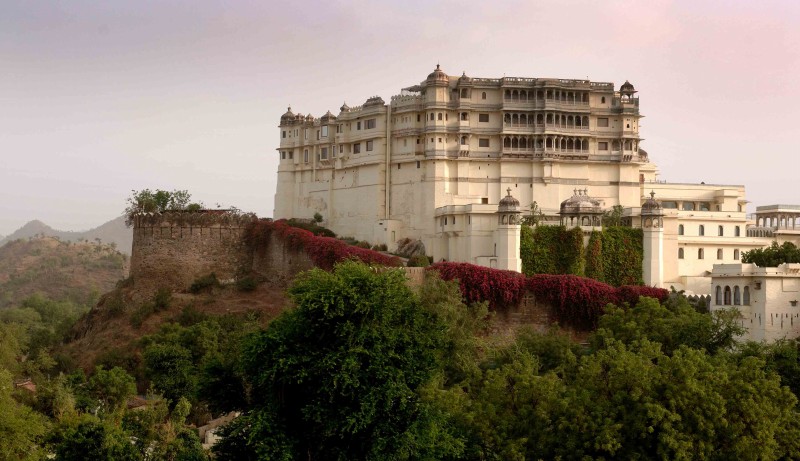 5
Taj Falaknuma Palace - Hyderabad
The native kings of Hyderabad labelled themselves 'nizam'. The king was immensely rich and constructed this incredible palace, built in a mid-Tudor Italian style, in the late 1800s, an opulent period if ever there was one. Marble, frescoes, crystal, jade - nothing was too good for the king. Arrive by carriage and see unforgettable staircases and divine terraces overlooking the city: live here like 'royalty'. Naturally, the service is more than perfect and the cuisine borders on the sublime.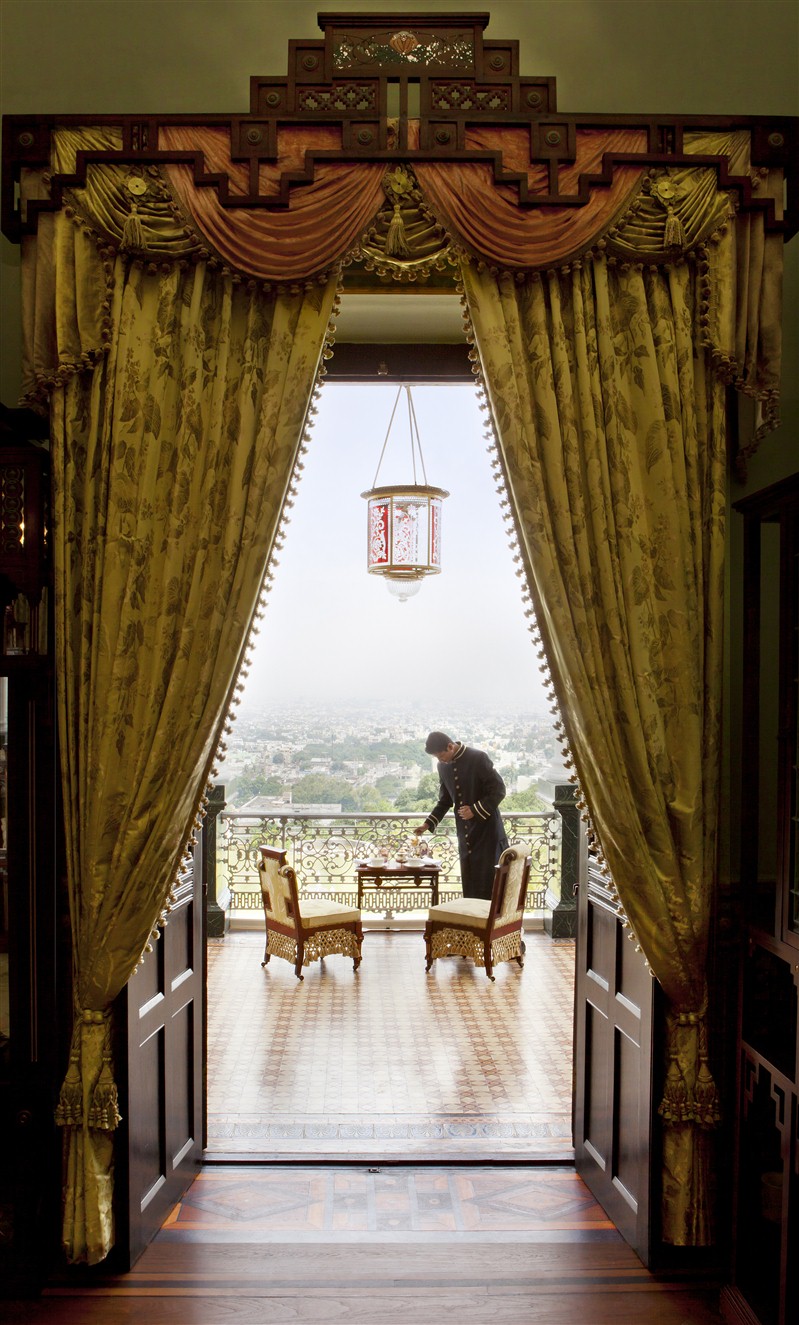 6
Oberoi Udaivilas
Historical? Not exactly. Magnificent? Absolutely! The ancient hunting lodge of the local king still stands; this maze of domes, courtyards, swimming pools and gardens on Lake Pichola was built at the beginning of this century. It pays tribute to previous dynasties and the style is perfect. Each room has a pool and views of the lake. It faces Udaipur and the City Palace.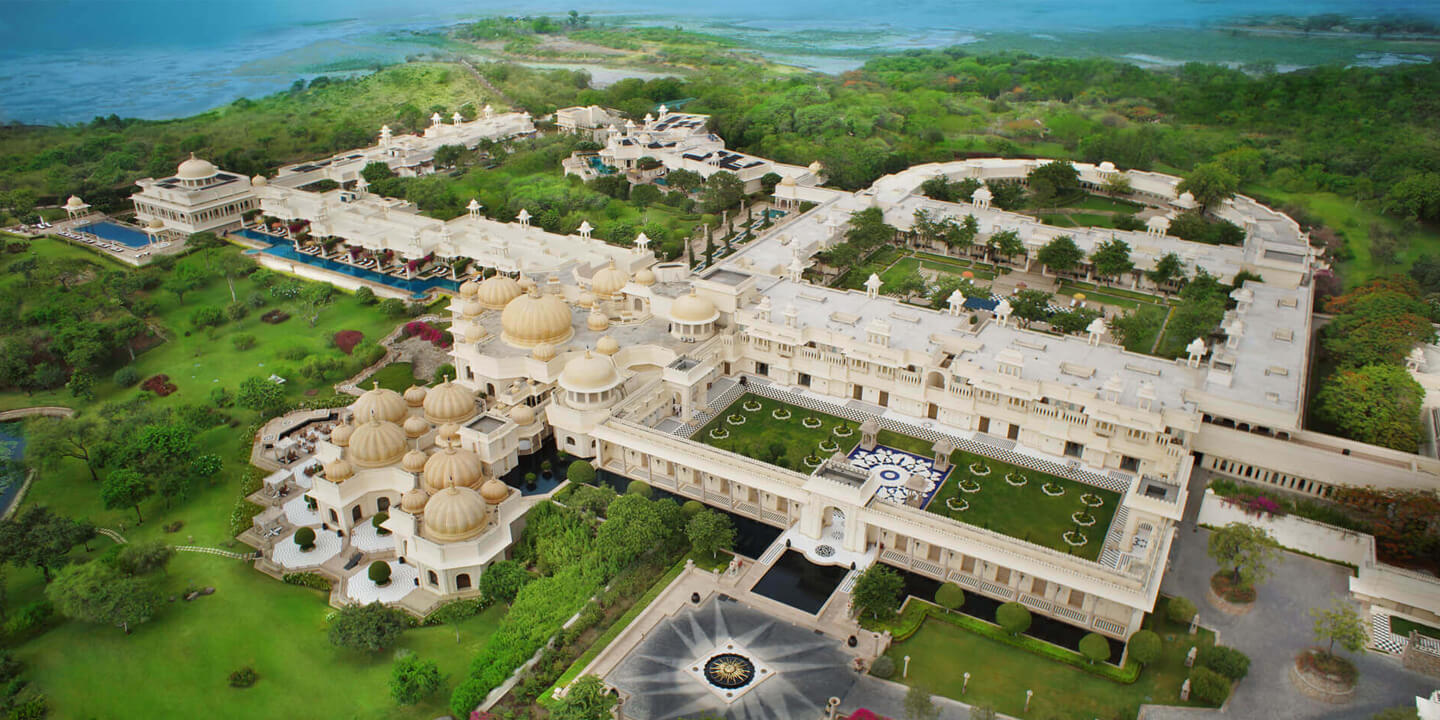 oberoihotels.com
7
Ahilya Fort - Maheshwar
This palace in India is definitely worth a visit. A little palace on the banks of the Namada, Ahilya Fort is off the beaten track. And that's a really good thing. The place is beautiful, nestled amid beautiful gardens, and only has twelve rooms including a tent. Think attentive staff, beautiful gardens with homegrown vegetables, amazing excursions, and fabulous Maheshwar fabrics.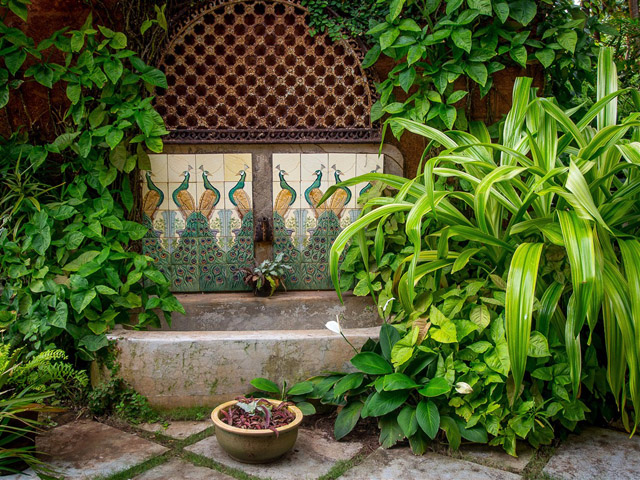 8
Shahpura Bagh - Shahpura
If you think Rajasthan is a bit desert-like, wait until you see Shahpura Bagh. In the heart of the Jodhpur/Jaipur/Udaipur's golden triangle is a lake whose marshes provide greenery and softness. On its banks are two wonderfully welcoming colonial houses, one of which houses the former reigning family. It has large rooms, only nine suites, and a swimming pool. Its style has been heavily influenced by Bollywood opulence, with 50 acres of gardens and a bird refuge where peacocks roam. Shahpura Bagh is a jewel from another time, and easily one of the top ten most beautiful palaces in India.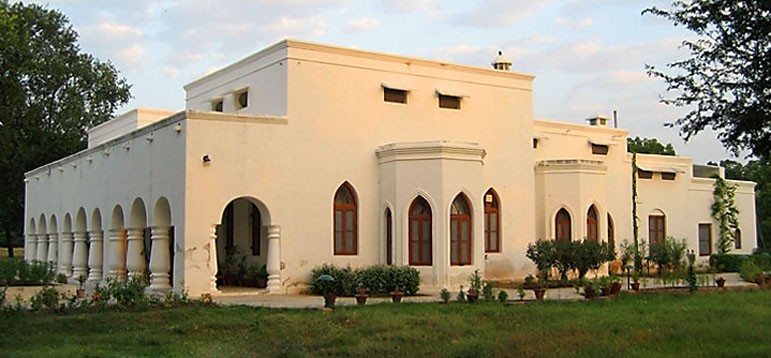 9
Samode Palace - Samode
Leave Jaipur after exploring what it has to offer. Head north to Samode, a greener landscape, dotted with rolling hills. The Samode Palace is a must. Its mirror gallery justifies the trip alone. The Palace undoubtedly has the world's most beautiful swimming pool. The marble mosaics, floral frescoes and rich carpets all contribute to the lavishness of the place.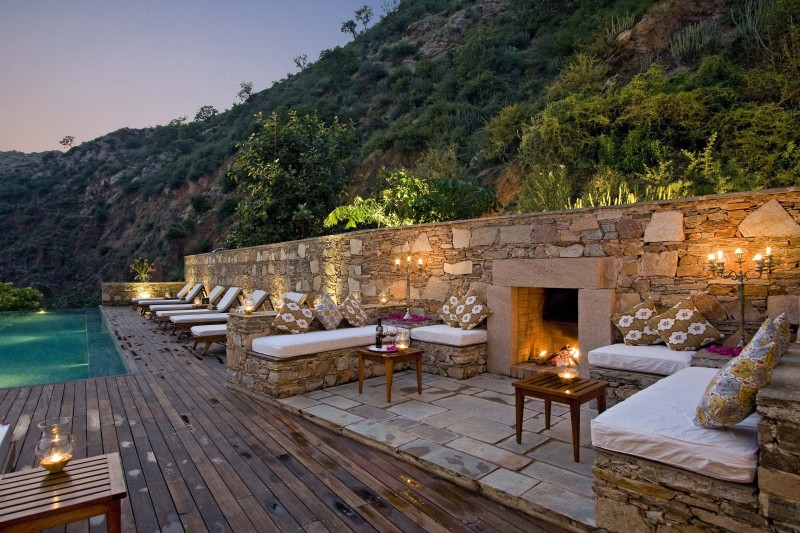 10
Leela Palace - Udaipur
Leela Palace is not particularly old and is a relative newcomer as a luxury hotel on Lake Pichola. But what a view! Situated opposite the Royal Palace, just in front of Lake Palace, the hotel is beautiful, and even more magical at night. It has wonderfully comfortable rooms, perfect facilities, divine pools, and top notch service. Modernity has its upsides. In addition to the traditional welcome, you arrive by boat in a shower of rose petals. Simply amazing.